Israeli forces shot dead five Palestinians, including two teenagers in the occupied West Bank and a man in Gaza, on Tuesday.
Israel alleged that four of them attempted attacks on army and settlement sites.
An Israeli settler also died in disputed circumstances.
The latest deaths bring to nearly 50 the number of Palestinians killed by Israeli forces and settlers since the start of October.
Many have died in what human rights groups have condemned as extrajudicial executions by Israel.
Israeli forces shot and injured at least nine Palestinians with live ammunition on Tuesday at protests in the West Bank.
Teens killed
The two teenagers were shot dead in Hebron on Tuesday night.
They were Bashar Nidal al-Jabari, 15, and 17-year-old Husam Ismail Jamil al-Jabari, Palestinian officials told Ma'an News Agency.
Israel claimed they attacked soldiers at an army post in Hebron's Old City. Israel says one soldier suffered very light wounds.
Hundreds of Palestinians took to the streets of the city late Tuesday night to protest the killings.
Earlier on Tuesday, two Palestinians were shot dead by Israeli forces in separate incidents also in the southern West Bank.
Adi Hashem al-Masalma, a 24-year-old from Beit Awwa, was killed near a settlement on the outskirts of Hebron. Israel says he attempted to stab a soldier.
Israel says the soldier was lightly wounded.
A Palestinian man identified as Hamzeh Moussa al-Imla, 25, from the village of Beit Ula, was killed after he allegedly rammed his car into a bus stop.
Two settlers are reportedly being treated at Hadassah hospital.
Images published on Israeli news sites showed al-Imla lying on the ground with blood pouring from his head, an indication of a possible extrajudicial execution.
Ahmad al-Sarhi, 27, was killed after Israeli forces opened fire at protesters inside Gaza, near the boundary fence east of al-Bureij refugee camp.
They also detained two Palestinians in the area.
Israeli forces also shot at protesters in the north of Gaza, near the Erez crossing with Israel. At least a dozen people were injured.
On the day of the latest killing in Gaza, Israeli Prime Minister Benjamin Netanyahu toured the besieged territory's perimeter with defense minister Moshe Yaalon.
"My impression is that the situation here is under control," Netanyahu said.
Settler run over
Avraham Asher Hasano, a settler from the Israeli colony of Kiryat Arba near Hebron, was killed after a truck ran him over.
Israel media said Hasano was hit after his car was pelted with stones and he had pulled over to get out and examine it.
Eyewitnesses told Wattan TV that the settler had been stopping and attacking Palestinian cars before he was run over. It published an image of him carrying a large wooden bat.
The Israeli army has said that the driver is in custody.
Israel's revenge
In Hebron, the Israeli army demolished the home of a Palestinian family, one of whose members is jailed by Israel.
Maher Hamdi al-Hashlamoun received two life sentences from an Israeli military court for ramming his car into a bus stop near a settlement outside Jerusalem last year and then fatally stabbing 26-year-old Dalia Lemkus.
"Last night's activity sends a clear message that there is a personal price to pay when you are involved in terror," army spokesperson Peter Lerner [said],(http://www.timesofisrael.com/idf-razes-hebron-home-of-terrorist-in-fatal…) justifying the attack.
Israeli human rights group Hamoked said "the wave of punitive demolition orders" continues, with a demolition order being issued on Tuesday to a Nablus family whose son is a suspect in an attack that killed two settlers at the beginning of the month.
Israel takes revenge against family members of persons involved in or accused of attacks only when those persons are Palestinian and the victims are Israeli Jews.
The families of Israeli Jews who attack, injure or kill anyone, whether Palestinian or not, are never subjected to retribution. Israeli Jews who kill Palestinians enjoy broad impunity.
Lawmaker arrested
Israeli undercover forces occupied a kindergarten in Bethlehem, Ma'an News Agency reported.
Mistaravim, soldiers disguised as Palestinians, used the roof as a lookout before ambushing Palestinian schoolchildren as they went to a demonstration.
In a pre-dawn raid on Tuesday, Israel arrested a Hamas-affiliated member of the Palestinian Legislative Council (PLC) from his home in Beitunia, near Ramallah in the occupied West Bank.
Dozens of Israeli soldiers raided the home of Hassan Yousef, 60, and took him to Ofer prison. The Israeli army posted a video of the night raid on YouTube.
Four members of the PLC are currently in Israeli prisons.
Israel's "security"
UN Secretary General Ban Ki-moon arrived in Jerusalem Tuesday night in what has been described as an "effort to ease tensions."
Ban plans to meet with Israeli and Palestinian victims of recent violence.
At a press conference with Israeli President Reuven Rivlin, Ban said he was "here to encourage and support all efforts to lower tensions and prevent the situation from spinning out of control."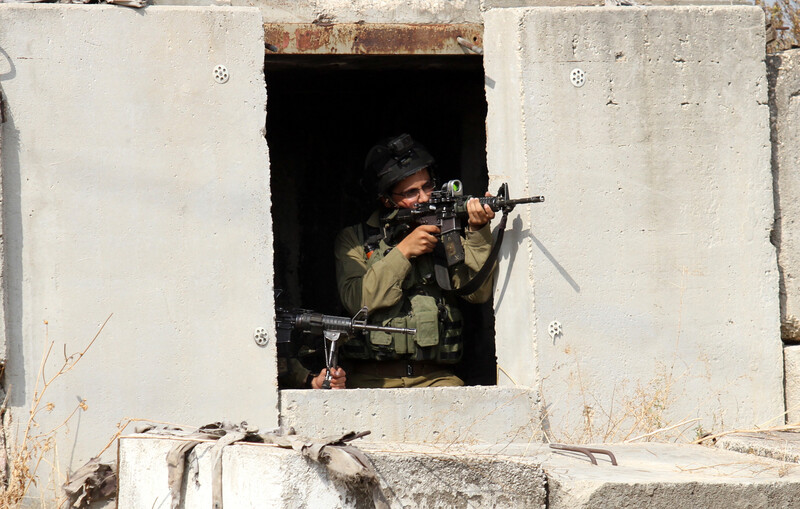 Ban condemned "extremists" on both sides, adding, "Violence only undermines the legitimate Palestinian aspirations for statehood and the longing of Israelis for security."
Ban's remarks included nothing about Israel's gross violations of Palestinian rights and its disregard for numerous UN resolutions documented in numerous UN investigations.
He talked instead about Israeli "security" without mentioning the urgent necessity to end Israel's decades-long military occupation.
During Israel's July-August 2014 summer assault on Gaza, Palestinians issued stinging criticisms of Ban's failure to hold Israel accountable.
Dozens of Palestinian organizations signed a statement calling the UN head a "partner in, or at least an enabler of, the ongoing violations of international humanitarian law committed by Israel against our families, children, women, elders – against our people."
Tags