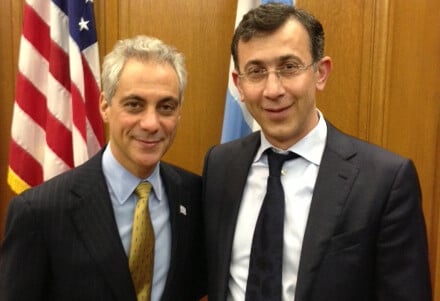 The chief executive of Al Jazeera America, Palestinian businessman Ehab Al Shihabi, was mocked as a representative of "Hamas" by top Hollywood executives, leaked emails show.
The exchange between Michael Lynton, CEO of Sony Entertainment and Sony Pictures Entertainment, and Gary L. Ginsberg, executive vice president of marketing and communications at Time Warner, shows that Al Shihabi's efforts to make Al Jazeera more palatable, in part by censoring voices critical of Israel, have not met with success.
The correspondence, recently released by Wikileaks, includes an email dated 30 April 2014 from Al Shihabi to Sony's Lynton.
Al Shihabi politely thanks Lynton "for your time yesterday" and proposes a joint project – "a documentary that might work for both of us to try with a theatrical screening release."
Al Shihabi then invites Lynton to visit Al Jazeera America's New York studios and to be his guest at a gala dinner honoring Dick Parsons, the banker and former chair of Time Warner, which Al Jazeera was sponsoring.
Lynton then forwarded the email to Ginsberg at Time Warner, along with the apparently sarcastic comments "they are excellent on Israel. my new friend."
In a similar mocking tone, Ginsberg responds to Lynton: "Ur now on your way to ur beloved Hamas!!"
Finally, Lynton responds "en shala" – or inshallah – a very common Arabic phrase literally meaning "God willing" but used in the sense of the English "hopefully."
Censorship at Al Jazeera
Al Shihabi made headlines in May 2013, after he ordered his protegé Imad Musa, manager of online for Al Jazeera English, to remove an article by Columbia University professor Joseph Massad.
The Electronic Intifada reported that Al Shihabi ordered the censorship after the article had come under fire from high-profile Zionist commentators, including The Atlantic's Jeffrey Goldberg, who grossly distorted Massad's article and escalated their defamation and slurs against him.
Al Shihabi, a career management consultant with no background in journalism and no formal editorial role, also feared that the article would hurt the then imminent launch of the Qatar-based network's new venture Al Jazeera America.
But the uproar over what amounted to political censorship forced Al Jazeera to back down and put Massad's article, "The Last of the Semites," back online.
In a scathing internal email leaked to Glenn Greenwald at The Guardian a couple of months later, Al Jazeera insider Marwan Bishara accused Al Shihabi of aiming to water down the network's editorial voice and independence to appeal to the American "Main Street."
Bishara also criticized Al Shihabi's meetings with the likes of Rahm Emanuel, the notoriously pro-Israel Chicago mayor and former White House chief of staff.
"You should make no more appearances in public forums or photo-ups with political characters, shady or otherwise, that would only hurt us on the long run," Bishara scolded Al Shihabi.
Bishara also advised Al Shihabi against trying "to appease those who won't, or don't necessarily want to be, appeased."
Nonetheless Al Shihabi apparently continued – without success – to curry favor with anti-Palestinian media big wigs.
Al Jazeera also did not learn its lesson: in March 2014, Musa again ordered the removal of an article by Massad alleging it "had elements of defamation, slander and libel."
The article, "The Dahlan Factor," along with a response from Massad to Musa's unsubtantiated claims, was subsequently published by The Electronic Intifada.
Tags