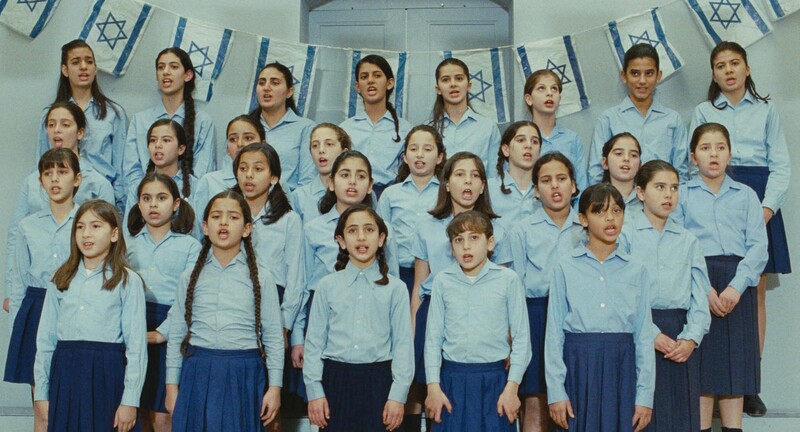 Last night I was among a sold-out audience at the Gene Siskel Film Center for the closing night of the 2011 Chicago Palestine Film Festival, to see Elia Suleiman's 2009 feature film The Time That Remains. I must admit I had not been a huge fan of Suleiman's previous films. While I could always acknowledge their artistry, humor and technical skill, they did not connect with me emotionally. The Time That Remains is something altogether different. This is a film that blew me away, visually and emotionally and engaged me intellectually.
Here's the synopsis from the CPFF website:
Subtitled Chronicle of a Present Absentee, this humorous, heartbreaking film (the final installment in a trilogy that includes Chronicle of a Disappearance and Divine Intervention) is set among the Israeli Arab community and shot largely in homes and places in which Suleiman's family once lived. Inspired by his father's diaries, letters his mother sent to family members who had fled the Israeli occupation, and the director's own recollections, the film spans from 1948 until the present, recounting the saga of Suleiman's family in elegantly stylized episodes. Inserting himself as a silent observer reminiscent of Buster Keaton, Suleiman trains a keen eye on the absurdities of life in Nazareth.
The first part of the film begins with the invasion of Nazareth by Zionist forces in 1948. The main protagonist is Fuad Suleiman, who becomes Elia's father. Fuad had been a gunmaker for the resistance. The narrative continues through Elia's childhood, until he is a young man in the early 1980s.
In the latter part of the film, set "now," Suleiman switches to his trademark surrealism and dry humor. But it also the latter part that is most affecting emotionally - set largely around the same family home as the earlier portions, what become numbingly present are the absences of those who have gone, and the silences of those who remain.
There are so many episodes in this film that affected me viscerally – from the early scene of the mayor and notables of Nazareth signing a surrender document presented by the Zionist forces who had just occupied the city, to Palestinian schoolchildren in Nazareth waving little Israeli flags and singing Zionist songs as they are praised by an Israeli colonial official. The meticulous period detail and beautiful cinematography in every scene evokes nostalgia, and sadness, combined with absurdity - a mix that reminded me of the Coen brothers' brilliant 2009 A Serious Man.
Suleiman depicts from the perspective of Palestinians in Nazareth the sterility of the Zionist Israeli ethos that has been imposed on them, and observes carefully how people in different ways cope with, succumb to, and also resist the humiliations of life as a "defeated" "minority."
Suleiman's observations are always as sharp as a knife - including an absurdist foray into "present day" Ramallah where people dance in a nightclub as Israeli soldiers try to announce a curfew but cannot be heard over the dance music. He is present in the film as a silent witness, always with a slightly bemused look on his face. He does not render judgment and he leaves room for ambiguity. While this is obviously a very personal film, the characters and the experiences he describes will be deeply evocative for many Palestinians (and I believe he transcends Palestinian experience to touch something universal). And so in judging his characters (if that is what we choose to do), we are also asking profound questions about what we have been through and where we are going in the dwindling time that remains before the experiences of 1948 pass out of living memory.
The Time That Remains is for me as close to flawless as a film can be.