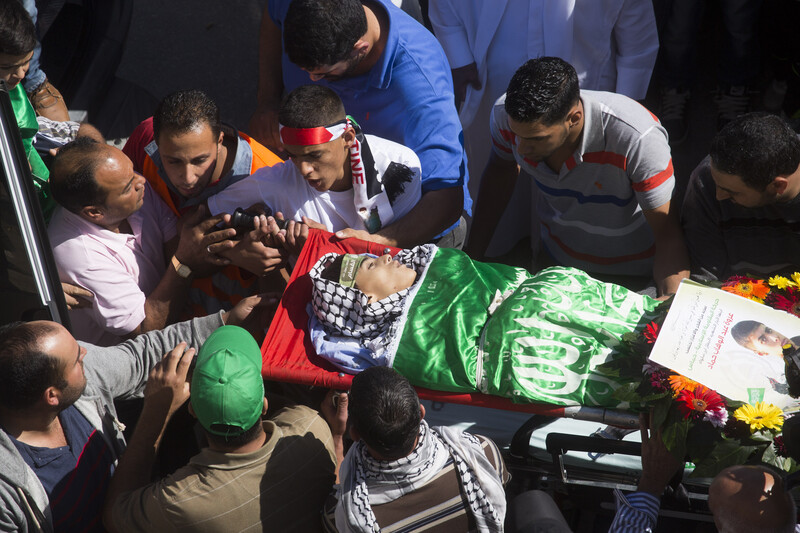 Thousands attended the 26 October funeral of Orwa Hammad, the fourteen-year-old Palestinian-American boy who was shot dead by Israeli occupation forces in the West Bank village of Silwad two days earlier.
Israeli occupation forces claimed Orwa had been about to throw a molotov cocktail, a justification frequently given for the killings of children.
Local residents told The New York Times that "Palestinians throwing stones clashed with Israeli soldiers in the village after Friday Prayer, but that Orwa was apparently killed hours later."
The US State Department expressed "condolences" for Orwa's death but failed to condemn it, in contrast to the killing of an Israeli-American baby in Jerusalem days earlier when a Palestinian driver crashed a car into a group of pedestrians in eastern occupied Jerusalem.
The US called for "a speedy and transparent investigation" into Orwa's death.
What no one disputes, however, is that Orwa was killed by Israeli bullets.
Losing a brother and a son
Thousands of miles from where Orwa died and was buried, Shukri Abu Baker sits in a maximum security US federal prison in Beaumont, Texas, serving out a 65-year sentence.
He is one of the "Holy Land 5" – the founder of the Holy Land Foundation, and one of five of the charity's officials convicted in a travesty of a trial in 2008 for raising funds to help Palestinians.
It turns out he has a connection to Orwa and light to shed on the tragedy his family has lived through under occupation.
Using the authorized prison email system, Abu Baker sent this message to his family and friends. His daughter Nida Abu Baker shared it with The Electronic Intifada:
From: SHUKRI ABU BAKER (32589-177)
Date: 10/27/2014 5:21:14 PM
Subject: Bullets That Kill   Message:

Family and friends,

On Friday, October 24, Israeli soldiers swarmed the northern West Bank village of Silwad to quell a protest by dozens of frustrated youngster. Upon arriving, the heavily armed soldiers opened fire at 14-year-old, Orwa Hammad, aiming at his head and neck. The boy fell to the ground and bled to death before the soldiers called an ambulance. Six others were wounded.   In summer 1992, during a visit to my home village, Silwad, I met Nabil Qaddorah, 19, handsome, full of energy and optimism, and excited about his planned engagement to the love of his life.

The Israeli soldiers raided the village with their military jeeps and started shooting at a crowd of youngsters who had started to throw stones at the military vehicles. Nabil received multiple wounds in his chest. As he fell to the ground a soldier started to jump up and down pounding on his chest. They carried him inside a jeep and took off. After dark, two days later, his family claimed his body and brought him home for his elderly parents, relatives, and friends to view before he was put to grave in the same night. I viewed his body, kissed him on the forehead, and said goodbye.

Nabil's sister is Orwa's mother [Ikhlas Hammad]. In a span of 22 years she has lost a brother and a son. Orwa's father, Abdelwahab, is my wife's maternal cousin who was in New Orleans, Louisiana when his son was murdered. He asked that the burial of his son be put off for three days to allow him to make it back in Silwad and attend the burial. Orwa was an American citizen by birth.

His family is expecting a statement from the State Department demanding answers from the Israelis, and I say, it won't happen because we already know that it was the soldiers who shot Orwa, but where did the bullets that killed him come from?
Impunity
Now cut across to Monday's State Department press briefing where AP correspondent Matt Lee challenged US officials on what they were going to do to get answers in Orwa's case and others.
"Several months ago, there was a shooting – there was an incident involving a shooting of some Palestinian youths. They weren't Americans, but you called at that time for an [investigation]," Lee said, "this was the video, the one that was captured on videotape. Are you aware of the results of that Israeli investigation?"
Lee was referring to the cold-blooded shootings by snipers of Palestinian teens Nadim Nuwara and Muhammad Abu al-Thahir in the occupied West Bank village of Beitunia on 15 May.
Despite plenty of video evidence and the US request for an investigation, Israel has made no arrests and issued no report.
This is the standard impunity that Israeli killers of Palestinians receive.
State Department spokesperson Jennifer Psaki answered Lee: "I would encourage you to ask the Israeli authorities for any outcomes they would like to share with you."
In other words, there will be no follow up from the US government, not for Nadim and Muhammad, not for Orwa – an American – and not for thousands of Palestinians killed by Israel with weapons provided or paid for by the United States.
The total impunity the Obama administration continues to afford Israel is just as lethal to Palestinian children as the weapons the US gives Israel in order to kill them.
Tags