The new school year started four days ago in the occupied West Bank, and Israeli soldiers have fired tear gas and hurled stun grenades at Palestinian elementary school students on at least two occasions already. 
In the Nablus-area village of Burin, which is surrounded by illegal Jewish-only Israeli settlements, Israeli forces stormed an elementary school Wednesday, firing tear gas and stun grenades at students after a settler's vehicle traveling nearby the school was allegedly hit with a rock thrown by a Palestinian youth. 
Many children were treated at the scene for tear-gas inhalation, reported Ma'an News Agency.
One day earlier, Israeli forces in Hebron fired up to 15 tear gas canisters and five stun grenades at small children as they made their way to school Tuesday morning. 
Video of the attack — recorded and posted to YouTube by the International Solidarity Movement (ISM) — shows frightened schoolchildren, who look to be as young as five years old, running for cover with hands over their ears as Israeli soldiers weave in between buildings with rifles out, blanketing the children with suffocating plumes of tear gas smoke. You can watch footage of the assault at the top of this post.
ISM volunteer Ally Cohen described the chaos:
I was standing with my fellow ISM'er next to two young boys who were both under six-years-old. We saw a few teenagers run towards the checkpoint and throw stones; they then ran away very quickly. The soldiers then threw two stun grenades very close to us. We tried to comfort the two young boys when they [the stun grenades] exploded, but what could we say? They were both terrified. We walked with them down closer to their school and they began to run. At that moment, a tear gas grenade was fired and there were no children throwing stones. The smoke was thick and I began choking, it felt like I couldn't breathe. I can't imagine what this sensation would have been like for a child, and there were so many present. From there the situation just seemed to get worse, with so much tear gas in the air, children were unable to reach their schools.
Israeli army attacks against defenseless Palestinian children traveling to school are disturbingly common. During the final month of the 2013-2014 school year, ISM documented 11 tear gas grenades and 13 stun grenades launched against Palestinian school kids as young as 4 years old. And that was just in Hebron alone.
War on children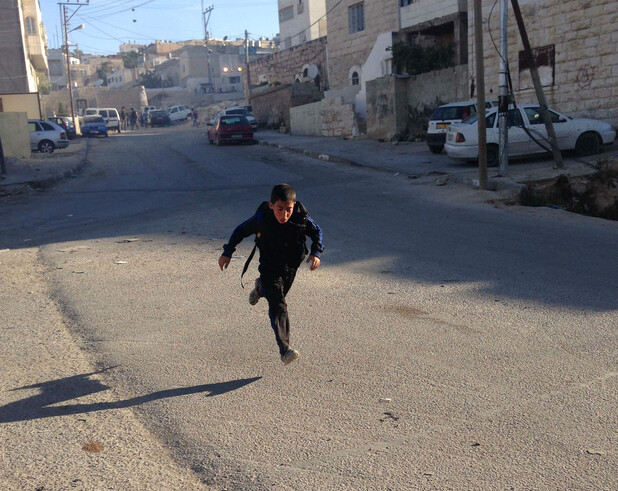 A Palestinian child recovering from tear gas exposure after Tuesday's attack in Hebron declared to an ISM volunteer, "The soldiers from Gaza are here!" 
The school year in Gaza was scheduled to begin on 23 August but has been indefinitely postponed due to the overwhelming terror and destruction caused by Israeli attacks this summer that killed more than 500 children, orphaned at least 1,500 and damaged 220 schools, 22 of which were completely destroyed. Of the more than 3,000 children who were injured, around 1,000 have been left with lifelong disabilities, many of which require medical care that is unavailable in Gaza due to the crushing Israeli siege that has yet to be lifted. 
While the violence inflicted on children in the West Bank might pale in comparison, the root cause is the same. Whether in Gaza or Hebron, Palestinian children are under assault by a merciless Israeli war machine that deliberately targets them and their right to an education with absolute impunity. 
Tags