The day before the start of the Eid al-Adha holiday is the day of Arafa. It is said that a believer who fasts on this day expiates the past year's sins and the sins of the coming year. As it is considered to be a day of forgiveness from sin, many Palestinians fasted on that day. Despite me fasting, I eagerly accepted the offer of my friend, a solidarity activist from Holland, to have a walk in Jabalia Camp. Approximately 108,000 registered refugees live in the camp, which covers an area of only 1.4 square kilometres.
I passed by the Jabalia market, which was so crowded that one has to keep pushing people out of his way in order for him to pass through. With every step forward I could glimpse many faces of different ages, genders and features. I could see children jumping around from one stand of clothes to another, excited to pick their new outfits. At the same time, other children seized the opportunity of this unusually large crowd. They were carrying heavy boxes containing simple goods, trying to earn some money so that they could help their poor families have sort of happy atmosphere, to at least buy some candies.
I could see faces full of anger because of the high prices of goods, which result from the siege which has been illegally imposed since 2007. Parents would spend hours going around to every stand, searching for the cheapest clothing to buy for their children, who still innocently think that Eid means having new clothes. Yesterday, I could see how the inhabitants of Jabalia Camp, who are mostly refugees, face obstacles like low income, shortages of goods, and high prices for the available ones. They are desperate for happiness, even if it's always missing something: the feeling of freedom, security and independence.
As Gaza welcomed Eid al-Adha, hymns played as the sun dawned. I could hear children and men gathering around the microphone in the mosque right behind our house, singing continuously and happily in one voice, "Allahu Akbar, Allahu Akbar …" I couldn't help but wake up earlier than I always do, and more energetic than ever, excited for what would come next.
My mother said that the door has been knocked on constantly since the early morning by people with Eid greetings. Some of them could afford to buy sacrificed animals, "Uḍhiyyah," and hand out a slice of meat.
Eid is a very special religious holiday, as it reconnects people with each other, strengthens social life, and reminds the rich of people who are in need. In Palestine, Eid exceeds its conventional frame. It's a festival of tolerance, forgiveness, compassion, and thoughts of the people who are missed in prison, in Diaspora, or in the grave. My father and his brothers, for example, visit the families of martyrs and prisoners in the neighborhood.
On the second day of Eid, there was a demonstration in solidarity with our detainees at the Red Cross headquarters to convey that their spirits live among us, and that they are never forgotten. We also meant to show sympathy with the mothers who waited many long years, hoping for their sons' freedom, who passed away before they could celebrate their release.
It was a day of support for our heroes inside the merciless Israeli bars, encouraging them to stay steadfast, as well as a day of compassion for their families, who have passed through several important holidays with one, or in some cases more than one missing, making their happiness incomplete, to help them stay strong and optimistic.
While celebrating Eid, I felt blessed for having all the people I care about around me. At the same time, I felt like I couldn't enjoy my happiness at its fullest while thousands of people in Palestine couldn't feel this blessing.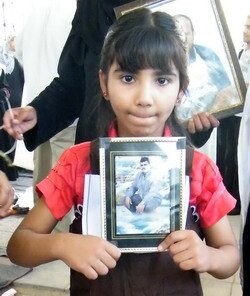 I've been constantly thinking about Gomana Abu Jazar during Eid. Gomana is a ten-year-old girl whose mother died after she delivered her, and whose father has been imprisoned since she was less than two years old, leaving her uncle to look after her. Once, as she wondered why all children have fathers but her, her uncle said, "I'll be in your father's place until he is free. You're lucky, since you have two fathers instead of one."

So she started calling her uncle "dad" for a whole year, until he was killed by the Israeli Occupation Forces, leaving her with none. As she returned from school one day, she saw a huge funeral in front of her house, and asked, "Whose big funeral is this?" Her neighbors' children answered, "It's your uncle's." She began screaming, denying it and saying, "Impossible! He accompanied me to school this morning." Now she lives with her 70-year-old grandmother.
I called Gomana to greet her for Eid. After a long chat, I asked her, "What's your wish for this Eid?" "I wish Dad was here," she replied in a sad voice. "I wish they would at least allow me to see him once in lifetime. I only know Dad from his photographs. I wish I could see him in reality. Once I thought this dream was very close to coming true, but then I realized that I was prevented from seeing him for security reasons."
How can Palestinians fully enjoy our happiness while these heartbreaking stories are so very common in their daily lives? I hope next year the happiness of Eid and other occasions will be complete, with the Israeli jails emptied and Palestine independent and free. Insha'Allah, god willing.
Tags