Sahir Salman Abu Namous was just four years old, soon to turn five.

"Everyone who saw him loved him because he was always smiling," his first cousin Diaa Mahmoud recalls in an email he sent me from Gaza.

"One month before Sahir died, his father was sitting and talking to the boy's aunt," Mahmoud says.

"He looks so clever," Mahmoud remembers the boy's proud father saying, "even more clever than his siblings."

Sahir was killed on Friday afternoon when an Israeli warplane bombed his family home in the Tal al-Zaatar neighborhood in northern Gaza.
"He was playing and smiling next to his mother when missile shrapnel divided his head," Mahmoud writes.
"His father took him to the hospital screaming 'Wake up, my son! I bought toys for you, please wake up!'"
The photo that Mahmoud sent of Sahir with little left of his head, cradled in the arms of his anguished father, Salman Abu Namous, is too graphic to show here.
But Mahmoud sent me some other photos of his cousin Sahir in happier times.
"He was just a kid who wanted to play and be happy," Mahmoud says, "he wasn't just a number."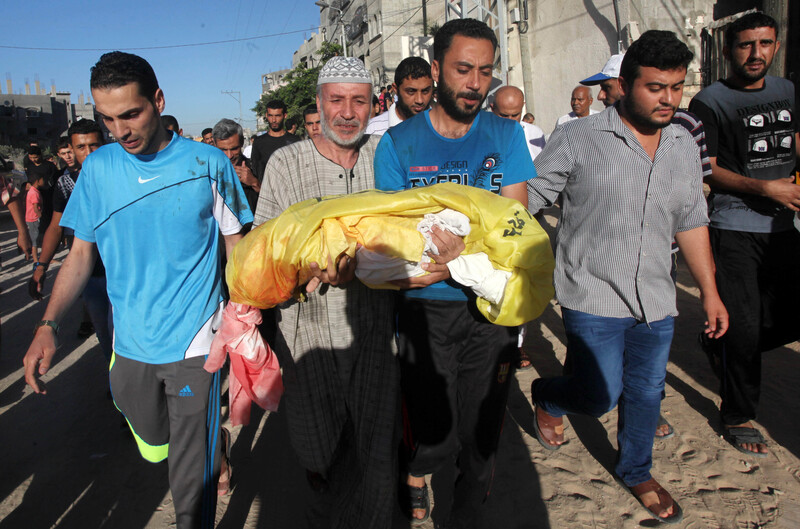 Since Monday, Israel has targeted hundreds of private homes, banks, social institutions and mosques with relentless bombardment.
Sahir Salman Abu Namous was one of 21 children who had been killed in the onslaught by Friday.
Two disabled women among dead in unrelenting massacre
By Saturday, the toll had exceeded 130 people killed and more than 1,000 injured, almost 80 percent noncombatant civilians.
In a particularly horrifying attack, Israeli warplanes last night bombed a home for people with disabilities in northern Gaza, killing two women, Suha Abu Saada, 47, and Ola Wishaa, 30.
Residents of the home "were barely mobile," neighbors told the Guardian, "spending their time in bed or in wheelchairs, and could not escape the building."
None of them are just numbers.
Tags