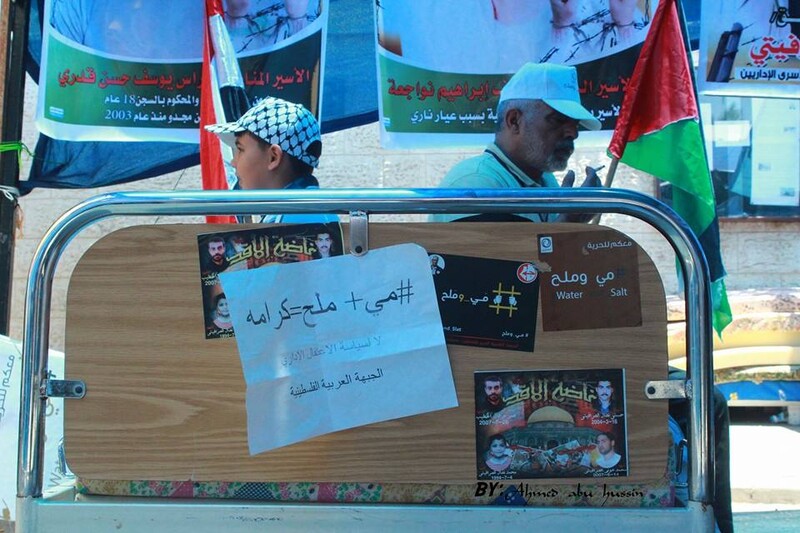 Our Palestinian detainees have been battling the Israel Prison Service (IPS) with their empty stomachs since 24 April, embarking on the longest-known mass hunger strike in the history of the Palestinian prisoners movement. Hunger is the only remaining weapon they can use against the IPS and its well-armed Israeli occupation soldiers.
They launched this hunger strike to call for an end to their detention with no charge or trial based on secret "evidence" submitted to a military court that is kept from the detainees and their lawyers — an unjust policy that Israel calls administrative detention. One hundred and twenty administrative detainees launched this mass hunger strike which grew to involve nearly three hundred prisoners, according to the rights group Addameer.
Our dignified prisoners are striking in protest of Israel's violation of an agreement reached with the IPS after the 28-day mass hunger strike that ended on 14 May 2012. According to that deal, the use of administrative detention — the key issue behind the hunger strike – would be restricted and administrative detention orders would not be renewed without fresh evidence being brought before a military judge. However, Israel did not abide by the agreement and has continued its practice of arbitrary administrative detention.
Strikers hospitalized
Administrative detainee Ayman Tbeisheh from Dura village near Hebron in the occupied West Bank has exceeded one hundred days of refusing food in protest of his administration detention orders which have been continuously renewed since his last arrest in May 2013, according to al-Quds al-Arabi newspaper. Tbeisheh has spent a total of eleven years in Israeli jails, including nearly five years under administrative detention. 
According to Addameer, Tbeisheh first began to refuse food on 22 May 2013, immediately after his four-month administrative detention order was confirmed in a military court. He suspended his strike after 105 days, when he thought he reached a deal with the IPS. But this was soon broken as his order was again renewed, despite his deteriorated health.
Ayman Tbeisheh told Palestinian lawyer Ibrahim Al-Araj, who managed to visit him during his previous hunger strike, "I will continue this open hunger strike until I put an end to the ghost of administrative detention that keeps chasing me."
Soon after he regained some of his physical strength, he re-launched his hunger strike on 24 February 2014. Tbeisheh has since been placed in Assaf Harofe Medical Center where he lies shackled to a hospital bed that may become his deathbed at any moment.
Ayman's condition is no different than the rest of administrative detainees whose hunger for freedom and dignity drove them to launch the mass hunger strike that has been continuing for 51 days. Eighty hunger strikers have been hospitalized as a result of their ongoing hunger strike, but they persevere in this battle for dignity.
Despite their weak bodies that are drained of energy, their hands and feet are shacked to their hospital beds. They are threatened with force-feeding on a daily basis, an inhumane and dangerous practice that Israel's parliament, the Knesset, is close to setting into law.
Death penalty
My father, who spent a total of fifteen years in Israeli jails, calls force-feeding "a death penalty." He participated in the Nafha prison mass hunger strike in 1980 which lasted for 33 days. He was subjected to force-feeding and thankfully survived. But his comrades Rasem Halawa from Jabalia refugee camp and Ali al-Jaafary from Dheisheh camp were victims of this murderous practice that aimed to break their hunger strike, and were killed after being subjected to force-feeding.
The Israel Prison Service escalates its oppression of the hunger strikers as their health constantly deteriorates. They put them in windowless isolation cells, keep their hands and legs shackled for tens of hours, deny them family and lawyer visits, and they even deny them an access to salt, which is necessary for their survival.
The strikers are committed to "hunger until either victory or martyrdom," the same as Khader Adnan, Hana al-Shalabi, Mahmoud Sarsak, Samer Issawi and other ex-detainees who freed themselves after heroic battles of hunger strike against the IPS.
Prisoners' letter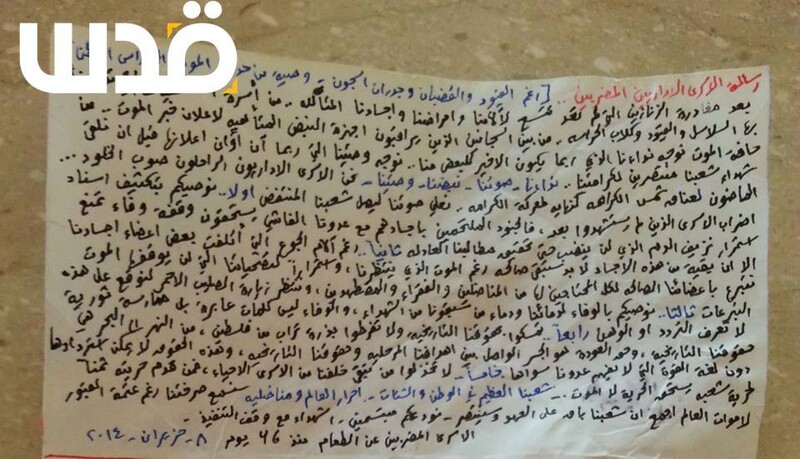 Below is my translation of a letter our administrative detainees managed to smuggle on 8 June to call upon humanity and people of conscience for popular and international support of their battle for justice. The ex-detainee Allam Kaaby read it during a press conference in front of the sit-in tent erected in front of the International Committee of the Red Cross in Gaza in solidarity with our Palestinian prisoners' open-ended mass hunger strike:
Despite the chains and the prisons' bars and walls, this is a will from those who are standing at the edge of death to the guards of our homeland, Palestine.

After leaving the isolation cells which are no longer able to tolerate our pains, illnesses and corroded bodies, from our hospital beds to which we are shackled by chains and guard dogs, from amidst the jailers who keep watching our heart monitors that may announce our death any moment, from the edge of death, we send our call which could be the last for some of us. It might be the time to announce our will before we embrace our people as dignified martyrs. Our call is our voice, our scream, our will. We are the administrative detainees who are heading towards immortality, towards embracing the sun of dignity which might mark at the same time, the end of the battle for dignity. We raise our voice, hoping that it will reach our revolutionary people.

First, we call upon you to intensify your support of the hunger strikers who are not yet martyred; the fighters who fight our fascist enemy with their bodies deserve from you a stand of loyalty that prevents the continuation of our bloodshed which will never stop until the achievement of our just demands.

Second, the pains of hunger damaged some of our organs but some organs must be still in tact. As death is waiting for us, we declare that nothing will stand in the way of our sacrifices, even death. Therefore, we donate our functioning organs to the fighters, poor and oppressed people who are in need. We are waiting a visit from the International Committee of The Red Cross to endorse these donations.

Third, we call on you to stay faithful to our blood and the blood of all martyrs who sacrificed their souls over the course of our Palestinian struggle. Faithfulness is not just through words, but through revolutionary practice that knows no hesitance nor weakness.

Fourth, hold on to our historical and legitimate rights and never give up an inch of Palestine, from the river to the sea. The right to return is the bridge to our historic rights. These rights cannot be restored without resistance, which is the only language that our enemy understands.

Fifth, don't fail prisoners who remain alive after us, as those who sacrifice their freedom as a price for their people's freedom deserve freedom rather than death.

To our dignified people in Palestine and diaspora, to the free people and freedom fighters worldwide, we will let our screams be heard despite the darkness of Israeli jails, which are graves for the living. To people of dead conscience worldwide, our Palestinian people will continue the struggle until victory. We bid farewell with smiling faces.
Reading their words which embrace pain and disappointment must make us all ashamed as we watch them die slowly. Changing our profile pictures to a picture that shows solidarity with their battle for dignity cannot do them much help. We have to move beyond superficial solidarity to serious actions that will bring meaningful change to them. Act before we count more martyrs among Palestinian heroes behind Israeli bars. Their death would be our shame. 
Tags