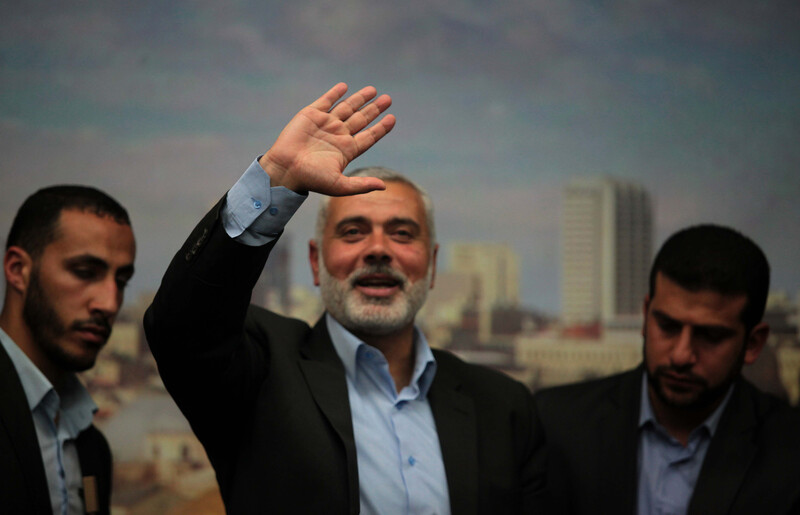 Two weeks before the announcement on 2 June that a Palestinian reconciliation government had been formed, Hamas' Ismail Haniyeh, then still prime minister in Gaza, made his first farewell speech at the Gaza police academy graduation ceremony.
He signaled to a skeptical public that after years of failed attempts at unity, this time it was going to be different.
Careful to show he spoke from a position of strength, Haniyeh told dozens of Hamas loyalists that by stepping down, the Gaza government would in no way be ceding power to Fatah — its rival that controls the Palestinian Authority in Ramallah — a message reiterated by senior Hamas officials several times since.
Haniyeh has made it clear that despite withdrawing from its position of authority, Hamas will continue to play an integral role governing Gaza, and plans to maintain, if not expand, its presence in the West Bank.
Government without a program
The reconciliation government comes without a political program, and its main task will be to implement steps towards the reintegration of Gaza and the West Bank under one authority, restructure the security sector and prepare for elections. The cabinet is comprised of seventeen nominally independent "technocratic" figures, most of them closely aligned with Fatah, serving as ministers until elections, planned for 2015, are held.
But while the formation of the government, including the decision of Palestinian Authority leader Mahmoud Abbas to dismantle the Ministry of Prisoners' Affairs, threatened to derail the agreement between Hamas and the Fatah-dominated Palestine Liberation Organization (PLO), senior leaders in Gaza chose to show leniency and flexibility rather than risk a fierce public backlash if talks collapsed.
Ramallah stood just as strongly in support of a national consensus agreement. Fatah is reeling from failed efforts to revive the stalled US-run peace process while facing rising economic woes in the West Bank. The agreement also helps it stave off, at least for the time being, the threat posed by excommunicated Fatah strongman Muhammad Dahlan, viewed regionally and internationally as a possible convenient alternative to Abbas.
For its part, Hamas showed more commitment to a deal with Ramallah over the past few weeks than it has throughout seven years of disunity. Over the last year, the movement has been dealt a powerful blow with the Egyptian military's removal of the elected Muslim Brotherhood government in Cairo, the regional backlash against Qatar, one of its biggest allies, and the cooling of relations with Iran and Syria.
Incitement and veiled threats from the Egyptian authorities and an almost complete closure of the Rafah crossing tightened the isolation of the Hamas government, which has been unable to tend to the needs of the besieged and beleaguered population of nearly 1.7 million in Gaza.
Trying to stay viable
Following years of unprecedented hardship in Gaza, and with little backing from outside the territory, Hamas is taking whatever steps it can to ensure that any power-sharing arrangement will guarantee its survival as a viable political entity. It sought to affirm its legitimacy by demanding the reactivation of the Palestinian Legislative Council (Hamas won a majority of seats during the most recent election, in 2006), which is scheduled to give the government a symbolic vote of confidence within thirty days.
In an attempt to maintain its firm control of governmental institutions after what has become known as the Shati, or Beach Camp, reconciliation agreement was signed on 23 April, Hamas made a series of high-level appointments and promotions in various ministries in preparation for handing them over to Abbas' authority. Hamas has also stepped up its resistance rhetoric, reminding Palestinians in Gaza of its vital role in guarding against Israeli aggression and keeping the alternative of armed struggle alive.
Strongest asset
But Hamas' strongest asset and its major line of defense against a potential Fatah takeover is its extensively-trained and well-armed security forces, as both parties proceed towards what will likely be a drawn-out process to resolve disputes over major portfolios, including security and restructuring the PLO.
Hamas commands a complex security establishment with various specialized divisions, but most operatives are trained for combat. While the details of merging West Bank and Gaza security forces have yet to be fully hammered out, it is unlikely that Hamas will agree to full assimilation of its cadres in a single national security apparatus.
Fatah, having been defeated at the hands of Hamas in 2007, is no doubt betting on its rival's failure in the upcoming elections to end its deeply-entrenched influence in the Gaza Strip. Hamas is already seen as the weaker partner, making major concessions during negotiations and remaining silent about Abbas' statements that the new government would adopt his political program, which includes recognizing Israel, continued security coordination with the occupation and renouncing "terrorism."
Challenges for Abbas
But having restored the legitimacy of the Palestinian Authority in Gaza, Abbas faces challenges that could jeopardize the small measure of public favor he has redeemed by reaching an agreement with Hamas. He will be responsible for paying the salaries of approximately 40,000 more public employees starting next month, administering Gaza from afar and moving forward with plans to rebuild the territory still devastated from Israeli attacks and the effect of the siege.
He will also bear responsibility, in the eyes of an Israeli government deeply opposed to the reconciliation, for any rockets fired from Gaza.
One important provision of the reconciliation pact could either work to Hamas' advantage or set the stage for renewed tensions between the feuding parties: the restructuring of the PLO, a task to be tackled upon the formation of a unity government, according to the agreement.
Hamas has repeatedly argued that in order for the PLO to be truly representative of all Palestinians, a fundamental revision of its political and organizational structure is required, a step that could pave the way for the incorporation of Hamas and Islamic Jihad into the PLO.
The dimensions of the new partnership remain unclear, but a national unity deal ultimately means more time for Fatah to rebuild its support base and for Hamas to reinvent itself within the framework of a unified national agenda. In the meantime, both sides will be forced to review policies that have served to alienate Palestinians in Gaza and the West Bank from their respective leaderships, such as heavy-handed security measures and partisan favoritism.
And while divergence in ideology and political strategy prevented the realization of a joint strategy and unified leadership vis-à-vis Israel, it remains to be seen whether the weakening of their positions will compel both camps to take a genuinely joint approach to managing the Palestinian territories' internal affairs.
Safa Joudeh is an independent journalist based in Cairo. Follow her on Twitter: @SafaJoudeh.
Tags