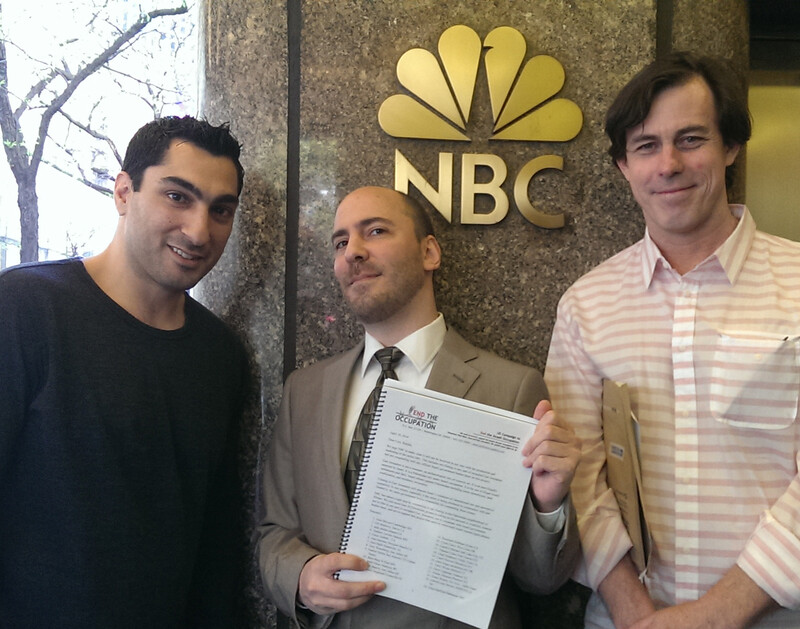 The following account is provided by the US Campaign to End the Israeli Occupation:
On Monday NBC refused to accept a petition signed by more than 5,000 people calling on the network to end its involvement in the action series DIG, which will be set and shot in the Israeli-occupied Palestinian city of East Jerusalem.
Representatives from Adalah-NY: The New York Campaign for the Boycott of Israel, Jewish Voice for Peace (JVP) and the US Campaign to End the Israeli Occupation attempted to deliver the petition addressed to Cory Shields, Executive Vice President Communications of NBC Universal, at NBC's office at Rockefeller Center in Manhattan. An assistant in Shields' office refused to accept the delivery, telling activists to mail it instead.
In Los Angeles, JVP-LA and Students for Justice in Palestine at California State University, Northridge were able to deliver the petition to Jeff Wachtel, Co-President of USA Network, through an intern at their Universal City Plaza office.
The petition was accompanied by a letter from the Civic Coalition for Palestinian Rights in Jerusalem, a network of 25 Palestinian human rights, youth- and cultural centers, and community development organizations, demanding NBC "distinctly and explicitly" make clear that the series "will not be filmed in any place located in occupied East Jerusalem, and that NBC will not cooperate with any official Israeli entities in this project."
"NBC's drama series DIG, filmed in occupied Palestinian Jerusalem with the sponsorship of Israeli government and municipal officials notorious for promoting the illegal Israeli settlements and apartheid, violates all standards of corporate ethics and responsibility, is deeply immoral, and adds insult to injury for all Palestinians and conscientious people in the world," said Zakaria Odeh, Executive Director of the Civic Coalition.
"No amount of Hollywood makeup can cover up occupation, land confiscation, and discriminatory laws. Palestinian society has been clear, and more than 5,000 people on the signature list agree, playing dress up on occupied land will only help to whitewash Israel's violation of Palestinian rights and further entrench the status quo," said Palestinian-American poet and Adalah-NY member Remi Kanazi.
USA Network announced the series DIG back in November 2013 and it is currently set to air in the fall of 2014. Nir Barkat, the Israeli mayor of Jerusalem, and the Israeli Keshet Media Group declared at the time that most of the filming would take place in the "City of David National Park," an illegal Israeli settlement located in the Palestinian neighborhood of Silwan.
More than 20 Palestinian civil society and national institutions immediately called on NBC to terminate the project: "We consider the NBC's involvement in this project, which aims to captivate, thrill, and influence the perceptions of millions of viewers around the world, to be deeply immoral, shameful, and an act of complicity in the serious violations of international law, including war crimes and human rights abuses, committed by Israel against the Palestinian people." PLO Executive Committee member Dr. Hanan Ashrawi also called on NBC to halt this production, which "will legitimize the annexation of Jerusalem and the destruction of the authenticity and character of the occupied city."
In a letter dated 20 December 2013, Shields wrote to the General Delegation of the PLO: "NBC Universal Cable Entertainment reiterates that there are no plans, and there will be no plans, to film 'DIG' in the City of David National Park or the village of Silwan."
But the network has since refused to clarify if the show will be shot in other parts of occupied East Jerusalem, which includes the Old City, or if they will be cooperating with Israeli government bodies there on the project, including receiving funding. In February Haaretz reported that Israel and the Jerusalem municipality are jointly providing up to $6.3 million in grants over the next two years to encourage foreign producers to shoot movies and television series in the city. The first recipient will be NBC for DIG.
"In times when even the best friends of Israel, including Secretary of State [John] Kerry, are warning of Israeli apartheid, NBC would be well-advised to scrap its drama series DIG in occupied East Jerusalem that will promote Israeli apartheid and oppression of the Palestinian people. Going ahead will definitely affect NBC's image in our region," Odeh added.
According to countless UN Security Council resolutions and the International Court of Justice in 2004, East Jerusalem is part of the Palestinian territories occupied by Israel in 1967. Its annexation by Israel is not recognized internationally and has been condemned. For the past 47 years, Israel has committed serious violations of international law and human rights there. According to Human Rights Watch, this includes policies of forced land acquisition and population transfer through home demolitions and revocation of residency meant to change the composition of this Palestinian city and "Judaize" non-Jewish areas.
"NBC seeks to entertain the public with a thriller filmed in Jerusalem, but the situation in Jerusalem is neither entertaining nor thrilling. Palestinians in Occupied East Jerusalem live under constant fear that their homes will be demolished and that they themselves will lose their right to reside in the city of their birth, while at the same time an estimated 200,000 Israeli Jews have settled in the area. It would be more fitting for NBC to do a documentary of dispossession and expropriation," said Sydney Levy of JVP.
Tags