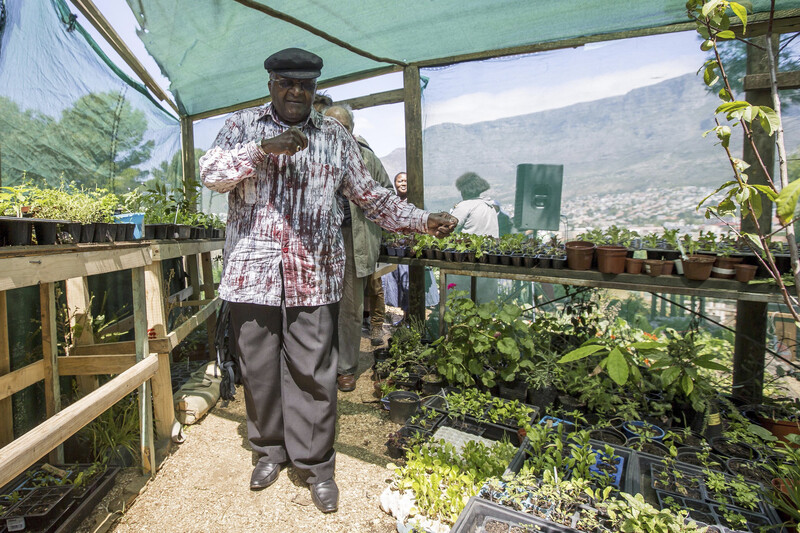 Archbishop Desmond Tutu was a "true prophet of justice and peace," Palestine's boycott, divestment and sanctions movement said Sunday following news that the icon of South Africa's freedom struggle had died at the age of 90.

"Over decades of his struggle against apartheid and all forms of injustice, Arch, as he liked to be called, has taught millions around the world, including Palestinians, the meaning of fighting with ethical principles, effectiveness and utter conviction to achieve 'the full menu of rights.'"

Tributes came from across Palestinian society.

Mahmoud Abbas, whose Palestinian Authority works closely with Israeli occupation forces, praised Tutu as a "hero serving humanity and its causes."

Archbishop Atallah Hanna in Jerusalem said Tutu "will always be remembered for his rejection of racism and apartheid, including in Palestine."

"Like South Africa, Palestine has lost a true patriot, a great human rights defender, an opponent of racism and a staunch defender of the Palestinian cause," resistance movement Hamas said.

To those old enough to remember the South African struggle against apartheid, Tutu's face and voice are as familiar as those of Nelson Mandela – perhaps more so: While Mandela and other leaders of the African National Congress were imprisoned by the racist regime and kept out of public view, Tutu was in effect the South African people's spokesperson to the world.

Following the end of apartheid in 1994, Tutu lent the same zealous love of justice to the Palestinian struggle.

Long before many others of his global visibility dared to do so – Tutu compared Israel's rule over Palestinians to apartheid in his homeland.

"I've been very deeply distressed in my visit to the Holy Land; it reminded me so much of what happened to us Black people in South Africa," he wrote in 2002. "I have seen the humiliation of the Palestinians at checkpoints and roadblocks, suffering like us when young white police officers prevented us from moving about."

"We have visited Israel/Palestine on a number of occasions and every time have been struck by the similarities with the South African apartheid regime," he wrote in 2011. "The separate roads and areas for Palestinians, the humiliation at roadblocks and checkpoints, the evictions and house demolitions."

He added that "Parts of East Jerusalem resemble what was District Six in Cape Town" – a century-old multiracial community that was destroyed by the apartheid regime in 1966 and declared a whites-only area.
Support for boycott
Understanding the similarities of the power dynamics in the two settler-colonial societies, Tutu was quick to endorse the Palestinian call for boycott, divestment and sanctions.

He often lent his support directly to BDS campaigns around the world publicly and privately.

After he urged American churches to divest from companies complicit in Israel's crimes against Palestinians, he attracted the predictable ire of the Israel lobby.

His iconic status could not protect him from the Anti-Defamation League's smears that he had veered into "anti-Semitism."

That attack came from the same ADL that had during the 1980s spied on the anti-apartheid movement and passed information to South Africa's racist government.

At the time, Israel was one of the closest allies of the increasingly isolated white supremacist regime in Pretoria.

But such attacks never deterred Tutu from speaking out in support of BDS.

In 2014, he told Israel's Haaretz newspaper that international boycotts of South Africa played a crucial part in enabling the dialogue that led to a transition to democracy.

"At a certain point – the tipping point – the then-government realized that the cost of attempting to preserve apartheid outweighed the benefits," Tutu explained.

"The withdrawal of trade with South Africa by multinational corporations with a conscience in the 1980s was ultimately one of the key levers that brought the apartheid state – bloodlessly – to its knees."

"Those who continue to do business with Israel, who contribute to a sense of 'normalcy' in Israeli society, are doing the people of Israel and Palestine a disservice," he added. "They are contributing to the perpetuation of a profoundly unjust status quo."
Praise from hypocrites
Tutu is now being eulogized by many institutions and leaders that failed to heed his calls for boycott both during South Africa's struggle and now in the case of Palestine.

Leading members of the European Union, especially Germany and the United Kingdom, long resisted sanctions on South Africa.

Today, the EU continues to reward Israel militarily, economically and politically as it escalates its crimes against Palestinians.

None of that caused top EU leaders to reflect before paying tribute to Tutu as if they have learned anything from him.

British Foreign Secretary Liz Truss, whose government recently signed a military and economic "strategic partnership" agreement with Israel, also praised Tutu: Israel's government has by contrast remained silent – perhaps a rare instance of self-awareness. But Yishai Fleisher, a Jewish settler leader in the occupied West Bank, reveled after Tutu's passing that "an anti-Semite has died today."

Fleisher, likely speaking for many silent Israeli officials, also labeled Tutu "a serious enemy of Israel."

British Labour Party leader Keir Starmer praised Tutu as a "tower of a man" and a "leader of moral activism."

This prompted many social media users – including this writer – to mock Starmer's hypocrisy.

Had Tutu been a member of the Labour Party, Starmer would almost certainly have moved to have him expelled – as many others have been ejected for similar stances in support of Palestinian rights.

One of Starmer's predecessors as Labour leader, former Prime Minister Tony Blair, said he was "saddened" by Tutu's death.

In 2012, Tutu pulled out of a summit on "leadership" with Blair, saying he could not sit next to the person who had, along with US President George W. Bush, ordered the catastrophic invasion of Iraq based on lies.

Tutu pointed out the sheer hypocrisy of a world system that drags African and Asian leaders before tribunals while the likes of Blair roam free.

"On what grounds do we decide that Robert Mugabe should go to the International Criminal Court" while "Tony Blair should join the international speakers' circuit?" Tutu asked.

To the end, Desmond Tutu lived his life struggling and speaking for justice and truth in South Africa, Palestine and the whole world.

The rest of the journey is ours to complete but he showed us the way.
Tags