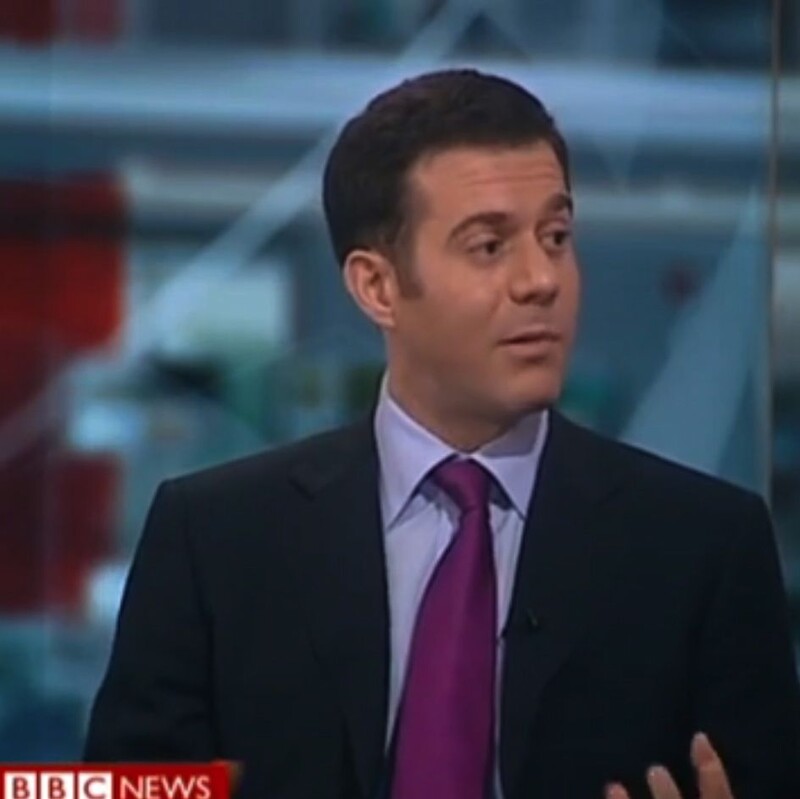 The BBC has finally admitted that it breached its own impartiality guidelines when it presented a pro-Israel commentator as if he was neutral.
The finding published yesterday by the BBC Trust, the highest level of complaints adjudication at the broadcaster, relates to appearances made by a commentator called Jonathan Sacerdoti during Israel's "Operation Pillar of Cloud" bombing of Gaza in November 2012.
Sacerdoti was described simply as "director of the Institute for Middle Eastern Democracy," but has a long and ongoing history of pro-Israel campaigning, including a stint as director of public affairs for the Zionist Federation – a fact which was not made clear to viewers.
Despite previously acknowledging inaccuracy in failing to explain Sacerdoti's pro-Israel politics to viewers, the BBC has spent over a year denying that this resulted in biased coverage.
With the help of Spinwatch, I initially filed a complaint almost 14 months ago, as did the Palestine Solidarity Campaign. At first BBC News merely said it recognized "more context could have been given."
When the complaint was escalated, it was acknowledged that this response did not go "far enough in acknowledging the shortcomings," and the BBC conceded that Sacerdoti's "partisan associations" were clearly relevant since his contributions were "essentially pro-Israeli."
But despite admitting that Sacerdoti had been "misleadingly introduced" in a way that "gave no clue as to his orientation and may indeed have contributed to an impression of impartiality," the Head of Editorial Complaints, Fraser Steel, still found that no breach of impartiality had occurred.
Serious failings
Steel dismissed the relevance of impartiality clause 4.4.14 of the BBC's Editorial Guidelines, claiming it was only applicable when producers had assumed an interviewee was neutral, whereas, he said, "Sacerdoti's viewpoint is well known to program-makers in BBC News."
However, when the complaint reached the Trust, it emerged that this was not the case, with the Controller of the BBC News Channel asserting to the contrary, that "In fact [the interviewee's] background was not fully understood by the producer of the interview and therefore not conveyed to the presenter (and consequently the audience) in clear terms."
This picture of events suggests serious failings on the part of BBC producers and likely contributed to the BBC Trust's decision to overrule Steel.
The Trust stated that clause 4.4.14 had indeed been breached and the BBC had failed in its responsibility to appropriately signpost the interview so that viewers could properly evaluate Sacerdoti's contribution for themselves.
"No requirement to balance"
But it also decided "there was no requirement to balance the interviewee's comments with an accompanying guest holding an alternative viewpoint," so the impartiality complaint was only partly upheld.
According to the BBC Trust, which eventually agreed that Sacerdoti was indeed "associated with a particular viewpoint," he himself refuted the suggestion that he was a pro-Israel campaigner.
Instead he described himself as "an analyst of Middle Eastern affairs" and tried to downplay his pro-Israel work, telling the BBC's Independent Editorial Adviser that he was only "briefly employed part-time and as a freelancer, by the Zionist Federation (for two months)."
Frequent appearances
Given that Sacerdoti appeared as a representative of the Zionist Federation on BBC Big Questions in November 2009, then on Sky News in June 2010 and, on the BBC again in September 2010, according to its own blog, it appears that he was in fact doing media work for the Zionist Federation for a period of at least 11 months.
Sacerdoti was emailed via the contact form on his website but did not respond to questions. However, he previously told The Jewish Chronicle newspaper that he felt his comments were "in keeping with the requirements of due impartiality."
While the ruling is centrally a damning indictment of journalistic standards in the BBC news room, Sacerdoti – who tried to remove evidence of his pro-Israel connections from the internet – does not come off well either.
Exasperating
It is also important to point out that despite finally admitting it was wrong, the ruling should not be taken as legitimizing the BBC's policy on the use of "experts," nor its complaints procedure or problematic mechanisms of self-regulation.
The process leading up to the decision was lengthy, time-consuming and frequently exasperating; at every stage, the BBC appeared unwilling to investigate properly.
While it is important to try to hold the mainstream media to account, this is no cause for optimism about the trust we should place in the BBC's capacity to report fairly on the Middle East.
Tags