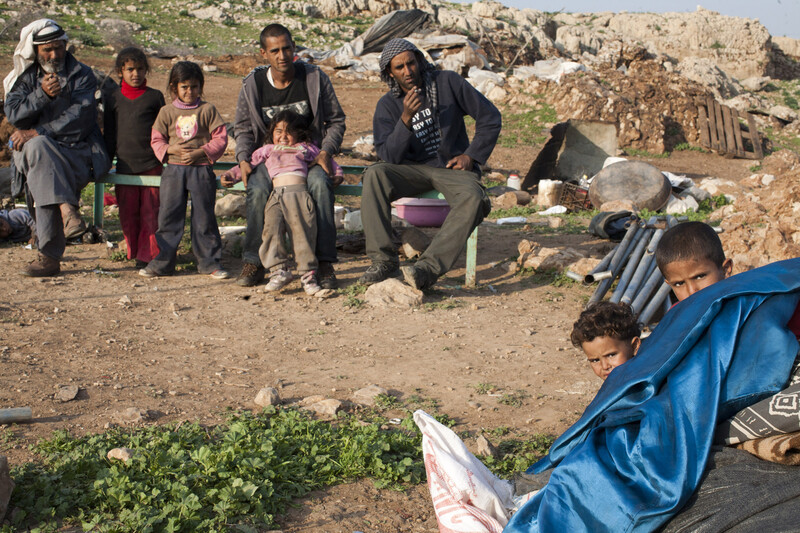 The International Committee of the Red Cross (ICRC) has suspended distribution of tents and shelter materials to Palestinian victims of Israeli home demolitions in the occupied West Bank's Jordan Valley because Israeli occupation forces are habitually destroying or confiscating them.
Jon Martin Larsen, ICRC spokesperson for Israel and the occupied territories, told The Electronic Intifada by telephone that his organization would continue to provide emergency supplies including hygiene kits, kitchen sets and mattresses to those made homeless by Israel.
"The difference now is that we will not be able to distribute shelter materials such as tents to people affected by house demolitions in the Jordan Valley and that is because we see a pattern of obstacles and confiscations since early 2013 of these tents and materials," Larsen explained.
Larsen said that Israeli authorities were responsible for the confiscations and destruction. He added that ICRC had responded to 16 incidents of home demolitions involving some 70 households since the beginning of 2013.
Israeli authorities had confiscated or destroyed the emergency housing materials of more than 30 of those households, affecting about 200 persons, the ICRC spokesperson said.
"We are in constant dialogue with Israeli authorities on this and other matters related to the occupier's responsibility," Larsen continued.
"Under international humanitarian law it is the occupier's responsibility to facilitate rapid and unimpeded assistance to people in need. It is also prohibited under international humanitarian law to confiscate and destroy private property."
Larsen said that the Palestinian Red Crescent had announced that it would continue to provide emergency shelter materials to Palestinian victims of Israeli home demolitions.
He said he hoped that ICRC could resume distributing tents as soon as possible.
Ongoing demolitions
As Patrick O. Strickland reported for The Electronic Intifada this week, Palestinians have responded to Israel's takeover of the Jordan Valley by retaking the forcibly depopulated village of Ein Hijleh.
In 2013 alone, more than 1,000 persons were displaced in eastern occupied Jerusalem and the rest of the West Bank by Israeli demolitions and evictions, according to the UN.
The demolitions have continued into 2014.
Thousands of Israeli settlers live in illegal colonies in the Jordan Valley, a region Israel has announced it wants to keep its occupation forces in even under a "peace" agreement with the Palestinian Authority.
Tags