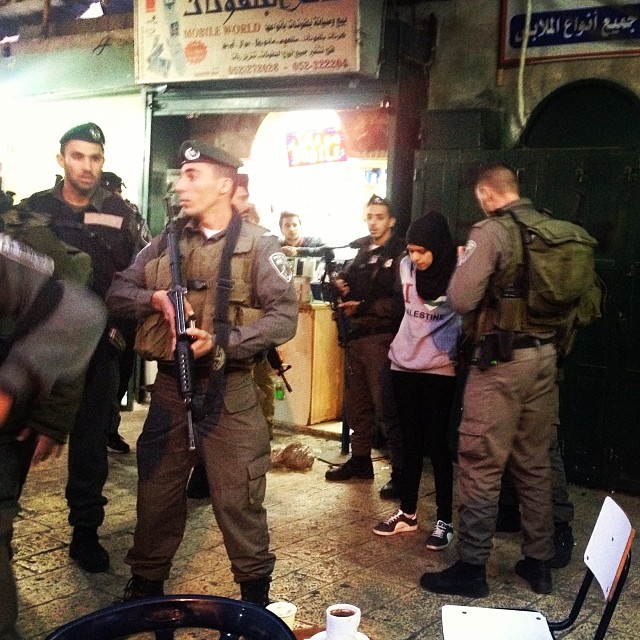 Instagram user @zalameh (@BDS4Justice on Twitter) captured these dramatic images and videos of heavily armed Israeli forces arresting a Palestinian girl in eastern occupied Jerusalem's Old City on Friday afternoon.
In an email to The Electronic Intifada, @zalameh, a resident of Jerusalem, gave his eyewitness account of the incident:
This afternoon after work I headed to the Old City, I entered through Damascus Gate. Right at the entrance I saw more commotion than usual so I headed close to where people were congregating. There were about 8 soldiers (as I counted) surrounding this girl and handcuffing her, she was quiet but her eyes showed fear, she seemed bewildered and was offering no resistance.

It all seemed surreal to see all these soldiers armed to the teeth overwhelming this child and the soldiers were behaving as if they had caught a dangerous criminal. The soldiers did not want people around, especially as they had their phone cameras out, and started pushing them away. Despite being handcuffed and completely restrained, two soldiers were holding her arms each.

She was wearing a sweater saying "I <3 Palestine." I tried asking what was happening and I couldn't get anything concrete from people there, most were passers-by and they were as surprised as I was by what they were seeing. More soldiers started coming after about 10 minutes until they were 15 in total, all surrounding the girl, they formed a corridor and rushed her out of the Old City to a police car.
Claimed "stabbing" attempt
While it is unclear if it is referring to the same incident, The Jerusalem Post also reported today that a "16-year-old Arab girl attempted to stab a border police officer with a knife near Nablus Gate in Jerusalem on Friday. The suspect is a resident of the Jabal al-Mukaber neighborhood in east Jerusalem, police said."

The newspaper claimed that "Security personnel succeeded in disarming the woman and bringing her under control but in the process, one of them was injured lightly in the leg. The injured man received medical treatment at the scene."
Doubtful account
However, @zalameh casts doubt on this version of events if indeed it refers to the same incident. He writes:
First, I saw no soldier injured. I am confident I came there just as she was arrested and I saw no one being taken out from Damascus Gate as I entered. That would have been obvious and second, it is common for Israelis to treat any form of reaction from Palestinians as an "attack." And what Israel often calls stabbing could be with anything, even if the girl had a go at a soldier with a pen, they would have called it a "stabbing attempt."
"A more credible version would be that she lost her temper after a particular provocation or humiliation, which for those who live in Jerusalem is a daily reality and this triggered the arrest," @zalameh added.
The human rights groups B'Tselem reported last year that Israeli occupation forces frequently accuse Palestinian youths and children of violent attacks and then subject them to abuse and torture, including solitary confinement and threats of rape in order to get them to confess.
WAFA, the official Palestinian news agency, reported, citing "eyewitnesses," that Israeli occupation forces arrested a 16-year-old Jerusalem girl near the Damascus Gate "after assaulting and beating her" and then took her to a police station on Salah al-Din Street.
Arrests of Palestinian children are common in occupied Jerusalem.
In November, Israeli occupation forces raided the Jerusalem home of Zine al-Majid in order to arrest his four-year-old son.
Tags