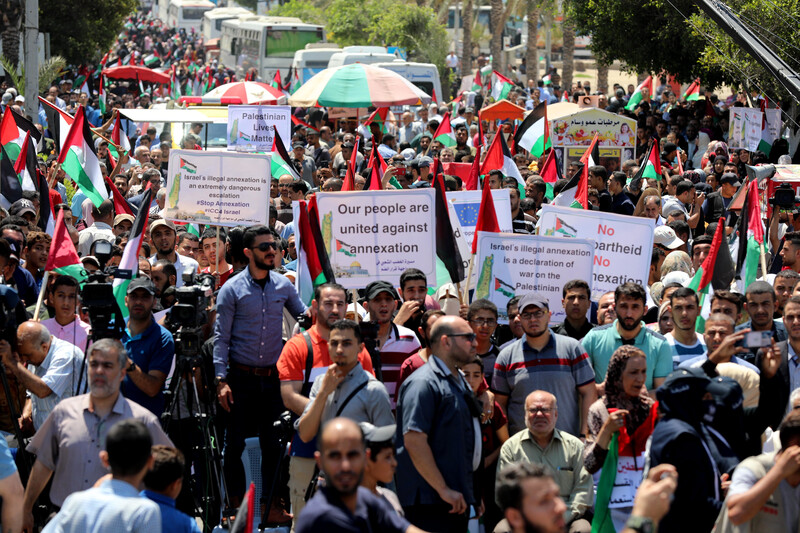 On Friday, Minnesota Democratic Representative Betty McCollum introduced the Israeli Annexation Non-Recognition Act in the US Congress.

The bill prohibits US recognition of or funding for Israel's potential annexation of additional Palestinian land in the occupied West Bank.

Its original cosponsors are six Democratic representatives: Michigan's Rashida Tlaib, New York's Alexandria Ocasio-Cortez, Massachusetts' Ayanna Pressley, Wisconsin's Mark Pocan, Minnesota's Ilhan Omar, and Indiana's André Carson.

All seven representatives have strong track records of congressional advocacy for Palestinian rights – though Pressley last year broke ranks with progressives and voted for a resolution condemning the boycott, divestment and sanctions movement.
Promoting equality
This bill is significant because it employs the language of human rights and equality in expressing opposition to Israeli annexation and proposes concrete means of holding Israel accountable should it move forward with annexation.
This framing is significant because most congressional initiatives that address Israeli-Palestinian policy issues do so from the perspective of Israel's interests, express fealty to the discredited "peace process" and two-state solution, and dispense with any tangible consequences for Israel violating Palestinian rights.
By contrast, McCollum's new bill is unambiguous in its condemnation of the illegality of Israeli annexation, deeming it a "flagrant violation of international law and a prohibited act of aggression under Article 2(4) of the UN Charter."
Rather than repeat the mantra of a two-state solution, the bill instead seeks to "promote equality, human rights, and dignity for both Palestinians and Israelis" as the basis of US policy.
Hinting at its opposition to current and future apartheid policies Israel inflicts on the Palestinian people, the bill categorically "rejects any undemocratic system or act of aggression in which Israel unilaterally exercises permanent rule over a Palestinian people denied self-determination and human rights."
Consequences for Israel
As important as these rhetorical stances are, the bill is also noteworthy for its implications if enacted.
It would make it the "policy of the United States not to recognize any claim by the government of Israel of sovereignty over any part of the occupied West Bank."
It would also prohibit the US government from taking any action or providing "any assistance in a manner that extends or implies United States recognition of such a claim of sovereignty."
Not only would this prohibition apply to future Israeli annexations in the West Bank; it would also appear to apply retroactively to Israel's de facto annexation of East Jerusalem – part of the West Bank under international law – in 1967 and its de jure annexation in 1980.
The bill also includes a long list of the types of US funding that would be denied to Israel to maintain its annexation of Palestinian land, including the "deployment of personnel, training, services, lethal materials, equipment, facilities, logistics, transportation or any other activity."
Because the bill also prohibits US funding "to facilitate or support the unilateral annexation of such territory," it could also create a mechanism to deny most or all US funding to Israel in occupied Palestinian territory.
This is because it is reasonable to suppose that all of Israel's military occupation would be geared toward facilitating and supporting its annexation of Palestinian land.
Finally, the bill would create a certification and reporting requirement mandating the State Department to provide Congress with a detailed annual report specifying whether Israel violated the bill's restrictions on US funding.
This potentially creates a future mechanism to hold Israel accountable for such violations.
UAE normalization "changes nothing"
In a strongly worded statement for publication in the Congressional Record, McCollum stated that annexation "will fuel conflict, injustice and an abhorrent system of apartheid."

McCollum also dismissed the significance of Thursday's announcement that Israel had agreed to suspend its annexation plans in exchange for normalization of relations with the United Arab Emirates.

The agreement "changes nothing," she said.

Israeli Prime Minister Benjamin Netanyahu and President Donald Trump "have taken nothing off the table," McCollum added. "Their promises and commitments are worthless. They have both proven time and time again that they cannot be trusted."
"Grounded in human rights"
Original cosponsors of the bill offered similarly strong condemnation.
"The Netanyahu government receives $3.8 billion in US taxpayer-funded military handouts every year and, with the backing of the impeached president, they have worked to further entrench an apartheid system," Tlaib stated.
Ocasio-Cortez termed the bill "an extension of our values, grounded in human rights, international law and a commitment to freedom, equality and justice for all people."
"Our budgets are statements of our values, and we must state definitively and unapologetically that our US taxpayer dollars will not be used to support the unilateral annexation and ongoing oppression of the Palestinian people," Pressley declared.
Omar decried annexation as a "land theft and an aggressive exercise of unilateral power."
Such forthright criticism of Israel and support for Palestinian rights are still rare but are becoming increasingly prevalent in Congress.
Combined with the bill's conditioning of US funding to Israel, the rollout of this initiative is historic in its tone and significance.
Groups supporting the bill, such as American Muslims for Palestine, have created action alerts for people to encourage other representatives to become cosponsors of the bill.
Tags