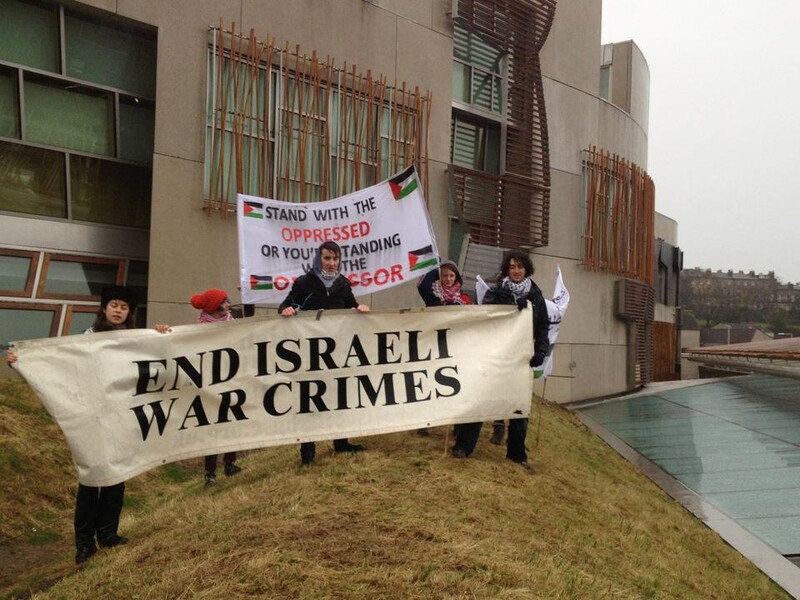 Activists from the We Are All Hana Shalabi network today scaled and occupied the roof of the Scottish Parliament to protest the Scottish government's failure to condemn Israel's attack on Gaza and to demand sanctions be imposed on Israel. 
The campaigners scaled the parliament roof at about 11:30am this morning and were on top of the £414 million ($660 million) building for more than two hours before being removed by police. All of the participants were arrested and are still in police custody at the time of writing. 
Before winning re-election with a majority government in 2011, Scotland's First Minister Alex Salmond described Israel's attack on the Mavi Marmara as an "atrocity on the high seas" and argued that "you can't have normal relationships if you believe another country has been involved in what Israel has been involved in." The action was timed to coincide with Salmond's weekly question and answer appearance before the parliament.
Although most foreign policy issues are still controlled by the UK government in Westminster, activists point out that there is a great deal more that the Scottish government could be doing to hold Israel accountable for its crimes against the Palestinian people. The Palestine solidarity movement is very well supported in Scotland and an Israeli diplomat recently told Haaretz that "every appearance by an official Israeli representative in Scotland is like a visit to enemy territory."  
The We Are All Hana Shalabi network, which formed to organize student and youth solidarity with the mass Palestinian prisoner hunger strike that took place earlier this year, is named after the Palestinian prisoner who was freed after a 43 day hunger strike. The network is one of the organizers of a march through Glasgow taking place on Sunday. 
Here's the We Are All Hana Shalabi press release in full: 
Around fifteen members of the We Are All Hana Shalabi network have occupied the roof of the Scottish Parliament at Holyrood, Edinburgh, in protest at the recent massacre carried out by the Israeli Army in Gaza.  

The activists are calling upon the Scottish Government to do more to condemn Israel's recent crimes, and to acknowledge strong Scottish public demand for sanctions against Israel for its ongoing occupation, colonisation and massacring of Palestinian people.  

A statement this week from Scottish Government Minister for External Affairs and International Development Humza Yousaf acknowledged the illegality of Israel's ongoing siege of Gaza, yet the Scottish Government has failed to take steps towards exerting international diplomatic pressure on Israel.

Last nights ceasefire agreement may have brought an end to most recent escalation of attacks on Palestinians in Gaza, however history demonstrates that Israel will continue to carry out acts of aggression on the people of Gaza, who remain under siege by a brutal occupation which restricts movement of people as well as essential materials such as food, medicine, building materials etc.  

Israel has a history of violating ceasefire agreements, and the action at the Scottish Parliament today intends to pressure the Scottish Government to acknowledge this reality and take preventative action today.  

Beti Brown, 19, who is on the roof of Parliament at this moment, said:

"The world has been shocked to watch Israel's recent attacks on the civilian population of Gaza, and many people have felt helpless as to what we can do as members of the public to stop the violence.  We are calling on our government to acknowledge Palestinian rights, which include the right to defend themselves against the illegal occupation it has suffered under for decades, and to support the movement for Boycott, Divestment and Sanctions against Israel."

The action at Parliament today takes place during First Minster's Questions.  
And here are some more photographs of the activists on top of the roof: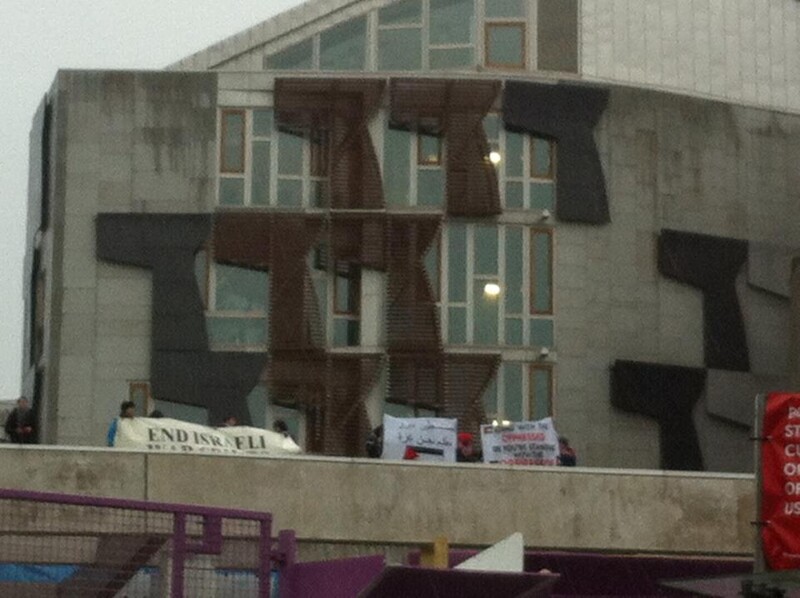 Correction: This article originally stated that Alex Salmond's comments condemning Israel's massacre on the Mavi Marmara had taken place "Before taking office." In fact, Alex Salmond was first elected as First Minister (with a minority Scottish National Party government) in 2007. The paragraph has been revised accordingly to clarify this.
Tags