Updated: 12 October
Hip hop duo Rebel Diaz have canceled their scheduled 12 October performance at the Creative Time Summit 2012 in New York because the event is held in partnership with an Israeli-government funded institution.
The announcement came in a YouTube video released the night before their scheduled show. Rebel Diaz was invited and confirmed to perform but changed their minds after being contacted by "Palestinian comrades."
"We made the decision not to participate, that we will show solidarity with the Palestinian community," said the duo's Rodrigo Venegas, also known as RodStarz.
Gonzalo Venegas – known as G1 – said that Israel, in ways analogous to the Democratic and Republican parties and other establishment forces, "are using hip hop and trying to put on cultural events to make it seem like they're for the people when in reality they are serving the interests of the neoliberals and imperialists."
The duo said that the decision came at a financial cost for them, but that their solidarity was more important.
Decision follows Egyptian group's boycott of Creative Time Summit
Rebel Diaz's decision to respect the Palestinian call for boycott, divestment and sanctions (BDS) follows a similar decision by Egyptian media collective Mosireen earlier this week to also boycott the Creative Time Summit.
The Creative Time Summit, a festival of public art, speeches and forums, which runs on 12-13 October in New York City, lists numerous partners around the world, however, the Israeli Center for Digital Arts is only one of a handful of "in-depth partners" that includes the California College of Arts and the Rhode Island School of Design (Note: the partner page appears to have been removed, but see the screenshots below).
The Israeli Center for Digital Arts is funded by the Israeli government.
The Palestinian Campaign for the Academic and Cultural Boycott of Israel (PACBI) calls on civil society to boycott events with Israeli institutions because, among other things, such events serve to whitewash Israel's crimes and human rights abuses against Palestinians.
Among the Creative Time Summit's funders are the New York City Department of Cultural Affairs, the state of New York, the Ford Foundation and Bloomberg Philanthropies.
The Narcicyst pulls out of Creative Time Summit Dubai
Following an early version of this post, hip hop artist The Narcicyst (Yassin Alsalman) also pulled out of the Creative Time Summit in Dubai. He explained via Twitter, "I was asked to moderate a panel on 'occupation.' I was unaware of the 'partners' till this morning. The irony was too much. My decision is based only my support of Palestine and its people, our people, my people. As an Iraqi, I wish people took the same stand for all injustices."
Alsalman added by email:
I was asked, as a musician who is from a country that was occupied, to moderate the "occupation" panel. As I was on tour, I should have done my research before agreeing but the truth came to me today. I find it painfully ironic and now understand that this summit may serve to further normalize the condition of occupation, amongst other issues, as a talking point and not a reality. This is something I couldn't stand for. So I stood for Palestine and its good people in solidarity with the BDS movement. Word to Edward Said.
Update: Creative Time Summit "partner" page showing Israeli group removed
In light of the boycott actions mentioned above, by Mosireen and Rebel Diaz, it would appear that the Creative Time Summit has attempted to scrub its website of the evidence of its partnership with Israeli government funded Israeli Center for Digital Art.
Luckily, we kept screenshots. You can see the page as it appeared before, whereas now a click on the link brings up "page not found."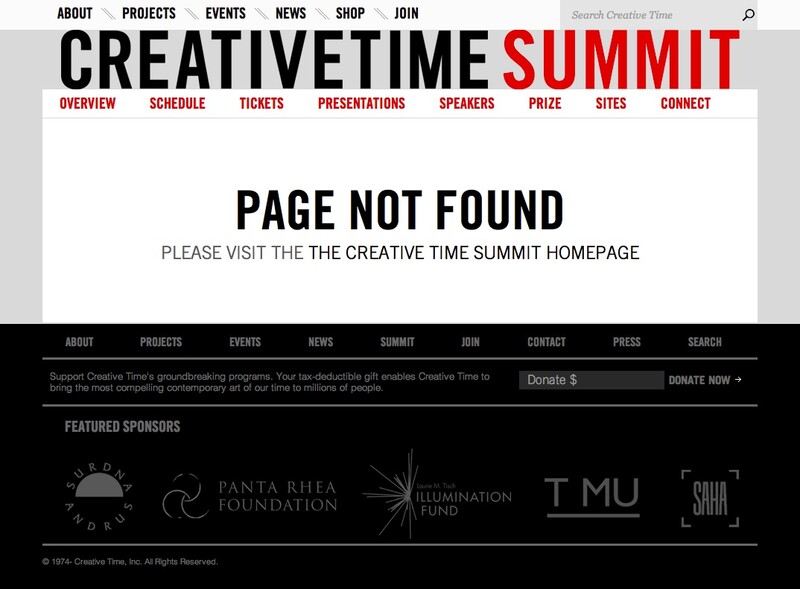 There is, as of now, still a page on the Creative Time Summit website for the Israeli Center for Digital Arts, but it does not say anything about a partnership.
Thanks to the EI readers who spotted the changes to the website and documented them in the comments section below.
Tags