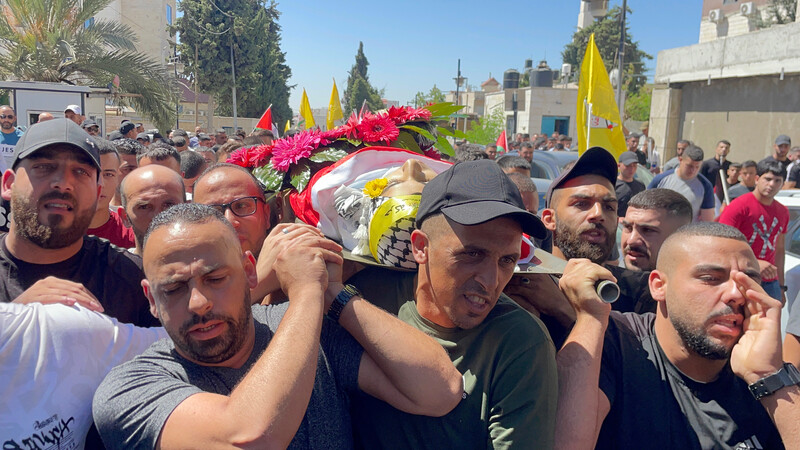 An Israeli court has released two settlers suspected of involvement in the killing of a Palestinian teenager last week.
Elisha Yered and Yehiel Indore were released on Wednesday from detention and are now under house arrest. Indore, who was reportedly injured by a rock and hospitalized, had "admitted to using a firearm" – but claims that he only fired "in the air, after he felt that there was a danger to his life and the lives of others," Tel Aviv daily Haaretz reported.
Qusai Jamal Mutan, 19, was killed when some 20 settlers raided an area of Burqa village. The settlers fired off guns, according to witness testimony collected by the Palestinian Center for Human Rights, and were confronted by youths.
Mutan "was cooking food on a fire and was not involved" in any confrontations, when he was shot, PCHR reported.
"The settler was only five meters away from Mutan when he directly opened fire at him, wounding him with a live bullet in his neck," one witness told PCHR.
Two others were wounded in the attack, according to PCHR.
Though no Israeli settlers were killed, Israel arrested five Palestinians for supposed "involvement" in the case. The five Palestinians remain in custody.
Yered, a settler fanatic who has openly and repeatedly incited ethnic cleansing and genocide against Palestinians, is believed to have buried the weapon used by Indore near the woods in the settlement where he lives. Yered previously worked as a spokesperson for a lawmaker in Israeli national security minister Itamar Ben-Gvir's Jewish Power party.
"Once the police arrived at Yered's house, he led them to the buried weapon, claiming that he did not intend to hide it and disrupt their investigation, but was afraid that if the weapon was left at the scene, it would be eventually found by the Palestinians," Haaretz said.
The newspaper reported that the case against Yered amounts to obstructing justice and unlawful possession of a weapon, not murder. Indore has a slim chance of being charged with murder.
Two members of the Israeli Knesset from the Otzma Yehudit (Jewish Power) party visited Indore in hospital. But Israeli police barred Palestinian Knesset member Ahmad Tibi from visiting any of the five arrested Palestinians.
Ben-Gvir praised the settlers suspected of involvement in killing Mutan as "heroes."
Days later, he was posing for photo-ops in his first meeting with an EU official, Anna Koukkides-Procopiou, his Cypriot counterpart, during a vacation to Limassol.
Extrajudicial execution
Meanwhile, Israeli occupation forces killed three Palestinians, including one child, in broad daylight on Sunday in what human rights groups are calling "extrajudicial executions."

The three were killed while in a moving vehicle on a road in Jenin in the northern occupied West Bank on Sunday afternoon.

Israeli troops were driving in two cars with Palestinian registration plates on a road linking the village of Bir al-Basha and the town of Arraba when they intercepted a gray car with a yellow Israeli license plate, carrying the three Palestinians.

Israeli troops stepped out of their vehicles and opened fire at the gray car before being joined by additional troops who blocked traffic and fired tear gas canisters. Some of this was caught on film.

The gray vehicle was left riddled with bullet holes.

When the troops retreated from the area, they towed away the vehicle with the three victims, withholding their bodies.

People at the scene "saw brain tissue scattered on the ground," according to PCHR.

Two of those killed were identified as Nayef Jihad Abu Sweiss, 27, and Khalil Nizar Abu Naaseh, 21. They were both from the Jenin refugee camp, and members of the Jenin Brigade, a group associated with Saraya al-Quds, the military wing of the Islamic Jihad resistance group.

Local media circulated their pictures following their killings:

Also killed was a 16-year-old child, Bara Ahmad Fayez al-Qerm, according to Defense for Children International-Palestine. DCIP said it was the Yamam unit of the Israel Border Police that was part of the Israeli killing squad, which also included eight Israeli special forces.

"It is unclear how many bullets struck Bara or their locations, since Israeli authorities confiscated his body," DCIP said.

In March, members of Yamam killed four Palestinians in Jenin, including 14-year-old Omar Awadin, who was shot in the back by undercover forces while riding his bike outside his parents' shop.

The Israeli army, the Shin Bet internal security police and the Israel Border Police said they worked together to stop a "terrorist cell" headed by Abu Sweiss from carrying out an attack.

The Israeli military claimed it found an M16 rifle in the car, providing a picture to back up its claim. It is unclear why a group of three Palestinian resistance fighters on their way to engage in an operation would be carrying only a single weapon between them.
Another child killed
On Monday, a 17-year-old child succumbed to wounds he sustained when an Israeli settlement guard shot him in the chest on 2 August outside Ofra, an Israeli colonial settlement built on lands stolen from Palestinians in the nearby villages of Ein Yabrud and Silwad.

Ramzi Fathi Abd al-Rahman Hamed was in the passenger seat of a car with some friends.

When they saw the Israeli settlement guard's car, they tried to turn around and leave the area. But the guard opened fire from a distance of 10 meters (33 feet), DCIP reported.

"Palestinian children live in a hyper-militarized context where Israeli civilians illegally settled in occupied territory are armed by the Israeli government as a matter of official policy," said Ayed Abu Eqtaish, accountability program director at DCIP.

"Israeli soldiers, police and private security staff not only protect Israeli settler populations, but they also aid, abet and perpetrate violence against Palestinians, including children."

Since the start of 2023, 40 Palestinian children have been killed in violence related to Israel's military occupation, according to DCIP, four of them since the start of August.