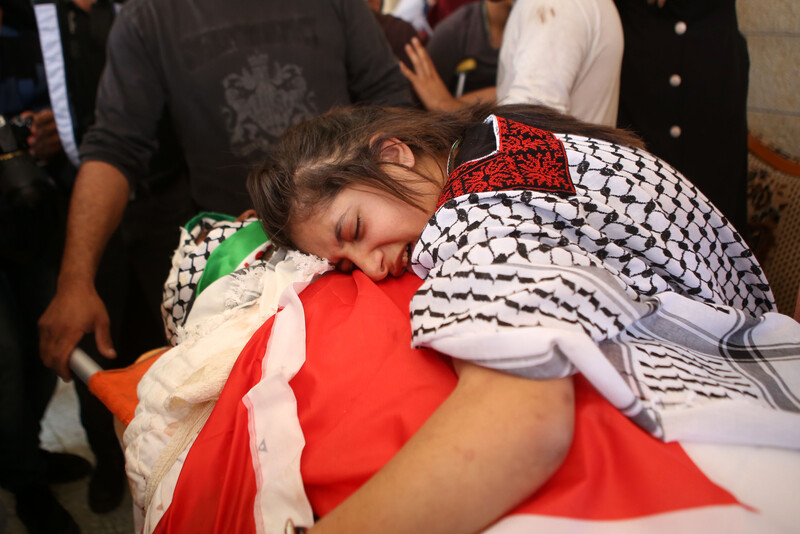 Palestinian prisoners have announced a boycott of Israeli military courts and will refuse to attend court hearings and encourage lawyers and human rights organizations to similarly stay away as a way to delegitimize the Israeli legal system.

The boycott started on 15 February, and will last, prisoners say, until Israel ends its practice of administrative detention – the widespread Israeli practice of imprisonment without charge or trial that can be renewed indefinitely and which is rooted in British colonial practices.

"The Israeli military court and laws are in complete harmony with the occupation's policies against our people and represent a complete disregard for international norms," detainees wrote in their statement.

Palestinians who are taken to military court are faced with a near 100 percent conviction rate.

The protest comes as a number of Palestinian prisoners continue their hunger strikes in protest of their administrative detention, including Rizk Rajoub.

Khader Adnan, a former detainee who has previously undertaken two prolonged hunger strikes – 66 days in 2012 and 55 days in 2015 – in protest of his detention without charge or trial by Israel – was arrested again on 11 December.

Adnan immediately began a third hunger strike. He is set to appear in the Salem military court on 28 February.

Prominent Palestinian human rights defender Issa Amro was also arrested on 15 February in front of the Ibrahimi mosque.

Issa Amro was also arrested in September over Facebook posts critical of the Palestinian Authority's earlier arrest of the head of a radio station in Hebron.

He was later released on bail by the PA, but is already facing an Israeli military tribunal for his activism against Israeli colonization of Hebron.
Mother and daughter jailed together
In addition to the imprisonment of the child Ahed Tamimi and her mother Nariman, another mother and daughter pair has also been suffering Israeli detention.
Rusaila Shamasneh, 48, has been on hunger strike for more than two weeks to protest her solitary confinement, as well as reportedly being severely beaten with her 14-year-old imprisoned daughter during their interrogation.
Rusaila and her daughter, Sarah Shamasneh, were arrested from their home in the city of Qatana, northwest of occupied Jerusalem, on 31 January.
Sarah's sister, Fatima, described her mother and sister's violent arrest to al-Araby al-Jadeed.
Severe beatings
Fatima told the UK-based website that Israeli soldiers raided their home in a "barbaric and violent intrusion at dawn. They tore pictures of my [martyred] brother, assaulted my mother and sister and beat me."

Rusaila, according to Fatima, only accompanied her daughter out of fear of leaving her alone with the Israeli soldiers, of whom there were about 20. The two were beaten during arrest, Sarah on two-year-old charges levelled at her when she was just 12, Fatima told al-Araby al-Jadeed. They were also beaten during interrogation.

"My mother passed out from the severity of the beating, and she was covered in bruises all over her body," Fatima said.

Now, mother, for a third time, and daughter are being held in isolation from one another in HaSharon prison.

Palestinians protested Rusaila and Sarah's detention in the occupied West Bank city of Ramallah earlier on Monday.

Rusaila and Sarah are the mother and sister of Muhammad Shamasneh, who was killed in 2015 after he allegedly stabbed two Israelis, including a soldier, inside an Israeli bus near the central bus station west of Jerusalem.

Muhammad was killed on the spot.
Withholding of bodies
Israel has taken the bodies of two slain Palestinians, according to Ma'an News Agency, and is holding them until further notice.

Hamzeh Zamaareh, 19, and Ahmad Nasser Jarrar, 22, were killed in separate incidents earlier this month.

Jarrar was shot and his body taken away by the Israeli military during a raid on Yamoun village near the city of Jenin, in the northern West Bank, as seen in the video below.

Israel regularly withholds the bodies of slain Palestinians, sometimes for years on end. The army is currently understood to be holding the bodies of 16 Palestinians killed in the past two years and 260 Palestinians killed since 1967.
Jailed women and children
On February 13, two Palestinian students at the Palestine Polytechnic University in the West Bank city of Hebron were sentenced, imprisoned and handed a $1,000 dollar fine under charges of "incitement."

Sara Hamida, from the West Bank city of Bethlehem, was arrested on 28 December on her way home from university when she had to pass a military checkpoint. She was sentenced to four months in jail.

Bayan Taha Khamaisa, 21, from the town of Tafouh near Hebron, was arrested on 16 November when Israeli forces raided her house. She was sentenced to three-and-a-half months in jail.

"The students were charged with "incitement" for publicly posting their political views and for organizing with the Islamic bloc at the university," reported prisoners' solidarity group Samidoun.

Yasmine Abu Srour, 20, from Aida refugee camp in Bethlehem was seized on 17 January. On 6 February, the Israeli army raided her home a second time, ransacking it and confiscating her laptop.

Abu Srour was previously detained for three months in 2015 when she was accused of carrying a knife in her bag when she went to visit her imprisoned brother Ashraf.

Meanwhile, child prisoner Rama Abdellatif, 16, was sentenced to eight months in HaSharon prison on 5 February.

She was initially arrested on 15 February 2016 and was jailed for two months before being released. Abdellatif has since been exiled from her home in the city of Jerusalem and forced to live in the village of Beit Naqquba in Israel.

In Hebron, two Palestinian children were arrested after being accused of stone-throwing.

Their arrest, captured on video above, shows their uncle telling Israeli soldiers that they had been feeding sheep together and that the boys were not throwing stones.

The soldiers nevertheless take the boys as one of the soldiers turns to the woman filming the incident and jokes about whacking her over the head with a baton.

Israel is currently holding 59 Palestinian female prisoners and 350 children.
Tags