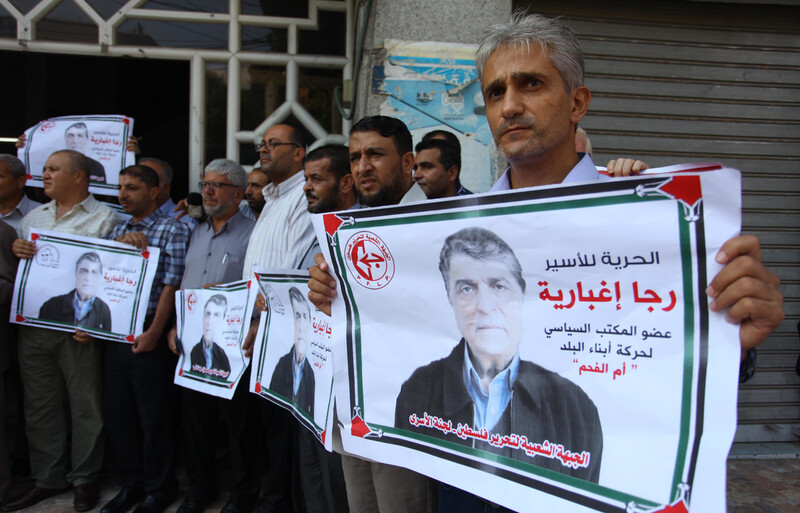 Palestinian activist and political leader Raja Eghbaria was released by Israel on Monday more than a month after his arrest.
Eghbaria, a Palestinian citizen of Israel and a leader of the Abna al-Balad political movement, is now under house arrest and barred from using the internet.
He was arrested on 11 September over Facebook posts he made in the last year, according to Adalah, a legal advocacy group for Palestinians in Israel.
Eghbaria was accused of "incitement to violence and terrorism" and "support of a terrorist organization through social media," according to the publication Arab48.
Although multiple errors were found in the translation of the Arabic posts made by Eghbaria, Israeli authorities asserted that "it doesn't matter."
Eghbaria appeared in court on 7 October, where an Israeli prosecutor revealed "that the state has only ever sought detention until the end of court proceedings for Arab suspects in online incitement to terror cases – but never for Jewish suspects," according to Adalah.
Israel considers a wide range of political expression and opposition to its violations of Palestinian rights to constitute "incitement."
"During the hearing, it was revealed that the state was unable to point to one case of suspected online incitement to terrorism in which detention without bond until the end of trial was sought for a Jewish defendant."
There have been multiple cases where Israel requested the detention of Palestinian defendants until the end of proceedings.
The arrest of Eghbaria comes after the high-profile prosecution of Dareen Tatour, a poet and also a Palestinian citizen of Israel.
She was released in September after three years of legal proceedings and serving a prison sentence for poetry and Facebook postings that Israeli authorities also deemed to be incitement.
Fighting for basic rights
Palestinian prisoner Omran al-Khatib, 60, ended his hunger strike on Sunday after he came to an agreement with the Israel Prison Service to provide him with treatment and allow his children to visit.
Al-Khatib was on hunger strike for 66 days to protest his solitary confinement at Ramle prison and to obtain conditions that should have been granted by right.
Al-Khatib, from Jabaliya refugee camp in the Gaza Strip, has spent more than 20 years of a 45-year sentence in prison.
He's one of several Palestinian prisoners who have launched hunger strikes in recent weeks.
Third long-term hunger strike
Khader Adnan's health has deteriorated as his hunger strike has exceeded 40 days to protest his latest arbitrary detention, the Palestinian Prisoners' Club stated.
Adnan's lawyer was able to visit him in Ramle prison and said that Adnan attended the meeting in a wheelchair.
Adnan is refusing to take supplements and has refused to undergo medical examinations since the beginning of his strike.
Adnan sent a message through the lawyer, urging Palestinians to support him in his struggle.
The prisoner's club said that since he began his protest, Israeli authorities have transferred Adnan several times, most recently to Ramle prison, in an attempt to isolate and humiliate him.
Adnan is from the occupied West Bank city of Jenin. He previously undertook two prolonged hunger strikes: 66 days in 2012 and 55 days in 2015.
He was arrested again on 11 December, and has been held in so-called administrative detention – indefinite imprisonment without charge or trial – ever since.
40 days indoors
Meanwhile, Palestinian women held at HaSharon prison are continuing to protest the prison authorities' decision to turn on surveillance cameras in the prison yard in September, after a visit by Israeli internal security minister Gilad Erdan.
The women have refused to go out to the yard, the only outdoor area they are permitted to use, for more than 40 days. They plan to continue their protest until the surveillance cameras are covered again.
Prison authorities tried to negotiate multiple times with the women to turn on the cameras for two and a half hours a day, but the prisoners have refused.
Living conditions at HaSharon prison are very difficult, the Palestinian Authority's Commission of Detainees and Ex-Detainees Affairs stated.
Women at HaSharon complain of pressure and overcrowding. There are currently 35 detainees in the prison, three of whom sleep on the floor.
Prisoners have to spend long hours inside cramped, humid rooms, which is bad for their physical and psychological health.
The cameras were installed years ago but were shut down after prisoner protests.
The women at HaSharon previously threatened to escalate their protests, including a hunger strike, if the cameras are not turned off.
Tags