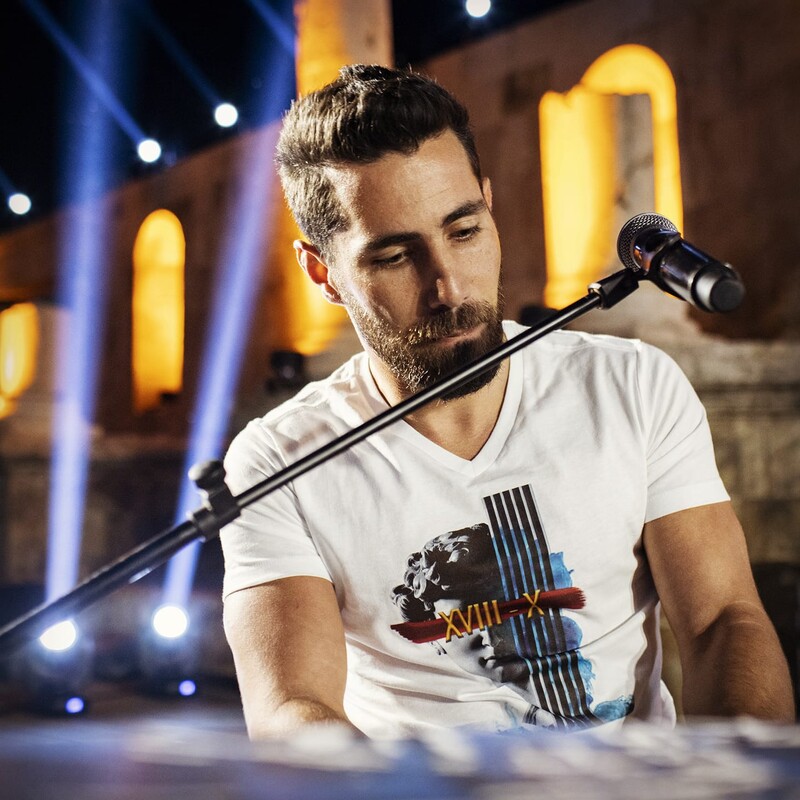 Jordanian musician Aziz Maraka held a concert in Israel last month despite strong objections that it would constitute normalization with Israel.
Faced with a backlash, Maraka published a video on 26 December apologizing for violating boycott guidelines.
But in an interview with Israel's Haaretz newspaper last week, he shifted course again, defending his performance and sharply criticizing BDS – the boycott, divestment and sanctions movement for Palestinian rights.
Maraka performed a day after the Christmas market festival in Kafr Yasif, a Palestinian town in northern Israel, on 16 December.
The festival, which took place between 12 and 15 December, was organized by the Kafr Yasif regional council and sponsored by Israel's culture ministry and the Mercantile Bank, an Israeli company.
In his 26 December video posted on Facebook, Maraka said that he offered festival organizers a reduced fee so as to avoid sponsorship from any official Israeli body.
The guidelines set out by PACBI, the Palestinian Campaign for the Academic and Cultural Boycott of Israel, urge artists and cultural figures to boycott "a public event/activity carried out under the sponsorship/aegis of or in affiliation with an official Israeli body or a complicit institution."
That would make the Christmas festival a reasonable target for the boycott.
Maraka stressed that "my concert was after the Christmas festival, and was not part of its activities."
The official Facebook page of the festival did, however, advertise Maraka's performance.
Boycott guidelines
PACBI insists that cultural figures with passports from Arab states wishing to perform in Israeli-controlled territory must not obtain an Israeli visa to do so, but rather obtain a permit issued by occupation authorities which does not require their passport to be stamped.
PACBI says this would demonstrate a "refusal to deal with the occupying entity as a normal country."
Maraka stressed that he entered with a permit, not a visa issued by the Israeli embassy in Amman, and therefore he did not violate PACBI's guidelines.
"Palestinians are an imprisoned people, and if you want to visit them in the West Bank, in [present-day Israel] or the Gaza Strip, you'll be forced to deal with the jailer," he said in a now-deleted video.
In Jordan and other Arab states, it is moreover commonly held that artists should not perform in Israel under any circumstances.
In his 26 December Facebook video, Maraka, however, defended performing for Palestinians in Israel and in other Israeli-occupied territories – saying he wanted to perform in the West Bank and Gaza as well.
He also read an apology he said was written by BDS 48, a branch of the boycott, divestment and sanctions movement that operates within Israel.
"I apologize for my breach of the Palestinian boycott standards," Maraka said.
"I pledge to oppose normalization in the future."
BDS 48 had urged Maraka not to go.
"The committee reached out to the Jordanian artist, explaining to him the dimensions of normalization he was about to be involved in," BDS 48 stated a couple of days after Maraka's concert.
"But he insisted on moving forward and presenting at the closing ceremony of the festival."
Push back
Shadi Shuwairi, the head of the Kafr Yasif regional council, acknowledged that the municipal body did sponsor Maraka's concert but also pushed back against the criticism.
Shuwairi said that Maraka's concert was not part of the Christmas market and criticized social media users for circulating a misleading photomontage that showed the announcement for Maraka's concert with logos of Israeli sponsors superimposed on it.
He also insisted that Palestinian citizens of Israel had the right to maintain contact with Palestinian and Arab communities outside the country without being accused of promoting normalization.
Shuwairi asserted that there is a "lack of consensus" among supporters of the boycott of Israel over visits by artists from Jordan to Palestinian communities within Israel.
Attacking BDS
Yet not only did Maraka arguably cross the international picket line set by Palestinian civil society against performing in Israel, he also attacked the boycott, divestment and sanctions movement.
"I follow BDS and their activities closely, and with time I began doubting their credibility," Maraka said in another now-deleted Facebook video.
"I haven't seen them achieve any results for the Palestinian cause or for Palestinian youth. They haven't even had an effect on the occupation's economy."
This dismisses significant and hard-won BDS victories over the past few years and ignores Israel's active global campaign of covert sabotage targeting the BDS movement.
Maraka renewed his criticism in an interview with Haaretz published in English on 19 January.
"BDS people, as well as politicians and activists, have an interest in keeping me – and us, the artists – paralyzed and intimidated," he said of the movement broadly supported by Palestinian civil society.
"Now I can say that BDS will think twice before they touch an Arab singer."
Maraka described meeting a young Jewish woman at the Allenby Bridge separating the occupied West Bank from Jordan.
"We had a nice chat," he told Haaretz.
"She was really cool. She said she loves music and wanted to know about my performance in Israel. She told me that in a year she'll be going into the army. And I look at her and think to myself that it doesn't suit her," he added.
"But I understand that she has to do it anyhow. It seems to me that fear can push any creature to be aggressive."
Performing at Rawabi
This is not the first time Maraka has been under fire for performing in Israeli-ruled territory.
In September 2018, Maraka performed at Rawabi, a multi-million dollar occupied West Bank housing development marketed to well-to-do Palestinians.
Rawabi was built on land confiscated from surrounding Palestinian villages by the Palestinian Authority, and handed to the private real estate firm run by Palestinian American tycoon Bashar Masri.
Masri's company bragged that it had spent up to $100 million a year on Israeli expertise and materials during construction, making Rawabi part of "a true example of an economy for peace."
Etharrak, a Jordanian activist group that opposes normalization with Israel, had denounced Maraka's performance in Rawabi at the time.
"We do not consider visiting West Bank cities as normalization with the enemy," the group said, but argued that when it comes to Rawabi "perhaps it is necessary to distinguish between it and other West Bank cities."
"We warn of the danger of going to that city, because this may lend unintended support to Zionist investments in it."
The activist group said that Rawabi is "a model for a neoliberal approach" that "strengthens relations between Palestinian and Israeli economic elites."
A request for comment was sent to Maraka on Wednesday.
Tags