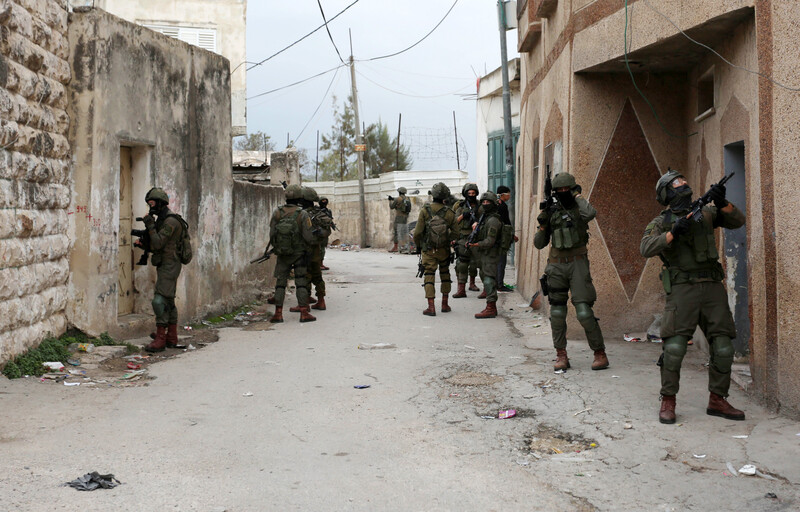 Israeli settlers carried out at least 20 revenge attacks on Palestinians and Israeli soldiers following the killing of three settlers near the occupied West Bank village of Salfit on Tuesday.

In one incident, northwest of Nablus, settlers dragged a Palestinian driver from his truck, beat him and burned his vehicle. Most of the other incidents involved settlers throwing stones at Palestinians.

Tuesday's attack by a Palestinian, which included stabbings and a car-ramming, lasted more than 20 minutes.

That it went on for so long is a major embarrassment for Israel's hyper-militarized security apparatus in the West Bank. It is the latest evidence that Israel's suffocating military repression of Palestinians does not produce "security," but only generates more violence.

On Tuesday morning, Muhammad Murad al-Souf arrived at an industrial zone in Ariel, a major Jewish-only colony near Nablus, and stabbed a security guard at the gate, seriously wounding him. Another guard fired in the air but not at al-Souf.

Al-Souf, 18, had a work permit as a cleaner in the industrial zone.

He then ran to a nearby gas station, where he stabbed three Israelis, two fatally.

A video circulated by media is said to show al-Souf stab one man at what appears to be the gas station.

Al-Souf fled the scene in the stolen vehicle of one of those he killed at the gas station.

He crashed into and killed another Israeli. He then exited the vehicle and stabbed another settler, seriously injuring him.

As another man exited his car to assist the wounded settler, he said al-Souf tried to stab him as well and was able to flee in his car.

As al-Souf was approaching a checkpoint, he turned around, heading back to the crash site.

He tried to escape on foot, but was killed by Israeli fire.

Al-Souf, from the village of Hares near Salfit, is the 10th Palestinian killed by Israeli fire this month alone.

Graphic footage showed al-Souf lying on the ground incapacitated for at least 12 seconds without receiving medical attention.

Pictures of him were circulated on social media following his killing: Israel is already preparing to carry out the revenge demolition of al-Souf's family home in the village of Hares.

Collective punishment of this kind is a war crime that Israel only perpetrates against the families of Palestinians accused of harming Israelis, and never against the families of Israelis who harm Palestinians.

Israel claims the measure is a deterrent, but like Israel's other violent attacks on Palestinians, it has done nothing to quell resistance to its occupation.
Embarrassment
"This event could have ended in the industrial area," an unnamed senior Israeli army officer said, according to The Jerusalem Post, adding that al-Souf "succeeded with quite a bit of audacity."
Israeli military officials are reportedly planning to question the second security guard who shot into the air, not at al-Souf, when his colleague was stabbed.
Israeli army chief of staff Aviv Kochavi said the incident "should have ended differently," adding that the army "will investigate and learn the lesson."
This is not the first time in recent months that Israeli military leaders have been embarrassed by an operation carried out by a Palestinian.
Last month, a Palestinian named Udai Tamimi killed an Israeli soldier and injured several others at a military checkpoint near Shuafat refugee camp. He then managed to escape without being captured.
Video of that incident shows him calmly exiting a vehicle, walking towards a group of soldiers and security guards and shooting them at point-blank range before disappearing.
Israeli occupation forces were unable to find Tamimi until he reappeared 10 days later and carried out another shooting attack on Israeli security guards near the Maaleh Adumim settlement east of Jerusalem – far from Shuafat.
Tamimi was killed during that attack.
A joint investigation by the Israeli army and police into Tamimi's killing of the soldier in Shuafat "leveled criticism at the feeble response of police posted at the checkpoint," according to liberal newspaper Haaretz, and reprimanded six Israeli officers and policemen.
Similar criticisms came after Tuesday's attack.
"The response of some members of the security services seems to have been slow and hesitant," Haaretz reported. Al-Souf was "armed only with a knife, and he stabbed a security guard at the entrance to the Ariel industrial area, while another security guard didn't manage to harm him."
No quiet
This year has seen a revival of armed resistance in the occupied West Bank.

It has also been the deadliest year for Palestinians in the West Bank since at least 2005.

The rise of the Lion's Den resistance group in Nablus and the resurgence of armed resistance in Jenin have left Palestinian Authority forces – which act as Israel's foot soldiers – struggling to maintain control.

Even Haaretz analysts consider that the growing violence "no longer really a wave, but seems like a kind of new reality."

"The violence itself is now almost a permanent fact, even if it doesn't reach the dimensions of a third intifada," the newspaper observed. "There is never total quiet in the West Bank."

Israeli leaders and analysts consistently fail to understand that so long as the cause of the violence remains, which is Israel's settler-colonial military occupation, there will never be permanent quiet anywhere in historic Palestine, and resistance will continue to take on novel forms to evade Israeli countermeasures.

Under international law, armed resistance against military forces is entirely legitimate but it is also crucial to understand the context in which a Palestinian takes up arms against settlers.

As The Electronic Intifada's Maureen Clare Murphy previously wrote, "Settlers provide a key service to the colonizing regime by delivering the final push in a state system of oppression to force Palestinians off their land."

Under the protection of the Israeli army, settlers frequently attack Palestinians and their property, so it is not surprising that many Palestinians see them as indistinguishable from the more formal elements of Israel's occupation forces.

"Settler violence against Palestinians is part of the strategy employed by Israel's apartheid regime, which seeks to take over more and more West Bank land," according to B'Tselem, an Israeli human rights group.

"The state fully supports and assists these acts of violence, and its agents sometimes participate in them directly," B'Tselem adds. "As such, settler violence is a form of government policy, aided and abetted by official state authorities with their active participation."

The violence used by Palestinians against the occupation – including against settlers whom Israeli army officials identify as an inseparable part of their apparatus – is a reaction to the violence committed by their occupiers.