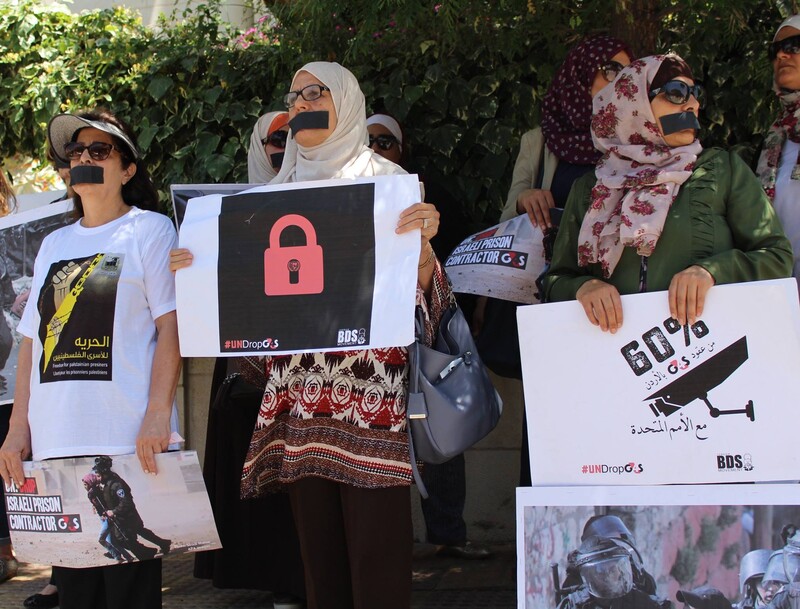 UN Women in Jordan has dropped its contract with G4S.

Four other UN agencies in Jordan have already ended their relationships with the security company under pressure from a campaign led by Jordan BDS, a group that supports the boycott, divestment, and sanctions movement.

Jordan BDS commended UN Women for taking "a principled step in line with its core values of promoting human rights and human dignity."

G4S is the largest security firm in the world and has been the focus of a global campaign because of its involvement in Israeli military occupation and human rights violations.

The firm operates in Israeli prisons where Palestinians are held without charge or trial, and provides equipment and services to Israeli military checkpoints and settlements.

Two years ago, Palestinians launched the #UNDropG4S campaign urging the UN to end more than $20 million dollars in contracts with the company.

UN Women's move followed a sit-in by Jordanian groups outside the agency's office earlier this year to support Palestinian hunger strikers and commemorate the Nakba, the 1948 ethnic cleansing of Palestine.
Five down, one to go
The UN development program UNDP is now the only UN agency in Jordan that still has contracts with G4S.
According to Jordan BDS, UNDP's continued dealings with the company violate ethical and human rights commitments that the agency is bound to respect.
"It is truly shocking that UNDP persists with its breach until now and continues to dismiss the values and principles that the agency itself proclaims to defend," Jordan BDS said.
As the campaign in Jordan gathers pace, in recent months prominent banks, a major hospital and companies including Orange and IKEA have ended their contracts with G4S.
Last year, UNICEF, the UN children's agency, dropped G4S at its offices in Lebanon, following a campaign by activists there.
Jordan's climate
The campaign to drop G4S comes amid heightened popular anger in Jordan, after an Israeli embassy guard shot and killed a 16-year-old Jordanian citizen, Muhammed al-Jawawdeh, at a residential building in Amman in July.
The property owner, Jordanian national Bashar Hamarneh, was also fatally shot in the incident.
The Israelis claimed al-Jawawdeh attacked the guard with a screwdriver, but the guard was spirited back to Israel under cover of diplomatic immunity before there could be a proper investigation.
The guard, Ziv Hai Mordechai Moyal, was given a hero's welcome by Prime Minister Benjamin Netanyahu.
There is also continued strong opposition to a deal Jordan signed last year to import gas from Israel.
Despite G4S's announcement late last year that it plans to halt all its business with Israel, it has yet to do so.
Palestinians renewed their calls for activist pressure on G4S after it emerged that the company was involved in Israel's attempt to impose tighter control on Palestinian access to Jerusalem's al-Aqsa mosque last summer.
Tags