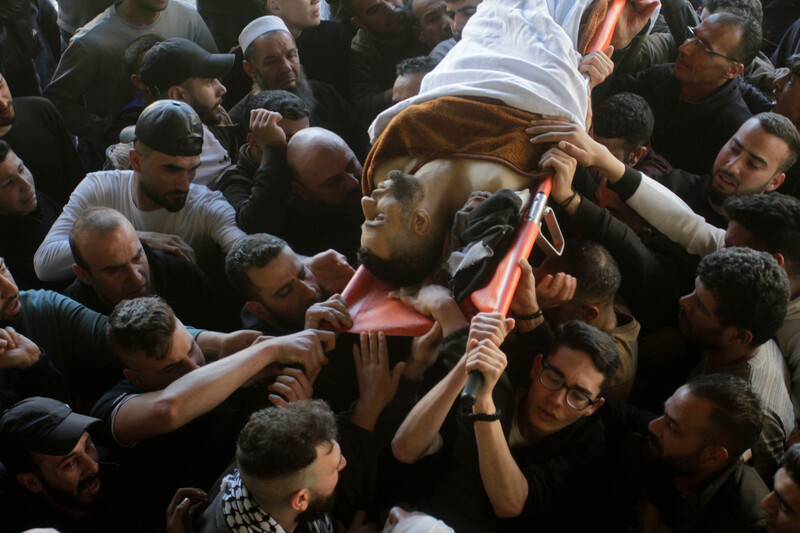 Three Palestinians were killed by Israeli forces in the occupied West Bank in the first three days of April, as fears mount that Israel will once again provoke a bloody escalation during Ramadan.

In one case, Israeli police killed a Palestinian citizen of Israel in occupied East Jerusalem and now appear to be covering up the circumstances.

On Tuesday morning, two Israeli soldiers were injured in what Israeli police are alleging is a stabbing attack near an army base southeast of Tel Aviv.

Israeli forces detained the assailant, who was reported by Israeli media to be from the occupied West Bank city of Hebron.

The stabbing of the soldiers came after Israeli occupation forces killed two Palestinians in the northern occupied West Bank city of Nablus on Monday.

Israeli forces were conducting early morning raids in the area when they claimed Muhammad al-Hallaq and Muhammad Abu Bakr fired at them.

Abu Bakr was an aide to Mahmoud al-Aloul, vice president of the ruling Fatah movement.

Local media circulated pictures of the two men following their killing:

Large crowds attended their funeral procession in Nablus: Since the start of the year, Israel has escalated its lethal raids on Palestinian communities, leading to a surging toll of deaths and injuries and provoking retaliation from Palestinians.

"Israeli security forces operations in the occupied West Bank and subsequent clashes have led to a staggering number of Palestinians killed and injured," Tor Wennesland, the UN Special Coordinator for the Middle East Peace Process, told the United Nations Security Council on 23 March.

UN monitoring group OCHA noted in January a surge in attacks on Palestinians and their property by Israeli Jewish settlers, on occasion "in the presence of or through active support by Israeli forces."

Ramadan in particular has become a time of increased Israeli violence and repression for Palestinians and this year has been no exception.

The Muslim fasting month, which started in late March, will coincide with the Jewish celebration of Passover this week.

As usual, Israel is imposing a tight closure on all Palestinians in the occupied West Bank and Gaza Strip during the Jewish holiday.

Israeli occupation authorities said they would ease restrictions for Palestinians worshipping at the al-Aqsa mosque on Friday.

Passover will also coincide on Sunday with Easter celebrations for some Palestinian Christian communities, during which many will want to pray at the Church of the Holy Sepulchre in the Old City of Jerusalem – the place Christians believe Jesus was buried and resurrected.

Just as Israel does with Palestinian Muslims, Christians also typically face Israeli restrictions on their movement and worship during holidays, infringing on their freedom of religion.

While Israel expects to welcome thousands of foreign tourists during Passover this week, occupation authorities typically announce holiday permit rules for Palestinians at the last minute, sometimes even after a holiday has begun, making it difficult for Palestinians to plan their travel.
Palestinian Bedouin killed in Jerusalem
Israeli police shot and killed a Palestinian Bedouin citizen of Israel in occupied East Jerusalem on Saturday night near one of the gates to the al-Aqsa mosque compound.
Eyewitness accounts contradict Israeli police claims that Muhammad al-Asibi had tried to steal an Israeli police officer's weapon and used it to fire at another policeman, before al-Asibi was shot multiple times at close range.
Israeli police insist that the incident, which took place by the Chain Gate, was not caught on camera in the heavily surveilled area. But this seems implausible even to some within the Israeli police.
An unnamed Israeli police source told Tel Aviv daily Haaretz that "it doesn't make sense" that the incident was not caught on camera.
"It's unheard of for there to be no cameras at the Chain Gate."
Al-Asibi, 26, was from the Bedouin town of Hura in the southern Naqab region.
A witness said that Israeli police stopped a woman going into the al-Aqsa mosque compound, and then people at the scene, including al-Asibi, got into an argument with police.
Haaretz reported that the witness "said that al-Asibi had been shot from close range for no reason; another witness said that there had been no attack."
Fahad al-Asibi, his relative, told the Israeli newspaper that he believes the police's account is fictitious.
"We know that every meter of alleyway in the Old City is recorded, and police are supposed to have [body] cameras," he told Haaretz.
Habitual lies and cover-ups
Al-Asibi's mother insisted that her son was neither carrying a weapon nor tried to steal a weapon, and accused Israeli authorities of lying about the circumstances surrounding his killing.
That would not be the first time.
Israeli occupation authorities have lied countless times about the circumstances in which they have killed Palestinians, notably in last year's slaying of Al Jazeera journalist Shireen Abu Akleh.
And while Israeli authorities are always quick to release surveillance videos they believe corroborate their narratives, they have been known to withhold them in circumstances where it is likely the video contradicts their claims.
Israel has for instance never released video of the 2016 killing of Palestinian American teenager Mahmoud Shaalan at a West Bank checkpoint, where presumably multiple cameras would be monitoring the location.
And in 2019, Israeli soldiers destroyed a video of an incident in which an Israeli settler shot and killed 23-year-old Palestinian Muhammad Abd al-Fattah as he was lying on the ground defenseless.
The Israeli interior ministry is supposedly probing the incident, though Israel's self-investigation mechanism has previously served to whitewash crimes against Palestinians and shield Israeli soldiers who perpetrated them.
Human rights group B'Tselem has long dismissed Israel's self-investigations as a "fig leaf for the occupation."
Meanwhile, Israeli ultra-far-right police minister Itamar Ben-Gvir expressed his congratulations to the police for killing al-Asibi.
Ali Abunimah contributed reporting.
Tags