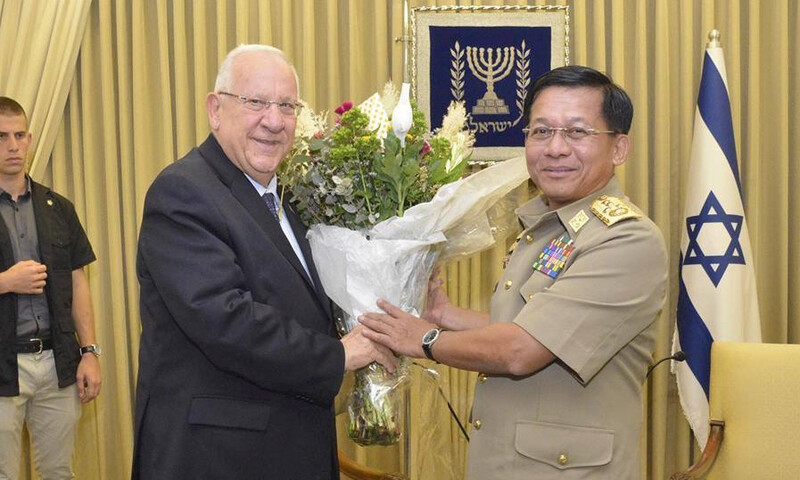 Throughout its short history Israel has been a dependable weapons supplier to pariah regimes, from apartheid South Africa and South Sudan to Rwanda and Serbia as genocides were underway.
Now we can add Myanmar and Burundi to the list.
For decades Myanmar, also known as Burma, suffered under the rule of a military junta so brutal most of the international community, including the US, imposed sanctions on the country.
In 2011, Myanmar began a process of partial transition to civilian rule, though the army remains very much in control.
This prompted the US to ease some trade restrictions, but military sanctions remain intact given that the Myanmar Armed Forces, referred to as Tatmadaw, still wield enormous power.
Meanwhile, Myanmar is facing renewed scrutiny over the mistreatment of its Rohingya Muslim minority, with a Yale University Law School assessment finding "strong evidence" that Myanmar is committing genocide against the stateless group.
Israel has responded to these developments by embracing and aiding Myanmar's military junta.
Red carpet
For four days in September, Israel literally rolled out the red carpet for a delegation of senior officers from Myanmar's ground, air and naval forces.
Senior General Min Aung Hlaing, the commander-in-chief of the Myanmar military, met with Israeli defense minister Moshe Yaalon, army chief Gadi Eizenkot and President Reuven Rivlin.
Hlaing also toured Israel's leading weapons companies.
According to Hlaing's official Facebook page, his delegation was personally greeted by Bezalel Machlis, the CEO of Elbit Systems, Israel's largest military technology firm.
They received a similar welcome during a tour of Israel Aerospace Industries (IAI) from the company's president and CEO Joseph Weiss.
The delegation also visited a naval base in Ashdod where, according to Hlaing's Facebook page, they "rode and examined" IAI's Super Dvora MK3 patrol and attack boat, which the Myanmar navy has since purchased.
A month after the visit, Israel and Myanmar signed a bilateral trade agreement followed by a pledge in November to strengthen military ties.
This growing alliance follows decades of Israeli weapons sales to Myanmar's junta.
While most of the world imposed sanctions on Myanmar in the years following a bloody 1988 military coup and the annulment of democratic elections in 1990, Israel expanded investments in the country and helped modernize its arsenal.
According to a 2000 report in the London-based publication Jane's Intelligence Review, throughout the 1990s Israel sold 9mm Uzi submachine guns and 155mm Soltam towed howitzers to Myanmar.
Meanwhile, Israel's Mossad espionage and assassination agency provided training to its Myanmar counterparts and former Israeli army officers "provided training to Myanmar's elite counter-terrorist squad." Elbit Systems upgraded Myanmar's F-7 fighter jets.
Israeli military ties with Myanmar continued into the next decade, with Israel reportedly selling 150 Brazilian EE-9 Cascavel tanks to Myanmar in 2005.
Aiding genocide
Israeli arms sales to the African nation of Burundi have also continued despite that country's recent descent into violence.
Eitay Mack, an Israeli human rights lawyer dedicated to exposing Israel's weapons exports to abusive regimes, wrote a letter last month urging Israel's defense ministry to halt the weapons flow to Burundi.
"Israel has been involved in events in Burundi for years," Mack observed. "In the vicious civil war in the 1990s, Israelis both trained forces and supplied weapons."
From 1993 to 2005 Burundi was engulfed in a civil war that killed an estimated 300,000 people.
"After the war ended, defense exports to Burundi continued, and included weapons, training and electronics equipment," Mack wrote.
Indeed, a July report by Amnesty International documented the use of Israeli-made tear gas grenades and water cannons by Burundi police on demonstrations where unarmed protesters, including women and children, were shot at and dozens killed.
Protests erupted in Burundi early last year after President Pierre Nkurunziza sought a third term in office. The political situation has since devolved into horrific acts of violence, with both government and opposition forces committing atrocities against suspected adversaries.
Government forces have reportedly arrested, raped and summarily executed protesters, while dead bodies keep turning up in the streets with their hands tied behind their backs.
The violence prompted the US to suspend military training and assistance to Burundi and both the US and European Union have imposed sanctions against Burundian officials.
Meanwhile, ethnically charged annihilationist rhetoric has sparked warnings that the crisis could devolve into genocide.
But Israel has never been one to let human rights violations, even genocide, get in the way of arms sales, as Burundi's northern neighbor, Rwanda, can attest.
During the 1990s, Israel supplied government and rebel forces in Rwanda with bullets, rifles and grenades, including during the 1994 genocide.
"To send arms to a country where genocide is taking place is like sending arms to Nazi Germany during World War II," Israeli Holocaust scholar Yair Auron told a Tel Aviv court in a 2014 hearing aimed at forcing the government to reveal the whole truth about Israel's role in the Rwandan genocide.
The court rejected the demand.
But after touring Rwanda's killing fields, an Israeli arms dealer had acknowledged his own role and congratulated himself for helping the victims die quickly with bullets instead of machetes.
"I'm actually a doctor," he remarked.
Tags