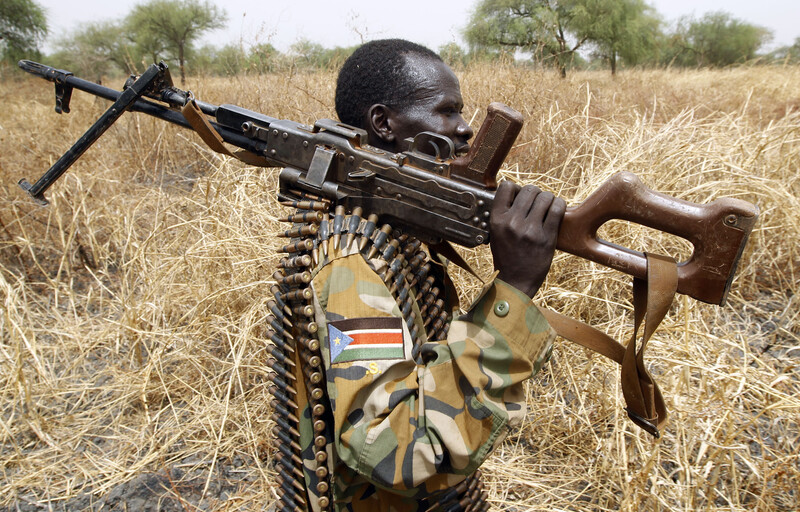 Israeli weapons are fueling atrocities in South Sudan, according to a United Nations report that sheds new light on the secretive Israeli arms trade in Africa.
Authored by an investigative team assembled by the UN Security Council, the report cites photographic evidence of automatic rifles made by Israel Military Industries (IMI) being in the arsenal of South Sudan's army and police. Known as Galil ACE, the guns have particularly been used by bodyguards of high-ranking politicians and by senior army officers.
South Sudan was granted independence in 2011 following a civil war that lasted for decades. Within days of its establishment, leading figures in the Israeli weapons industry rushed to advance their interests in the new ally against Iran's influence in Sudan.
Since its secession in 2011, South Sudan has descended into civil war between opposing political factions.
The Israeli-armed South Sudanese military and government-aligned militias are employing a "scorched earth policy" characterized by the systematic rape of women and children, indiscriminate killings and the burning down of entire villages with families inside their homes, according to the UN report.
South Sudan is not the only African country in which the Israeli arms industry is profiting from bloodshed.
According to the Stockholm International Peace Research Institute (SIPRI), Israel does not disclose detailed information about its arms deals, most of which are brokered by shady intermediaries, typically retired Israeli military personnel or civilian expatriates.
However, occasional news reports, public statements from officials and investigations by nongovernmental organizations have drawn back the curtain in recent years, revealing military involvement in more corners of Africa than can be detailed in a single article.
Using those sources, SIPRI was able to document the sale of major Israeli weapons to Cameroon, Chad, Equatorial Guinea, Lesotho, Nigeria, Rwanda, the Seychelles, South Africa and Uganda from 2006 to 2010.
Champion arms dealer
Despite its small size, for decades Israel has ranked among the world's top 10 arms exporters, an impressive feat for a nation no geographically bigger than New Jersey.
This is partly due to Israel's use of the occupied West Bank and Gaza as laboratories to test and refine weapons and methods of domination and control. This dynamic allows Israeli military firms to market their products as "battle-tested" and "combat proven" — coveted labels that give the nation a competitive edge in the international arms trade.
Israel's success is also attributable to its willingness to do business with repressive regimes that even the United States and European countries avoid arming directly.
In the case of South Sudan, the magnitude of atrocities compelled the European Union to impose an arms embargo and issue sanctions against the country's military leaders.
The US has similarly suspended military aid and issued sanctions, though it should be noted that the Obama administration enthusiastically aided the build-up of the South Sudanese army, despite knowing that it had several thousand child soldiers within its ranks.
Israel, meanwhile, hosted South Sudan at a weapons expo as recently as June.
Aiding genocide
Acting as a weapons conduit to murderous regimes is hardly a new phenomenon for Israel.
Under the leadership of Yitzhak Rabin, then prime minister, and Shimon Peres, then foreign minister, Israel supplied the Hutu-dominated Rwandan government forces as well as the rebel army led by Paul Kagame with bullets, rifles and grenades as genocide was underway in that country during the 1990s.
In addition to arming the killers, Israel trained the Rwandan military and paramilitary forces in the years leading up to the bloodbath.
After touring the killing fields, an Israeli arms dealer reportedly lauded himself as a humanitarian for helping the victims die quickly with bullets instead of machetes. "I'm actually a doctor," he remarked.
Israel has since forged close ties with Kagame, Rwanda's current autocratic president who enjoys much support in the West.
Weapons depot for despots
As Israeli weapons contracts from the US and Europe decline due to reduced defense budgets, developing countries in Latin America and Africa have become Israel's fastest-growing markets.
Israeli arms sales to Africa doubled between 2012 and 2013 and ballooned another 40 percent in 2014, reaching $318 million that year.
It's unclear whether these totals account for the weapons and military training Israel provided to Uganda and possibly Rwanda as compensation for agreeing to take in African refugees expelled from Israel.
While Israel has no qualms contributing to turmoil in African countries, it refuses to grant asylum to Africans on its soil, preferring instead to imprison and deport them back to the horrors they escaped. Some have been imprisoned, tortured and even killed since their expulsion.
What is clear is that Israel's African customers comprise a who's who of undemocratic regimes that brutally oppress their citizens.
Cameroon's Rapid Intervention Brigade (BIR), which engages in routine extrajudicial assassinations and "disappearances", is trained by a retired Israeli army commander, Mayer Heretz.
In 2009, BIR was deployed to crush demonstrations against economic inequality, killing as many as 100 protesters.
Cameroon's notoriously brutal presidential guard unit, which is vital to maintaining the 33-year rule of dictator Paul Biya, was trained by another retired Israeli army commander, Avi Sivan.
Prolonging the rule of repressive regimes in Africa is a long-held Israeli tradition.
Israel equipped the South African apartheid regime with weapons in the 1970s and '80s in violation of international sanctions.
Safeguarding corporate plunder
Decades of stealing and colonizing Palestinian land and resources has qualified Israel with unique expertise in subduing resistance and maintaining colonial plunder.
As Jimmy Johnson, an activist and researcher on Israel's arms trade, has explained, "The 19th century ethnocentric nationalism that drove the creation of Israel … often obscures the fact that the dispossession of Palestinians has included a massive upward transfer of wealth from colonized to colonizer and from occupied to occupier."
Israel isn't just delivering arms to Africa. It is offering a successful model for securing the spoils of neocolonialism from a growing underclass dispossessed and abandoned by the ravages of globalized capitalism.
Israel's occupation is "exported to fight the redistribution of wealth," as Johnson has noted.
Just south of Cameroon, Israeli military companies have raked in millions of dollars selling military hardware to the tiny oil-rich nation of Equatorial Guinea.
Equatorial Guinea is home to one of the most unequal societies in the world.
The former Spanish colony's ruthless dictator, Teodoro Obiang, has enriched himself with handsome payments from US oil companies, which in turn exploit the country's massive oil reserves without hindrance.
To preserve his rule, Obiang depends on a presidential guard almost certainly trained by Israel, while relying on Israeli hardware perfected in Gaza to protect Exxon's oil rigs.
Obiang's security forces are notorious for carrying out widespread torture and summary executions of political opponents.
In 2008, Israel secured an estimated $100 million weapons deal with Equatorial Guinea, which involved the purchase of four IMI Shaldag patrol boats and a Saar missile boat manufactured by Israel Shipyards. "IMI's boats are intended to secure the oil rigs at sea," according to the Israeli newspaper Haaretz.
These are the same vessels used by the Israeli navy to enforce the sea blockade of Gaza and fire on its inhabitants.
While Israel helps US oil companies and the Obiang family cash in, 1 in 10 children in Equatorial Guinea dies before his or her fifth birthday. Moreover, less than half the country's citizens have access to clean drinking water.
In Angola's Cabinda province, Aerostar, a drone made by the Israeli company Aeronautics Defense Systems, safeguards offshore oil rigs for private companies, including Chevron.
In the Niger Delta, an assortment of Israeli surveillance vehicles, including the Aerostar and Seastar from Aeronautics and the Shaldag patrol boat from Israel Shipyards, protect Chevron's oil platforms from potential obstacles to the corporate pillaging of Nigeria's resources.
This is in addition to Nigeria's Internet surveillance system, installed by Israel's largest military firm, Elbit Systems, in 2013.
Exporting "war on terror"
With the rise of Boko Haram, Nigeria has in recent years adopted the "war on terror" doctrine first pushed by Israel to justify its ongoing conquest of Palestine.
"Israel has been a crucial and loyal ally in our fight against Boko Haram," a Nigerian government official was quoted as saying early this year.
"It is a sad reality that Israel has a great deal of experience confronting terrorism. Our Israeli partners have used that experience, and the unique expertise gained over years of fighting terror within its own borders, to assist us," added the official, conflating Palestinian resistance to Israeli colonial violence with terrorism perpetrated by a militant group to which Palestinians have no relation.
Fully supportive of his government's conduct, one Nigerian Christian activist told The Jerusalem Post, "I am like an Israeli settler in the West Bank in the midst of Palestinians."
This attitude has been nothing short of disastrous.
Since 2012, under the cover of routing Boko Haram, the Nigerian military has extrajudicially executed 1,200 people and arbitrarily arrested 20,000 boys and young men, at least 7,000 of whom died in military detention from starvation, medical neglect and overcrowding.
Kenyan death squads in the General Service Unit, the paramilitary wing of that country's police and military, have similarly adopted the "Israeli rulebook" for extrajudicial killings of outspoken Muslim clerics.
Death squad officers interviewed by Al Jazeera last year revealed that their units are trained by Israel.
"Exporting the experience of Zionism"
In his 1987 book The Israeli Connection, Benjamin Beit-Hallahmi characterized Israel's support for tyrants in developing countries as "a direct outgrowth of what it has done at home."
"What Israel is doing in the Third World," asserted Beit-Hallahmi, "is simply to export the Middle East experience of Zionism," characterized by conquest and pacification.
Israel is exporting "not just a technology of domination, but a worldview that undergirds that technology," he added.
It is exporting "the logic of the oppressor … a certain frame of mind, a feeling that the Third World can be controlled and dominated, that radical movements in the Third World can be stopped, that modern Crusaders still have a future."
This is precisely what Israel is doing in Africa today, with predictably deadly consequences.
Rania Khalek is an associate editor of The Electronic Intifada.
Tags