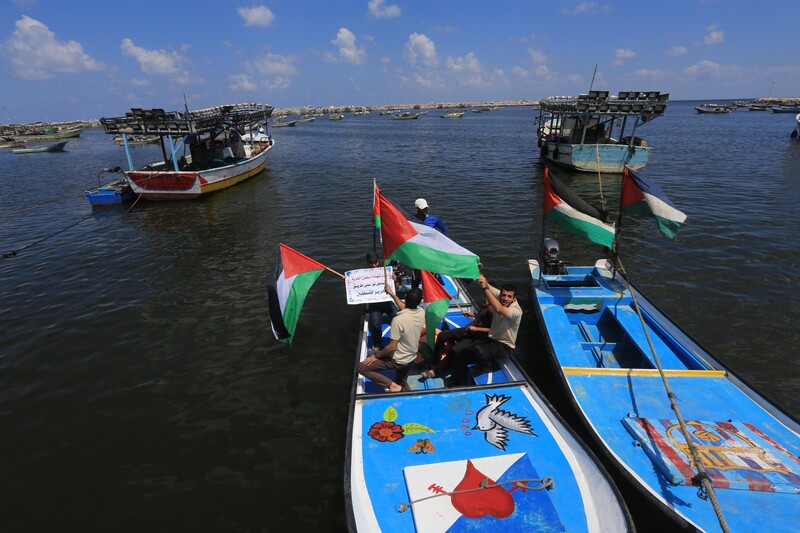 A Swedish ship destined for Gaza set sail from a Greek port today, despite Israeli threats to prevent the vessel from reaching its destination.
The Marianne, as the ship is known, will attempt to break the eight-year siege on Gaza. Its voyage comes less than a year after Israel's brutal 51-day attack on Palestinians in the strip.
More than 2,200 Palestinians – mostly civilians – were killed as Israeli forces attacked Palestinians in Gaza from air, land and sea last summer. Much of Gaza is still in ruins, with people living in bombed out homes and flimsy shelters across the region.
Aboard the ship are international and Israeli activists, as well as former Tunisian President Moncef Marzouki and a Palestinian member of Israel's parliament, the Knesset. "Together they will try to break the illegal blockade on Gaza through a peaceful non-violent action," the Freedom Flotilla Coalition said in a statement. A number of other boats are also scheduled to sail towards Gaza as part of the Freedom Flotilla III initiative. 
Basel Ghattas, a Palestinian member of Israel's parliament, the Knesset, announced Sunday that he will be joining the flotilla. "It was a very natural decision," he told The Electronic Intifada. "I am an Arab Palestinian and I have to represent my people's interests."
"We are trying to break the blockade," Ghattas said. "We want to attract the whole world's attention to the tragic humanitarian situation in Gaza because the international community should take action before another cycle of bloodshed and war on Gaza happens."
Activists killed
Israel has vowed to prevent the flotilla from reaching the shores of Gaza, threatening Ghattas and other participants. "The Israelis have already said they won't allow us into [Gaza] and we've seen that they have arrested activists, taken over ships and attacked them in the past," Ghattas explained.
In May 2010, Israeli troops attacked a similar flotilla. Soldiers boarded one of the ships, the Mavi Marmara, in international waters, killing ten of the activists onboard and detaining many others.  Last month, Turkish activists marched in Istanbul to commemorate those who were slain on that ship.
In 2011, Haneen Zoabi, another Palestinian member of the Knesset, was suspended from the parliament for having participated in that flotilla. "Any normal person would participate in the fight against the siege and imprisonment of two million people on a piece of land," she said earlier this week, referring to the current flotilla.
Israeli politicians and ministers have lashed out at Ghattas since he announced his decision. On Tuesday, one of the Knesset's committees voted to file a complaint against him.
Yinon Magal, a Knesset member from the ultra-nationalist Habayit Hayehudi (Jewish Home) party, accused Ghattas of "undemocratic acts" and "not playing a fair game," the right-wing Jerusalem Post reported.
Citizenship threatened
"If you care so much about your brothers, then where is your flotilla to Syria?" he asked rhetorically, attempting to divert attention from Israel's siege and frequent attacks on Gaza. "You're going on a flotilla to Gaza, where people shoot missiles at Israel."
Oren Hazan, a member of the Benjamin Netanyahu's Likud party, urged Ghattas to move to the occupied West Bank if he has "trouble obeying the law."
"If you don't like it here, you are welcome to leave." Hazan said.
The participation of Palestinian lawmakers in flotillas came up again on Wednesday during a Knesset session to discuss the Citizenship and Entry Law, legislation that forbids West Bank Palestinians from obtaining residency in present-day Israel though marriage.
Yaron Mazuz, Israel's deputy interior minister and a member of Likud, said Haneen Zoabi should be stripped of her Israeli citizenship.  "We are doing you people a favor by even allowing you to be seated here — terrorists won't be allowed to sit here," he said.
"It's unthinkable that from this abode, people will go out and participate in terror flotillas against the State of Israel," Mazuz continued, attempting to construe the nonviolent act of protest as a form of "terrorism."
Illegal blockade
Ghattas said he is not surprised by the Israeli attacks.  "I expected the Israeli government to make a large scandal out of this decision and accuse me of acting against Israel," he said.
"This is my duty and it is a legitimate political action," he added. "I am not scared because I am not breaking any laws. The flotilla is not illegal. Israel's blockade of Gaza and the collective punishment of 1.8 million Palestinians is illegal."
Speaking to the Palestinian al-Shams radio station, Dror Feiler, a Palestine solidarity activist based in Sweden, said that one of the ships had been damaged in what appeared to be an act of "sabotage."
"We don't know who it is," Feiler said, as reported by The Jerusalem Post. "But that person went deep underwater and sabotaged the propeller, so we had to find a different boat."
"There are dark forces that keep trying to stop us all along the way," he added.
Ban Ki-moon, the UN secretary-general, also spoke out against the flotilla, saying it "will not help address the dire situation in Gaza."
His comments come a week after the release of a UN report finding evidence of Israeli war crimes during its seven-week attack on Palestinians in Gaza last summer. In an apparent attempt to seem balanced, that report also accused Palestinian armed resistance groups of violating international law.
Tags