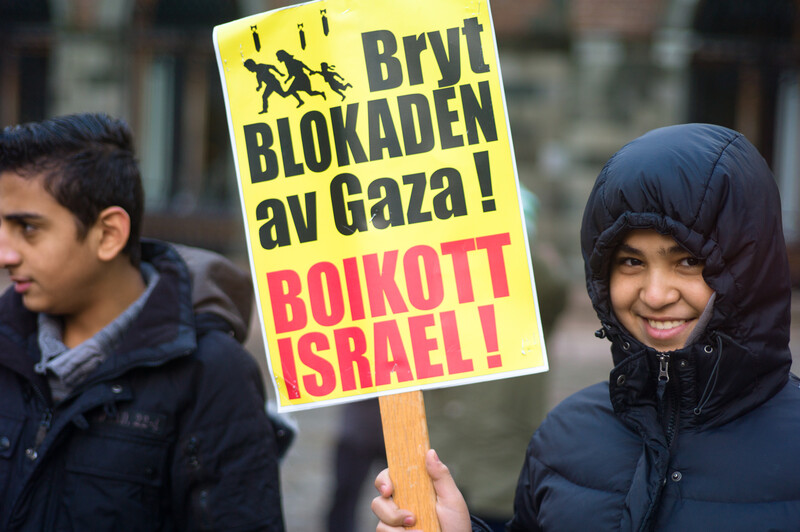 A right-wing lawmaker plans to introduce a bill to ban foreign nationals who support boycotting Israel from visiting the country, the newspaper Haaretz reports.
Yinon Magal, a member of the ultra-nationalist Habayit Hayehudi (Jewish Home) party, is now attempting to recruit fellow lawmakers to support his bill.
If passed, the bill would ban supporters of the Palestinian call for boycott, divestment and sanctions (BDS) from visiting present-day Israel and the occupied West Bank and Gaza Strip. It would also bar foreign nationals of Jewish ancestry who support boycotting Israel from obtaining Israeli citizenship.  
Israel's Law of Return, passed in 1950, allows any Jew from across the world to move to present-day Israel or illegal Jewish-only settlements in the West Bank, including East Jerusalem, and become Israeli citizens. Millions of Palestinian refugees ethnically cleansed from their homeland during the 1948 Nakba — the establishment of Israel — are, by contrast, prevented from returning.
"In the coming days I will be submitting this bill: Any foreign citizen who calls for a boycott on Israel will be barred from entering the country, except with a special exception granted by the interior minister," Magal wrote on Facebook earlier this week, Haaretz adds.  
"Those who are fighting against us won't be allowed to come here," Magal's post reads. "Generally, we are talking about extreme left-wing activists in the BDS movement who come here to connect to local activists who are no less extreme and continue to work to undermine the country."
Jewish foreign nationals who support boycotting Israel, would only be permitted to immigrate to Israel if the interior ministry concludes that "they are not working towards the destruction of the State of Israel."
Smear campaign
Magal's bill comes amid an increased push to combat recent BDS successes.
Yuval Steinitz, a parliamentarian and member of Israeli Prime Minister Benjamin Netanyahu's Likud party, attempted to compare BDS to Germany's Nazi regime at a conference in New York last week.
Steinitiz, who also serves as the minister of national infrastructure, energy and water, has a lengthy record of supporting anti-Palestinian legislation. He supported a law blocking Palestinians living in the West Bank from obtaining residency in East Jerusalem or present-day Israel through marrying Palestinian citizens of Israel or Palestinian Jerusalemites.
Ayelet Shaked, Israel's new justice minister who called for genocide against Palestinians in a Facebook post last summer, has claimed that the BDS movement is anti-Semitic.
"This is anti-Semitism in a new guise with the same symptoms," Shaked said during a recent Knesset session dedicated to BDS. "There is a de-legitimization campaign against Israel happening right now. These are ephemeral organizations and we need to stop cooperating with them and cut ties, have them pay for their boycotts."
"Emergency summit"
Netanyahu has also chimed in. Pro-Israel American billionaire Sheldon Adelson organized an "emergency summit" in Las Vegas on Saturday, where a letter written by Netanyahu was read to the attendees. In that letter, Netanyahu praised Zionist groups in the US for opposing BDS.
In talks with other Israeli officials, Netanyahu also pledged to earmark 100 million shekels ($26 million) "for battling the boycott campaign," the right-wing Jerusalem Post reports, adding that most of the sum "will go to fighting BDS."
The funding is part of a plan to increase cooperation between Israeli government organizations and Zionist groups abroad, the newspaper adds. Israeli strategic affairs and information minister Gilad Erdan's office will reserve 10 new positions "for employees who will deal solely with the boycott and delegitimization activities against Israel."
Despite Israel's growing campaign, BDS has continued to make significant gains in recent months. Orange, the telecommunications company, recently announced it will end its branding licensing agreement with its Israeli affiliate Partner Communications, as The Electronic Intifada recently reported.
Activists from BDS Egypt, however, have vowed to continue campaigning until Mobinil, the Egyptian affiliate of Orange, delivers on promises to pull out of Israel.
Even staunch opponents of the boycott movement have said the efforts of Netanyahu and other hardline Israeli leaders have failed to keep boycott campaigns at bay. Isaac Herzog, the Israeli opposition leader and member of the centrist Zionist Union party, recently blasted Netanyahu on television.
"Netanyahu has failed in dealing with this boycott," Herzog told Israel's Channel 2. "He is incapable of overcoming it."
History of incitement
Yinon Magal has a long history of incitement against left-wing Israelis and Palestinians alike.
In April, Magal took to Facebook to attack Haaretz columnist Gideon Levy and other leftists, Haaretz reported at the time. He referred to Levy and likeminded Israelis as "a bacteria that harms the brain."
"It's hard to gauge the damage that this milieu did and does to Israel," Magal wrote. "Actually, you can see our situation diplomatically and in terms of security."
In February, Magal lashed out at Ahmed Tibi, a Palestinian member of the Knesset, for stating that "Israeli society is infected with racism." Tibi's comments were made after a Palestinian Druze citizen of Israel — who had served in Israel's army — was hospitalized after being attacked by Israelis in Jerusalem for speaking Arabic in public.  
"Arab society is very tolerant of Jews," Magal sarcastically commented, as reported by The Jerusalem Post at the time.
In December 2014, referring to his then candidacy for the Knesset, Habayit Hayehudi party leader Naftali Bennett praised Magal for "opposing the formation of a Palestinian terrorist state."
Shortly after being elected to the Knesset, Magal wrote a Facebook post accusing Israeli supporters of a two-state solution of "treason," as +972 Magazine reports. 
Tags