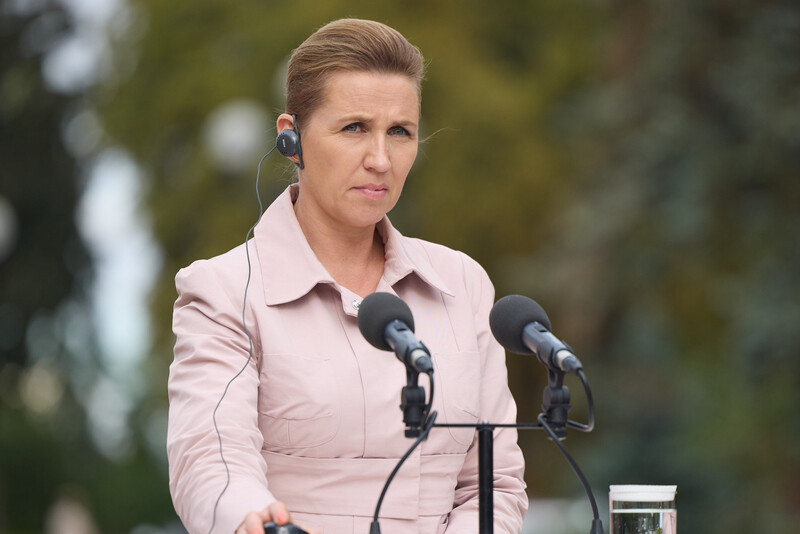 An apology, a sacking, a murky procurement process and a dropped lawsuit.
Denmark's defense establishment is embroiled in a growing scandal over arms purchases from the Israeli weapons manufacturer Elbit Systems.
To some, the deal shows how Elbit has positioned itself to step into the breach as NATO members such as Denmark have rushed to replenish domestic armories after sending weapons systems to Ukraine.
Certainly, that appears to be the case in Denmark. In January, the Danish government announced what to many was a shock deal worth some $250 million with Elbit to replace 19 howitzers – an artillery weapon somewhere between a cannon and a mortar – it had given to Ukraine's military.
It was a shock because the deal reversed years of Danish opposition to arms deals with Israel over Israeli violations of international law and Palestinian human rights.
Elbit – a company Danish pension funds have blacklisted for years over its human rights record – claims to supply 85 percent of the Israeli military's drones, which have been used against the civilian populations in Gaza and the West Bank. This appears to be a point of pride for the company which advertises its wares as "mature solutions."
The deal was sanctioned by Denmark's center-left coalition government, headed by the Social Democratic Party. It was also supported by two left-of-center parties, SF (the Green Left in English) and De Radikale (Social Liberal Party), that are propping up the coalition in the Danish parliament, who had previously vocally opposed arms deals with Israel.
Indeed, SF was instrumental in the cancellation of a similar arms deal in 2015, when what seemed a done deal was scuppered at the last minute after a public outcry.
A weak link
That aborted deal seems to have played a significant role in what by all accounts was a rushed and misleading procurement process this time around.
Ahead of the deal in January, officials from the Danish defense ministry had told parliament that the deal had to be rushed since Elbit's offer would expire at the end of that month. It also claimed that other weapons manufacturers – including France's Nexter Systems and South Korea's Hanwha Systems – could not deliver in time.
Neither of these claims seems to have been true, however.
In August, the defense ministry admitted that the Elbit offer would have been valid until June. In addition, Nexter Systems said it would have been able to deliver the relevant weapons systems at the end of 2023, and not in two years, as the defense ministry had originally claimed.
Further deepening the embarrassment for the Danish defense establishment, the Elbit weapons systems that Denmark purchased are not fully compatible with NATO weapons, according to James Heappey, the UK's minister for the armed forces.
In February, Heappey told the Danish state broadcaster DR that Denmark's purchase could prove a "weak link" in NATO's defense systems and cost Denmark both financially and in terms of defense capability.
"No matter how effective an individual weapons system is, one of the lessons of the last 12 months [since Russia's invasion of Ukraine] is that logistics determine success on the battlefield."
Questions over the arms purchase in the Danish media intensified, and heads had to roll.
In August, defense minister Jakob Elleman-Jensen – who oversaw the signing of the deal but had just returned to his duties after taking stress-related leave in February – sacked the ministry's senior civil servant over the affair after first apologizing to parliament for the misleading information that had been provided to legislators.
Then Elleman-Jensen – who is also deputy prime minister – was himself shuffled out of the defense ministry to a post as minister for the economy, as questions continued about what he knew about the deal, what information he gave parliament, and when.
Dropped lawsuit
The Danish defense establishment is still not off the hook.
On 31 August, the online Danish news outlet Altinget reported that the contract was pushed through parliament just days after Elbit agreed to drop a lawsuit against the Danish state over the canceled 2015 arms deal, raising questions about whether the two were related.
Just weeks before the deal was presented to the relevant parliamentary committee, Altinget found that Elbit had demanded that Denmark do more to secure Israeli arms purchases and circumvent normal procedures to speed up such deals in order for it to drop the lawsuit.
The Danish defense ministry's procurement department denies that resolution of the lawsuit and the arms purchase agreement were related, and Elbit's demands were not included in the official resolution of the lawsuit.
But opposition parties are not convinced.
"From official explanations it seems clear that there de facto seems to have been an effort by Elbit to ensure that Denmark would pledge to undertake a so-called compensation buy," Carsten Bach, defense spokesperson for the Liberal Alliance – a right-wing bloc of parties in the Danish parliament – told Altinget.
New defense minister Troels Lund Poulsen has vowed to establish an "independent investigation" into the matter. And in September, opposition parties also demanded to know how much the office of Prime Minister Mette Frederiksen knew about the deal before it was advanced.
Elbit is quite clear that the Ukraine war has seen demand for its weapons spike as European military budgets have risen steeply.
In April, the Netherlands announced that it was purchasing Elbit weapons, despite an earlier deal with the US that would have covered Dutch needs.
"This just shows how Elbit works," said Huda Ammori of Palestine Action, a group that has targeted Elbit factories in the UK, forcing one to close. "I think they are taking advantage of what is happening in Ukraine. European countries have to replace their stock and Elbit is swooping in there and doing whatever they can to get these deals."
The Denmark deal will not be canceled, regardless of how it was secured. Elbit already delivered the first batch of the order in August.
But the whole affair has raised serious questions about Mette Frederiksen's leadership. Under her, Denmark seems to have abandoned a principled stand on Israeli arms purchases and replaced it with – at the very least – incompetence and subterfuge.
Tags