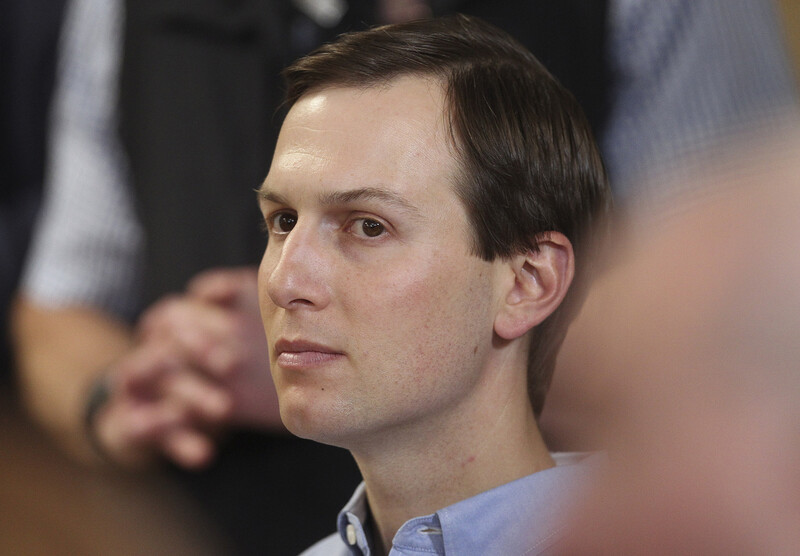 Jared Kushner, US President Donald Trump's son-in-law, has been busy.
In his other role as Middle East peace envoy he has been working now for two years – TWO whole years – on the US administration's peace plan for Palestinians and Israelis, AKA The Ultimate Deal™.
That plan will be, he promised recently, "a realistic and … fair solution."
This solution is based on four principles, he said: freedom, respect, opportunity and security.
(Not justice, not rights, mind.)
And rather than focus on "the issues" – though confusingly, he and his team of crack diplomats also focused on those "extensively" – the administration team has been focused on "what's holding back the Palestinian people from achieving their full potential and what's holding back the Israeli people from being able to properly integrate with the whole region."
It's good to get a fresh perspective, isn't it?
Let's not be unkind, it was not as if Kushner didn't have prior experience. He prepared for his current role by leading a foundation that raised money for illegal Israeli settlements in occupied Palestinian territory. And while intensely working on the Ultimate Deal™, he learned a thing or two.
For instance, he learned that "all the conflict does is keep people from having the opportunity to do commerce and to have opportunity and improve their lives."
You simply can't make this stuff up.
Excitement builds
With such a build up, excitement is mounting, especially among those most affected.

Could this be it? Is Kushner the Messiah the Palestinians and Israelis have been waiting for?

Israel's prime minister seemed excited.

"I know that the Trump administration seeks to ensure Israel's security for generations to come," Benjamin Netanyah said back in February about the mooted plan.

Netanyahu has since all but secured another term after an election campaign in which he promised to annex more settlements and during which he secured recognition from Trump – completely unrelated, of course, to Netanyahu's bid for reelection – of Israel's illegal annexation of the Golan Heights.

The Palestinians also seem excited, though, perhaps, not for the same reasons.

Saeb Erekat, the Palestinian chief negotiator, accused the Trump administration of supporting "Israel's violation of the national and human rights of the people of Palestine."

And, in a promising sign that Fatah in the West Bank and Hamas in Gaza can at least agree on something, that sentiment was echoed by Hamas leaders in Gaza.

The Trump administration is "blindly biased toward the [Israeli] occupation and systematically acting against the legitimate rights of the Palestinian people," said Ghazi Hamad, a former Hamas deputy foreign minister.

Interestingly, it's not just among Palestinians that expectations are at rock bottom.

Don't publish the plan, urged Robert Satloff, head of the Washington Institute for Whatever is Good for Israel is Good Enough For Us (better known as WIWGIFEFUS).

Any overt annexation of West Bank settlements and land, Satloff argued, which Kushner's plan could trigger, could disturb a status quo "in which Israel maintains security control over the entire West Bank and channels support to many existing Israeli settlements."

Satloff's argument for continued but fig-leafed military occupation proves that whatever you think of Donald Trump's peacemaking, at least he is not saddled with the hypocrisy of Washington think-tankers. It also shows that even in the hallowed halls of Israel's Washington cheerleader clubs, Kushner's plan is viewed with trepidation bordering on hysteria.
Pining for the fjords
Part of the reason for that, of course, is that a plan that offers Netanyahu everything he could possibly want, might just force him to finally and publicly declare what he wants.
We know what he wants. Everyone knows what he wants. The guy who hands out flyers for a local cleaning service knows what Netanyahu wants.
Netanyahu and the vast majority of Israelis – as evidenced by the fact that peace was not a campaign platform for any major party in Israel's general election – want the land, all the land. But not the people. No, none of the people.
But you can't say that in polite company. You have to, as Satloff knows, engage in decades-long, centuries-long, if need be, slow bleed of ethnic cleansing, masquerading as military occupation, masquerading as sham peace process to get to that stage.
You can't simply come barging in with a plan that – reportedly – tells Palestinians they can't have a state, they can't have sovereignty, they can't claim their right of return because they don't have the same rights as other people, they can't have equal rights with Israeli Jews because, well, see above point.
But, hey, here's some money (that we will get from Arab countries) so you can fulfill your "full potential."
It won't fly.
For pity's sake, even the Europeans have rejected it before seeing it.
The plan is dead in the water. Never before can a major foreign policy initiative have been so roundly dismissed ahead of publication.
Before it is even a deal, it is an ex-deal.
Which only leads us here at The Electronic Intifada's Europe headquarters to think:
What's-the-plan-show-us-the-plan-go-on-we-need-a-good-giggle-Lord-knows-the-news-is-bad-enough-as-it-is!
Tags