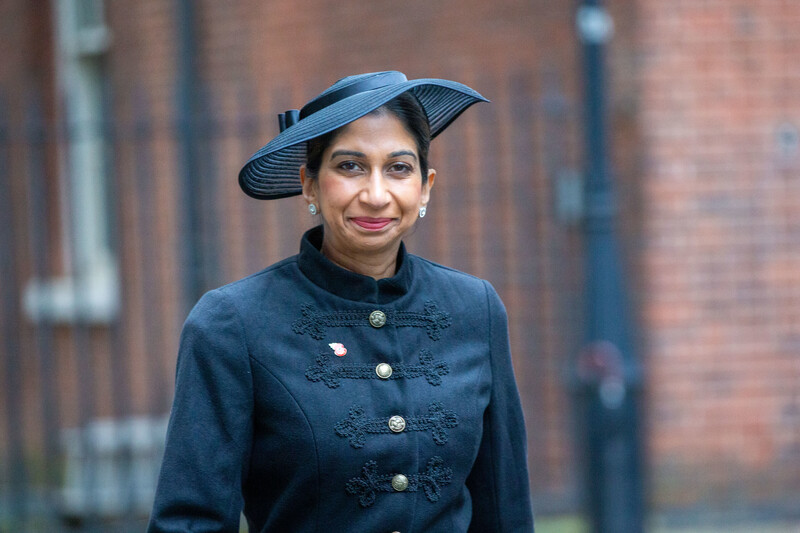 So farewell, then, Suella Braverman, aged 43 ½.
Braverman's tenure as British home secretary was cut short Monday after even British PM Rishi Sunak found her latest shenanigans hard to stomach.
As such, she has the distinction of being the first casualty among Western politicians of Israel's war on the Palestinian people.
She is also a great example of the kind of mental acrobatics supporters of Israel increasingly have to reach for as they seek to justify the UK government's position to effectively support Israeli war crimes in Gaza.
Repeatedly describing the largely incident-free protests in the UK over the past weeks, where hundreds of thousands have called for peace and a ceasefire in Gaza, as "hate marches," and insinuating that they somehow symbolized a "glorification of terrorism," was always a desperate gambit.
But she went too far for Sunak when she then suggested that the London police were somehow biased toward those demonstrators in an article in The Times on 8 November.
That only served to inflame tensions on Britain's far right. A small group of about a thousand "intoxicated" and "aggressive" counter-protesters turned up on 11 November – Armistice Day in the UK, which marks the moment a ceasefire was called to end World War I – to "defend" the Cenotaph, a monument to those who were slain in that war located not far from the Houses of Parliament in Westminster.
Hope not Hate, a British anti-racism group, had warned a day before 11 November that while the British far right had been previously relatively unconcerned with the pro-Palestinian marches, that "changed in the past week as politicians and media have discussed the threat to the Cenotaph and Remembrance Sunday, despite the march going nowhere near it."
Kebabs for dinner
In the wake of Braverman's op-ed, the group detailed "violent messages" shared on social media platforms, in which far right members have threatened violence against pro-Palestine demonstrators with crossbows and Uzis and described the situation as one of "war" for "our children and country."
One gloated that they wanted to have "kebabs for dinner."
Little surprise, then, that of 145 arrests made on Saturday "the vast majority" were counter-protesters.
Braverman has made no secret of her personal connection to Israel. In March, she told the UK's Jewish Chronicle that her husband was a "proud Jew and Zionist," and that her family had "close family members who serve" in the Israeli army.
But while Braverman might have flirted too much with Britain's racist right in this instance, it has been a recurring theme in her political career.
She has now been sacked twice as home secretary, previously under Liz Truss for "serious breach of the ministerial code," and has a long track record of dog-whistle politics.
In 2022, she blamed the "tofu-eating wokerati" for opposition to a government bill to crack down on environmental protests that obstruct transport networks.
A staunch supporter of the British government's policy to deport undocumented immigrants to Rwanda – her "dream" – she also accused immigrants of faking homosexuality in order to secure asylum status.
Last week, she accused Britain's homeless, "many of them from abroad," of making a "lifestyle choice."
She may have a fervent following, but on X (formerly Twitter) few shed tears for Braverman, and some even attributed her demise to Hamas.
Tags