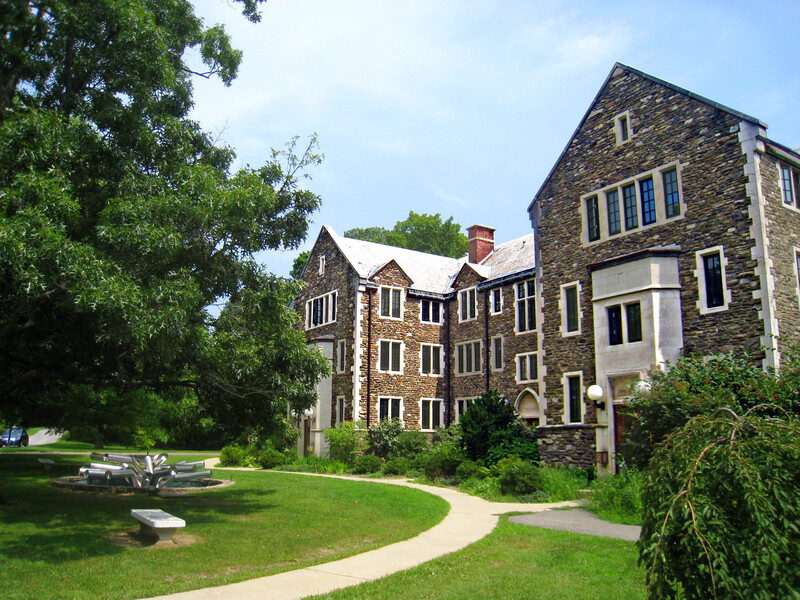 Bard College in New York has engaged in a months-long investigation into two of its students who protested an October panel discussion that featured anti-Palestinian speakers.
During the protest, members of Students for Justice in Palestine silently held signs emblazoned with quotes from one of the panelists, right-wing Harvard professor Ruth Wisse, such as "Palestinian Arabs are people who breed and bleed and advertise their misery."
The two members of SJP under investigation, Ben Mulick and Akiva Hirsch, are the only ones who spoke to the media after the protest – according to civil rights group Palestine Legal – and are the only ones being investigated for alleged violations of Bard's free speech policy and its harassment, discrimination and stalking policy.
The administration's decision whether or not to punish the students could be made soon, according to Palestine Legal, which is representing Mulick and Hirsch.
As part of their protest, Mulick read short statements during the panel and Hirsch joined other students in a chant during the question and answer period, both actions fully within the accepted guidelines of the college's free speech policy.
Bard began its investigation after one of Wisse's co-panelists, Batya Ungar-Sargon, the opinion editor at the Jewish daily newspaper The Forward, claimed she was protested by members of Students for Justice in Palestine just "for being a Jew."
However, several witnesses, including a prominent former official of the American Jewish Committee, a major Israel lobby group, repudiated Ungar-Sargon's claim.
Last year, Ungar-Sargon played a key role in smearing Congresswoman Ilhan Omar as an anti-Semite and inciting racist and Islamophobic attacks on her, including from President Donald Trump.
Mulick and Hirsch spoke to media outlets in order to explain that their protest was against the anti-Palestinian views of the speakers, not due to the religion of the speakers themselves.
Nevertheless, Bard notified the students that they were being placed under investigation.
False accusations
Palestine Legal warned Bard College against any retaliation, arguing that the students cannot be punished under the college's free speech policy, which explicitly protects "dissent and protest."
"The evidence overwhelmingly shows that Ben and Akiva protested the event to express political disagreement with the viewpoint of the speakers. Indeed, there is no evidence – much less a preponderance of the evidence – to show otherwise," Palestine Legal wrote in a letter to the college last month.
"They're not just investigating these two students, they're looking to revise their entire free speech policy," attorney Radhika Sainath of Palestine Legal told The Electronic Intifada.
"It's really clear that Bard's [current] free speech policy explicitly protects this kind of activity, so there's no reason why these two students should be pulled into a months-long investigation – and interrogated, during finals week, and now they're just waiting to hear what their fate is for something so minor and so protected," Sainath added.
The college has admitted that no formal complaint was ever filed against the students, nor any students with SJP or others who protested, Sainath explained.
"The school decided to investigate this on its own based on false accusations that are completely unsupported in the media, and actually rebutted by half a dozen very prominent people – including people on its own staff," she said.
Punitive
Mulick told The Electronic Intifada that during the panel discussion, he read aloud a statement admonishing "the normalization of ethnic cleansing on our campus."
He said a professor in the audience immediately ran over to him, grabbed his arm, and proceeded to take him outside.
"I was the only one taken outside – but I came back in and continued reading my statement, but two security guards kicked me out," Mulick said. He said he attempted to re-enter a second time, but was prevented from doing so by security.
Hirsch, who is Jewish, has stated that he protested in order to make it clear that the right-wing panelists do not speak for him or represent his values.
Hirsch told The Electronic Intifada that he was "really disappointed" in the response by the Bard administration.
He noted that harsh treatment and investigations of students seem to be reserved only for those protesting racism, and not racism itself.
For example, Hirsch said, last semester, while the investigation into his protest was underway, a swastika was carved into an elevator door in the dormitory where he lives.
He says he felt the administration did not sufficiently condemn the hateful incident, nor launch a months-long investigation to find its perpetrator.
"I feel like Ben and I have been seen only through a punitive perspective – and I feel like this mystery swastika carver has been treated like someone who said a bad word, whereas we have been seen as horrific bigots," he said.
Hirsch and Mulick say that despite the lengthy investigation and possible punishments, their activism has not been deterred.
"The goal of anti-Palestinian groups is to silence those who would speak up on behalf of Palestine and Palestinian people," Hirsch said.
"As daunting a task as it may be to speak up and make some noise in the face of these large organizations with funding and lobbying power, that is the one thing that they really don't want you to do. Therefore, you really should do it," he added.
The more comfortable anti-Palestinian racists become "with the idea that we will stay silent out of fear, then the more power they will have over the discourse and the debates – and the harder it will be for the people on the right side to speak truth to power," Hirsch said.
What Bard has been doing through these investigations "doesn't intimidate me in the slightest," Mulick said. "We're only going to be stronger."
He added that SJP membership has grown exponentially since last year.
However, having their academic lives almost put on hold, being made to worry about whether they would be coming back, "feels like a hell of a punishment" already, Hirsch said.
"I hope that they'll make the right decision and that my trust and respect has not been displaced," Hirsch added.
Tags