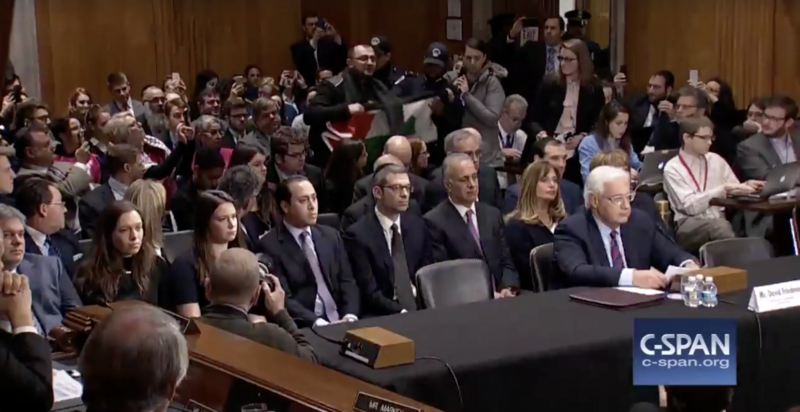 Prosecutors in Washington, DC, on Friday dropped charges against two protesters who interrupted a Senate confirmation hearing in February for US ambassador to Israel David Friedman.

The protesters faced a jury trial on criminal charges after the US Attorney's office initially rejected calls during a hearing on 20 April to drop the charges.

Protesters rallied outside the courthouse during Thursday's hearing, demanding the charges be dropped.

On Friday evening, US prosecutors announced they would close the case after all.
Discrimination
Though the dropping of the charges is a relief, the case had raised serious concerns about discrimination.
Taher Herzallah and Kareem El-Hosseiny, both staff members of American Muslims for Palestine, were charged with unlawful conduct on Capitol grounds, a misdemeanor that carries up to a $500 fine and six months in jail.
Their attorney, Ann Wilcox of the National Lawyers Guild, announced after the hearing that she would be filing motions to dismiss the charges, alleging racial, ethnic and religious discrimination.
The charges against the two activists differed significantly from those against others arrested at the same hearing, for allegedly similar conduct, Wilcox said.
David Friedman, a right-wing settlement financier, was confirmed as Trump's ambassador to Israel in early March.
He is currently being sued by US citizens and Palestinians for his role in raising millions of dollars for land theft to expand Israeli settlements in the occupied West Bank.
Singled out
When he found out on Friday that the US Attorney's office had dropped the charges, El-Hosseiny told The Electronic Intifada that "honestly, I was shocked. We didn't think it was in the cards."
"It feels great, it feels like the little guy stood up to the big guy, and the little guy won," he added.
Herzallah and El-Hosseiny, who are Muslim and Arab, say they were singled out from a group of six activists who protested during the hearings.
Three other activists, who are white and Jewish, were allowed to pay small fines instead of facing charges.
A fourth protester, Tom Corcoran of the Jewish activism group IfNotNow, was originally required to appear in court along with Herzallah and El-Hosseiny, but then had his case transferred to the lower traffic court.
There, he was offered – and accepted – a plea deal that includes a six-month ban from Capitol grounds but no community service, according to Wilcox.
Herzallah and El-Hosseiny were the only ones of the group subjected to drug testing – standard protocol for misdemeanors on Capitol grounds – as well as lengthy questioning by Capitol Police and, finally, criminal charges.
In March, they rejected a plea deal that included 32 hours of community service in order to fight the charges.
El-Hosseiny said that in committing to fight the charges he and Herzallah ironically ended up "with the least punishment out of everybody."
"Strange"
During the hearing, El-Hosseiny stood up and shouted that Friedman's appointment as Israel envoy would provoke more violence because of his support for settlement expansion.

"Support Palestinian lives," he called out as he was led out by police.

Herzallah unfurled a Palestinian flag and declared: "My grandfather was exiled by the state of Israel, and I'm right here … We're not going away. We were there, we are there now and we will always be there."

"Palestinians will always be in Palestine," he called out at Friedman as he was taken out by police. Their actions were captured by the C-SPAN TV network's cameras:

After his arrest, El-Hosseiny told The Electronic Intifada, the other protesters were put into cells – except for him. "My officer handcuffed me to the wall in his office, and from beginning to end, he was the one officer who was processing me," he said.

It took the officer nine hours to process El-Hosseiny's paperwork. During that time, the officer asked him if he had brought any cash with him in order to pay a small fine and be dismissed. El-Hosseiny said he did, and would like to pay the fine.

But then, he said, the police reversed their decision and ended up requiring him, Herzallah and Corcoran to go to court to face charges.

Then, Corcoran's case was dropped down to traffic court, leaving the only two Arab protesters to face criminal court hearings.

"When it was just me and Taher left standing, we were like 'wait. This is strange,'" El-Hosseiny said.
Awareness
This kind of protest is not new for Herzallah.
In 2010, he was one of the students who protested a speech by then Israeli ambassador Michael Oren at University of California Irvine.
The students, known as the Irvine 11, interrupted Oren's speech – in which he defended Israel's invasion of Gaza in late 2008 and early 2009 – and were arrested and eventually convicted in September 2011 on misdemeanor charges.
Herzallah said that the nomination of David Friedman requires human rights advocates to oppose the direction that he could take US policy.
"Protest is necessary," he said.
Herzallah told The Electronic Intifada that activists and Palestine solidarity organizations across the country reached out in support and campaigned over social media before the 20 April hearing.
"A lot of people engaged in applying pressure to bring awareness to our case," Herzallah said. "It was promising and empowering to hear that a lot of people are there, listening to our story and talking about it."
Tags