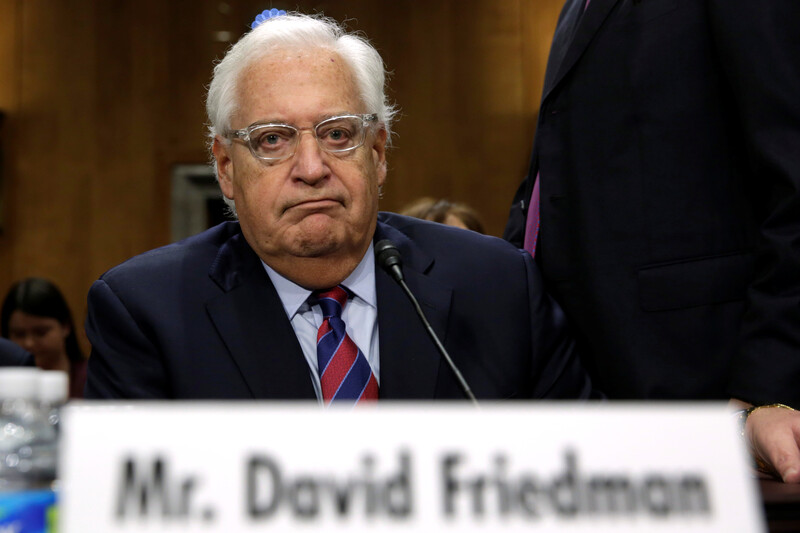 Nine of the 10 Democrats on the Senate foreign relations committee voted Thursday morning against David Friedman's nomination as the next US ambassador to Israel.
They came up short.
Friedman's nomination now advances to a full vote in the Republican-controlled Senate, which may split largely along party lines. Barring any major upsets, Friedman is likely to be confirmed.
New Jersey's Bob Menendez, a leading member of the Trump-Netanyahu wing of his party, was the sole Democrat to back Friedman.
All 11 Republicans on the committee voted in favor of the bankruptcy lawyer who has raised millions of dollars to help build settlements in the occupied West Bank.
The strong Democratic opposition to Friedman was not the result of a newfound commitment to Palestinian freedom and equal rights. Rather, Friedman has faced strong criticism over vicious statements he has made against members of the Jewish community, particularly J Street.
Friedman described members of the liberal Zionist group that supports a Palestinian state in the West Bank and Gaza, as "far worse than kapos – Jews who turned in their fellow Jews in the Nazi death camps."
Though very much a secondary consideration, Palestinian rights did register as a concern for some Democratic senators, though largely couched in safe language regarding support for a two-state solution.
Following the committee vote, Jewish Voice for Peace, a group that supports boycotting Israel to achieve Palestinian rights, hailed efforts by its members around the country, among them "thousands of emails and phone calls to Senate offices, including more than 500 calls to Senator Cardin in the last few days."
Partisan split
Maryland's Ben Cardin, the ranking Democrat on the foreign relations committee, only confirmed on Wednesday that he would vote against Friedman.

It was the first time a nominee for US ambassador to Israel had failed to secure the support of the ranking member of the Senate foreign relations committee, according to J Street's Dylan Williams:

Although Friedman had expressed regret for some of his past comments, Cardin said this was not enough to secure his support.

"Unfortunately, I believe that the body of Mr. Friedman's published work will compromise his effectiveness representing the United States – and all Americans – to the government of Israel and all Israelis," the senator said.

"The committee vote again demonstrates a growing partisan divide between Republicans, who increasingly back the pro-apartheid, pro-annexation agenda represented by Friedman, and Democrats, who are increasingly questioning lockstep support for Israel's ever rightward drifting policies," Josh Ruebner, policy director at the US Campaign for Palestinian Rights, told The Electronic Intifada.

Senate Republicans have not been significantly troubled by Friedman's rhetoric, as Florida's Marco Rubio made clear last month as he sided with Friedman in attacking J Street.

In a letter to Friedman, J Street established that it was more intent on carving out space for pro-Israel groups than for those that prioritize Palestinian rights – such as the right of return for refugees, which J Street opposes.

"We would also like to clarify whether you commit to meeting with delegations of lawmakers and pro-Israel advocates organized by groups you have criticized or with whom you may disagree, including J Street," the lobby group's president Jeremy Ben-Ami wrote.
Fig leaf
Menendez, the only Democrat to back Friedman, asked the nominee at a previous hearing in February if "the life of a Palestinian child is of the same value as the life of a Jewish child" and whether "the dignity of a Palestinian woman is the same as the dignity of a Jewish woman."
Menendez also asked whether Palestinians had the right "in some form or fashion of self-governing themselves."
Friedman replied positively to all the questions, providing a fig leaf for Menendez to back him.
But behind this soothing rhetoric is Friedman's years-long record of working assiduously against Palestinian dignity, rights and self-determination.
Friedman and the charity he heads are currently being sued by a group of Palestinians and US citizens for war crimes in relation to Israel's colonization of Palestinian land.
Friedman's American Friends of Beit El Yeshiva Center raises about $2 million a year that mostly goes to the Beit El settlement in the occupied West Bank, near Ramallah.
With Thursday's vote, Friedman is one step closer to an official role in the US government from which he can help Israel advance its most extreme anti-Palestinian policies.
CodePink, which protested during earlier hearings on the nomination, called on the full Senate to reject Friedman.
"Friedman's support for Israeli annexation of the West Bank, desire to move the US embassy to Jerusalem, personal funding of illegal Israeli settlements and alignment with right-wing extremist parties in Israel are unacceptable," the antiwar group said on Thursday.
Ahmad Tibi, a Palestinian member of Israel's parliament, the Knesset, told The Electronic Intifada that the committee outcome was "a very bad sign" regarding Israeli settlement construction, the two-state solution and the prospects for equal rights.
Tags