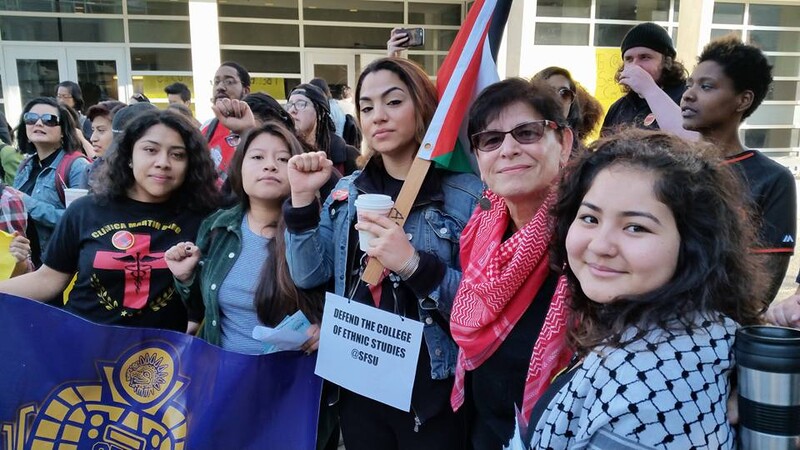 San Francisco State University failed to protect a professor from censorship by a major Silicon Valley company, an investigation has concluded.

The probe – carried out by a faculty rights panel within the California college – upheld a complaint filed by Rabab Abdulhadi, the only full-time professor in SFSU's Arab and Muslim Ethnicities and Diasporas studies program.

"This is a huge victory not only for us, but for everybody speaking about Palestine and for our ability to teach about Palestine as part of the indivisibility of justice," Abdulhadi told The Electronic Intifada on Thursday.

Lynn Mahoney, the SFSU president, now has three weeks to either uphold or veto the committee's decision. If Mahoney vetoes it, Abdulhadi's complaint will go to legal arbitration.

For years, Israel lobby groups have persuaded the public university and private tech companies into sabotaging Abdulhadi's program and events.

In September 2020, Zoom canceled an event Abdulhadi and her colleague Tomomi Kinukawa organized, featuring South African anti-apartheid activists and Palestinian feminist icon Leila Khaled.

Zoom's cancellation was a capitulation to the Israeli government and anti-Palestinian groups – including the Anti-Defamation League, StandWithUs and the Lawfare Project – which had pressured the company for weeks over the planned event.

The Lawfare Project has long targeted Abdulhadi, who was vindicated in court in 2017 against the group's smear campaigns.

Act.IL, an app funded by the Israeli government, had also directed its users to send emails to the university's administration demanding it cancel the event, and subsequently claimed credit once the event had been canceled by Zoom.

After Zoom blocked the event, Facebook and YouTube also prohibited Abdulhadi from using their platforms to broadcast it.

In its decision, the faculty panel affirmed that SFSU had "inflicted harm" upon Abdulhadi and Kinukawa and that their academic freedom was violated.

They asserted that the university "did not provide adequate support" to the professors against the actions of Zoom and the Lawfare Project.

The university "failed to ensure that academic freedom was not compromised by censorship," the panel added.
"Vindicated"
"After the pain and the anguish for over a year that we have suffered, by being vilified by character assassinations, by being chased by Zionists, by the hate mail, by all the nastiness that has happened, by the fact that our university did not have our backs, we were vindicated," Abdulhadi told The Electronic Intifada.
The committee has ordered that the university's administration issue a public apology to Abdulhadi for failing to uphold its academic freedom policy. Such an apology is likely to be issued if the university's president accepts the committee's finding.
Additionally, the university would issue a public letter of support of academic freedom to its staff.
And the university would provide a platform for hosting the event with Leila Khaled and other speakers "without interference."
"We have a big struggle ahead of us," Abdulhadi cautioned.
"But the good news is that we have a huge movement of everybody coming together within San Francisco State, within California, within the US, internationally – we're fighting for justice and for Palestine, and we see it as part of justice for all."
Tags