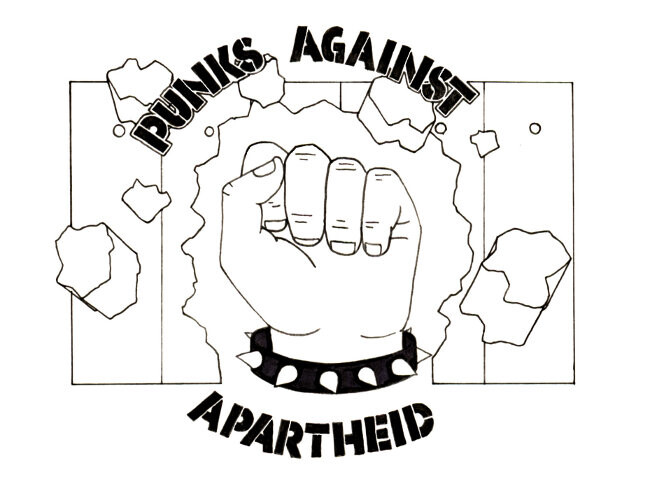 "Stumbling onto the scene" with a demand for legendary punk rocker and social justice activist Jello Biafra and his band, the Guantanamo School of Medicine, to cancel a performance in Tel Aviv last June — which Biafra eventually did — activists with the boycott, divestment and sanctions (BDS) group Punks Against Apartheid (PAA) have announced their official launch as a website and activism network.
PAA was the major driving force behind the appeal to Biafra to cancel his gig, and was formed quickly and with large support by artists, musicians and solidarity activists worldwide who signed onto an online statement that was sent directly to Biafra. Immediately following the show's cancellation, PAA didn't stop there — they were motivated to engage with and expand the growing BDS movement, and continued to call on Biafra to look deeper into his political analysis to understand the situation for Palestinians under Israel's apartheid system.
Punk rock and its history of political struggle
On the PAA website, English, Arabic, Hebrew and Korean readers can read information about the Palestinian-led BDS movement — and the cultural boycott in particular — and how the global punk rock scene fits into the movement. 
Punk rock has always been anti-authoritarian, anti-colonialist, and anti-racist at its core; and PAA states in its points of unity (which has already been endorsed by punk rock heavyweights such as Propagandhi, Angelic Upstarts, Tanzila Ahmed, the Oppressed, Oi Polloi, the Shondes, Sabina England and others in the punk-activist community) that:
1. We, Punks Against Apartheid, exist to foment greater solidarity between the global punk community and the struggle for Palestinian liberation.

2. We honor the call for Boycott, Divestment, and Sanctions (BDS) in its entirety. We will not play or do public speaking events in Israel that are in violation of Palestinian civil society's call for cultural boycott.

3. We will not perform, exhibit or otherwise participate in events which deceptively suggest symmetry or shared responsibility between "both sides" for Israel's ongoing colonial oppression of the Palestinian people and its system of apartheid.

4. We seek, wherever possible, to use our art, music and expression to provide informational support and real solidarity to the cause of Palestinian liberation.

5. We will uphold the cultural boycott of Israel until it meets its moral and legal obligation to recognize the Palestinian people's inalienable right to self-determination.
PAA adds in their section on cultural boycott that the illegal Israeli occupation and settler-colonialist, apartheid structure of the state is an antithesis to the values of artists and musicians:
Punk has had an important history in politicizing its listeners and forming a distinct counter-cultural message against the complacency of mainstream industry music; as punks and people inspired by this legacy, we hope to maintain the integrity of that history by expressing our unwavering support for Palestinian resistance to the occupation and convincing our fellow punks to do so as well!
In their official launch announcement, PAA says that the BDS movement has had victories and challenges during the last six months that they've been campaigning.
On one hand, there have been victories — the cancellation of Tuba Skinny's appearance at the Red Sea Jazz Fest and Natacha Atlas' own cancellation. There have also been setbacks, such as the decision of concert promoters to sue Lebanese BDS groups for their boycott of Placebo's show in Beirut last summer.

What all of these point to, however, is that the struggle, as always, continues. Add into this mix the global Occupy movement ("Occupy Wall Street! Not Palestine!") and we've got fertile ground for real, substantial cultural resistance — including the ongoing BDS campaign.

We sincerely hope, brothers and sisters, that you'll join us as we grow and continue to forge links between this movement and the global punk movement that we know and love so much … And stay in touch for our upcoming campaign to convince Moldovan punkers Zdob si Zdub to cancel their own show in Tel Aviv that's been rescheduled for March. 
Alex Billet, PAA co-founder and contributor to The Electronic Intifada, was recently interviewed on the Roots Rock Rebel radio program on CKUT in Montreal about the launch of PAA and the various cultural boycott campaigns in which PAA is involved. You can listen to that interview here. 
As PAA put it in their launch announcement: "Spread the word, join us, and remember: racism ain't punk, and apartheid deserves no entertainment. Viva le punk! Viva Palestina!"
Tags