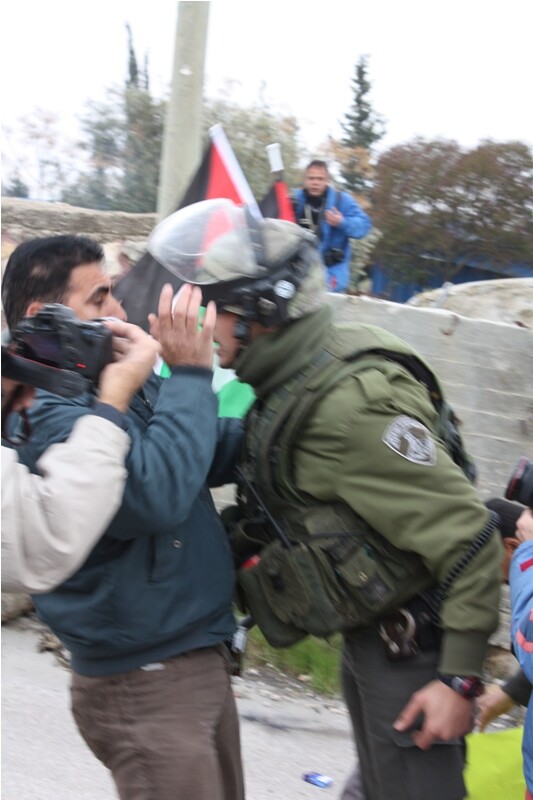 Earlier today, protesters were attacked and four were injured by Israeli soldiers during a peaceful demonstration to commemorate the one-year anniversary of the killing of Yousef Ikhlayl, a 17-year-old boy shot by Israeli settlers on 28 January, 2011, while he was farming with his father on their land in Beit Ommar.


As Bekah Wolf reported for us last week, a day of international protest was called by the Beit Ommar community to demand justice for Yousef and his family. The settlers responsible for shooting Yousef in the head were released with no charge by the Israeli police — a chronic injustice for Palestinians victimized and murdered by Israeli settlers. 

According to a report released today from the Palestine Solidarity Project (PSP), one of several local organizations that led the demonstration, protesters marched towards Route 60, the highway that links Palestinian cities and villages in the southern West Bank and runs adjacent to Beit Ommar. The road is also used by Israeli settlers traveling to and from Jerusalem and illegal settlement colonies in the Bethlehem-Hebron areas. 

PSP adds:
As the demonstrators approached Route 60 at the entrance of the village, dozens of Israeli soldiers blocked their path and attacked the gathering with tear gas, sound bombs, and beatings. Israeli Forces used wooden clubs to strike at activists, and four demonstrators were injured. Yousef Abu Maria had his nose broken, Emad Abu Hashem was hit in the forehead with a club, Ahmad Abu Hashem was hit in the head with a soldier's rifle butt, and Jamil Shuhada, an Executive Committee member for the PLO, was beaten with clubs and rifle butts.
PSP stated that demonstrators remembered Yousef Ikhlayl with the following demands:
1. Try the murderers of Yousef Ikhlayl (the settlers came from Bat Ayn, one of five Israeli settlements built on land stolen from Beit Ommar villagers. To date, no settler has been arrested, let alone investigated, for Yousef's murder.)
2. Dismantle the Bay Ayn settlement
3. Open the closed military roads around Beit Ommar which prevent farmers from reaching and cultivating their lands.
4. Free all Palestinian political prisoners.
5. Remove the Israeli military watchtower and checkpoint at the entrance of Beit Ommar and allow area residents freedom of movement.
In documenting the rising epidemic of settler violence against Palestinians, Wolf wrote last week that:
[Israeli human rights organization] Yesh Din discovered, after researching the progress of 700 individual complaints filed with the Israeli police in the West Bank by Palestinians, that 91 percent of all complaints end with the investigation being closed without an indictment, including 85 percent of cases involving violence. The most common reason for closing a case (which can be done either by the police or by the police prosecutor) is "perpetrator unknown," though a full 2 percent of all cases were closed because of a "lack of public interest," which begs the question, "which public?"
Tags