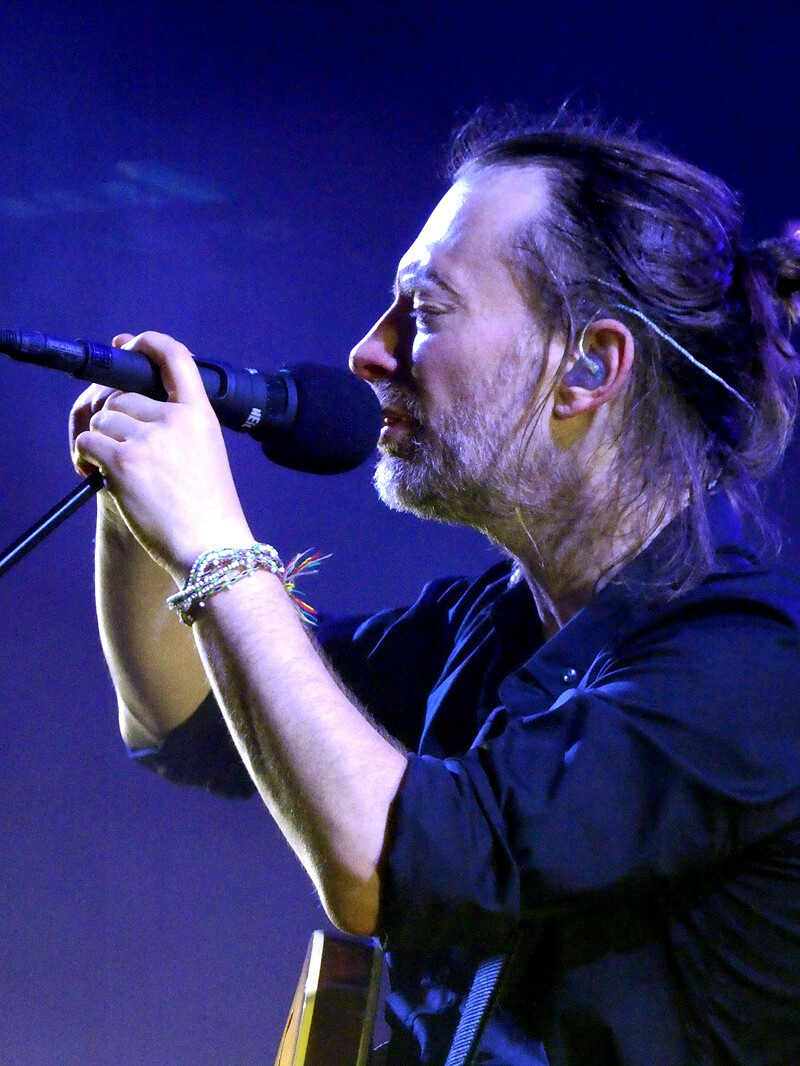 Fans, artists and activists around the world are urging Radiohead to cancel an upcoming performance in Tel Aviv.
The iconic UK band has so far ignored all appeals.
In an open letter published this week, activists with the Palestinian Campaign for the Academic and Cultural Boycott of Israel (PACBI) say that Radiohead's planned performance, "irrespective of intentions, will help Israel's regime of occupation and apartheid cover up its massive violations of Palestinian human rights."
"Your performance in Tel Aviv will only help in the perpetuation of Israeli crimes against the Palestinian population generally and Palestinian artists specifically," the campaigners add.
Two separate petitions circulated by Jewish Voice for Peace have garnered thousands of signatures so far.
Artists for Palestine UK, a growing coalition which supports the Palestinian boycott movement, also urged the band to cancel.
"Their gig will be at Hayarkon Park, built on the site of a Palestinian village ethnically cleansed by the Israeli army in 1948," the group writes.
"Protests against Radiohead's appearance in a state which each week announces more seizures of Palestinian land are already growing," the activists add. "Artists for Palestine UK will join them: Radiohead must not entertain apartheid in Israel. We remind the band: no one now regrets boycotting apartheid South Africa."
Disappointing
To many of their fans, Radiohead's decision to play in Israel signals a disappointing turn for a band previously known for its antiwar stances and subversive, socialist distribution strategies.
Thom Yorke, the band's frontman, has in the past publicly denounced the US-led invasion and occupation of Iraq as well as the scourges of global capitalism and relentless environmental destruction.
However the band has been criticized lately for its reluctance to transform political statements into action, as the major music magazine Pitchfork asserted last year.
"Viewed harshly, Yorke and co. are wealthy English white guys who might occasionally recruit politics as an artistic catalyst, but who are unwilling or unable to divert time and energy to real political activism beyond an impassioned soundbite or appearance at a climate-change concert," Pitchfork's Alex Niven wrote.
Serving Israeli propaganda
Israeli concert promoters are major players in the "Brand Israel" campaign, an Israeli governmental scheme to market a liberal image of the country in order to advance commerce and tourism, as well as to improve its international standing.
Promoters are specifically packaging Israel performances as gestures of humanist goodwill while deliberately downplaying or dismissing the BDS pressure prospective artists will face.
"The boycott has only marginal influence on artists, and the ones who do come here leave as goodwill ambassadors," Guy Besser, a concert promoter, asserted to the Tel Aviv newspaper Haaretz.
However, in the same article, prominent promoter Shuki Weiss admits that the boycott is "causing us great harm" and its growth is "cumulative in people's perception."
Weiss told Haaretz that he advises performers not to "engage in political discussions and come meet their fans here just like they do anywhere else."
In 2011, Weiss told Israeli legislators that "the state must intervene" to combat the cultural boycott movement.
In the past, Weiss' company brought Radiohead to Israel but the Tel Aviv-based promotions company Naranjah is behind booking the band this summer.
However, Weiss has booked major rock bands the Pixies and Nick Cave and the Bad Seeds, both of which are scheduled to perform in Israel later this year.
The Pixies had previously respected the boycott call in 2010, canceling a performance following Israel's attack on the Mavi Marmara, which killed nine civilian activists and fatally injured a 10th as the ship sailed in international waters as part of an aid flotilla to Gaza.
But the band did play in Israel in 2014, ignoring pleas by BDS activists to cancel.
Growing cultural boycott
Radiohead's US-based publicist did not respond to The Electronic Intifada's inquiries.
Meanwhile, the cultural boycott of Israel continues to grow, despite the efforts by Israeli promoters to ignore it.
More than 1,200 UK-based artists and cultural workers have signed Artists for Palestine's online pledge to refuse to perform or exhibit in Israel and nearly 460 have signed a similar pledge in the US.
In New York City alone, nearly 300 artists have endorsed the cultural boycott.
Just weeks ago, professional US football players refused to take part in an Israeli propaganda junket, citing Israel's attempts to whitewash its crimes against Palestinians.
Seattle Seahawk Michael Bennett explicitly criticized Israel's intent to make him "an influencer and opinion former," adding he "would not be used in such a way."
His protest prompted other football players to follow suit.
Palestinian boycott campaigners are still holding out hope that Radiohead will cancel its July gig.
"As it says in the video of your song All I Need, 'some things cost more than you realize,'" PACBI states.
"Your performance in Tel Aviv will cost us dearly as it will help to prolong Israel's decades-old occupation, colonization and entrenched system of apartheid that denies us our equal rights by law, not just policy."
Twitter users are also appealing to Radiohead to cancel their planned performance:
Tags