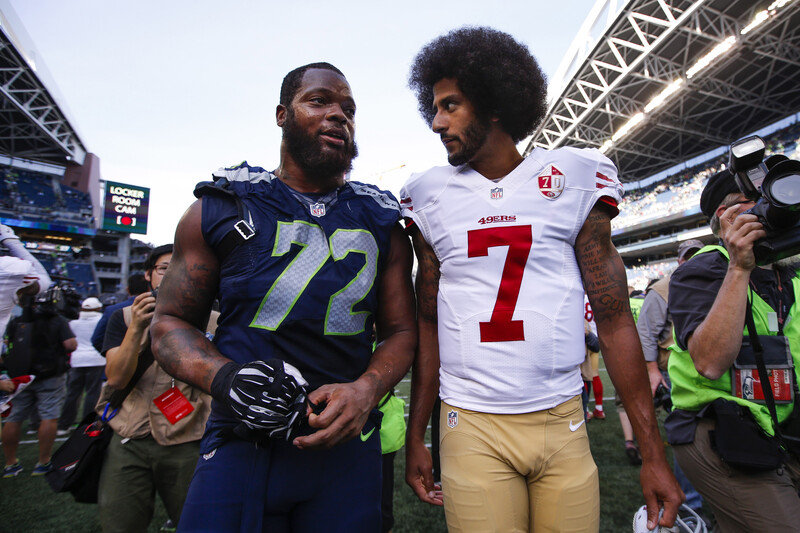 Immediately after contributing to his team's Super Bowl victory last Sunday, Martellus Bennett of the New England Patriots was asked what he thought about an upcoming visit to Mexico to represent the National Football League (NFL).
"Tear down the wall! Tear down the wall! That's what I think about going to Mexico," he cried.
Bennett then became the first of a number of Patriots players who confirmed they would skip a visit with President Donald Trump at the White House.
Hasbara tour
But The Forward reported that Bennett would be taking a different trip. Along with 11 other NFL players he would be "heading to Israel after the team's historic win on a hasbara, or Israeli public relations tour for American football players."
The headline even quoted Bennett purportedly declaring, "I'm going to Israel."
Palestinians living under a system Human Rights Watch has labeled "separate and unequal," would surely wonder how Bennett could oppose Trump's plans to extend the wall on the US-Mexico border, but be unconcerned about the impact of Israel's wall on occupied Palestinian land. Trump has explicitly praised Israel's wall-building as his model.
But in a week of sudden reversals, Dave Zirin reported for The Nation that despite media reports that Bennett would go to Israel, he had "confirmed that this is not the case."
Zirin noted that other players named in a Times of Israel report on the planned junket "are reevaluating whether they will attend."
By Friday night three of the players named as potential participants – Martellus Bennett, his brother Michael Bennett of the Seattle Seahawks and Kenny Stills of the Miami Dolphins – had repudiated the trip.
Players pull out
In an open letter published by The Nation on Thursday afternoon, activists, writers and athletes, including Angela Davis, Alice Walker, John Carlos and Craig Hodges, appealed to the NFL players to reconsider participation in the trip. Harry Belafonte and Danny Glover later signed the letter.

They praised the athletes for using their celebrity "to shed light about and support various struggles including Black Lives Matter," and lauded those who had announced they would not go to the White House.

They urged the players not to allow themselves to be used as part of a propaganda campaign "to help the Israeli government normalize and whitewash its ongoing denial of Palestinian rights."

The same day, NFL player and rights activist Michael Bennett tweeted he would not be going.

In a fuller statement released on Twitter and Instagram Friday night, Michael Bennett said he would "not be used" by Israel's government. He recalled that the late Muhammad Ali, one of his heroes, "always stood strongly with the Palestinian people."

"I want to be a 'voice for the voiceless,'" Bennett added, "and I cannot do that by going on this kind of trip to Israel."

The Dolphins' Kenny Stills retweeted Bennett's statement, adding, "Couldn't have said it better myself. I'm in!" – indicating he was also bowing out of the trip. Martellus Bennett also retweeted his brother's statement.

The Palestinian Boycott, Divestment and Sanctions National Committee (BNC) thanked Michael Bennett "for standing on the right side of history, for justice and equality."

San Francisco 49ers quarterback Colin Kaepernick who is not going, but has been in the public eye due to his decision not to stand for the national anthem in support of Black Lives Matter activists, retweeted to his one million followers a tweet stating that anyone protesting Trump's Muslim ban, would surely also have to be "livid about the apartheid tactics Israel forces on Palestinian Muslims."

Denver Broncos running back Justin Forsett also announced on Saturday via Twitter that he would not be going on the trip, and shared Michael Bennett's statement. But Forsett added that "we made the decision before all this info came out" – an apparent reference to the Israeli government's propaganda goals.

Other players named as participants in the junket are Cliff Avril, Delanie Walker, Mychal Kendricks, Cameron Jordan, Calais Campbell, Carlos Hyde, Dan Williams. Former NFL linebacker Kirk Morrison is also expected to participate.
Damaged brand
Several days ago the Israeli parliament passed legislation retroactively legalizing the theft of large tracts of private Palestinian land for Israeli colonization.

This generated a storm of international protests, even from Israel's closest allies such as the European Union, Germany and the United Kingdom.

Israel's propaganda officials hope the American football players' visit will be a welcome distraction and a chance to burnish Israel's badly damaged brand.

"I see great importance in the arrival of this delegation of NFL stars to Israel," Gilad Erdan, Israel's strategic affairs minister who is in charge of combating the Palestinian-led boycott, divestment and sanctions (BDS) movement, said.

The junket is an initiative of Erdan's own ministry along with the tourism ministry and America's Voice in Israel, a group whose mission is "to bolster Israel's image in the United States by bringing media and radio personalities" to the country.

Erdan confirmed the overtly propagandistic intent of the visit, stating that the NFL players would "present the beautiful face of Israel to their tens of millions of fans in the United States," to help offset the impact of BDS.

Israel has allocated a huge budget to this effort with little effect. In a recent strategic document, the Anti-Defamation League and the Reut Institute, two key organizations that oppose Palestinian rights, reportedly conclude that the fight against BDS has failed.

Meanwhile, despite a multi-million dollar advertising campaign by the tourism ministry – including celebrity junkets – the number of visitors to Israel has continued to fall.

Commenting on Israel's faltering strategy, Clayton Swisher observed, "You're losing when your country legalizes apartheid and then invites a mishmash of NFL players to try and make it look normal."

Swisher, an investigative reporter for Al Jazeera, recently presented a four-part film called The Lobby shedding light on Israel's covert efforts in the UK to win friends and punish perceived enemies.
Imbruglia cancels
Activists hoping that there is still time to persuade more NFL players to bow out will be encouraged by what looks like another victory.
BDS campaigners have been urging Australian singer Natalie Imbruglia to cancel a 1 March concert in Israel.
The Tel Aviv date appears to have been recently removed from her official tour schedule and is marked as "canceled" on her Facebook page.
This article has been updated since initial publication.
Tags