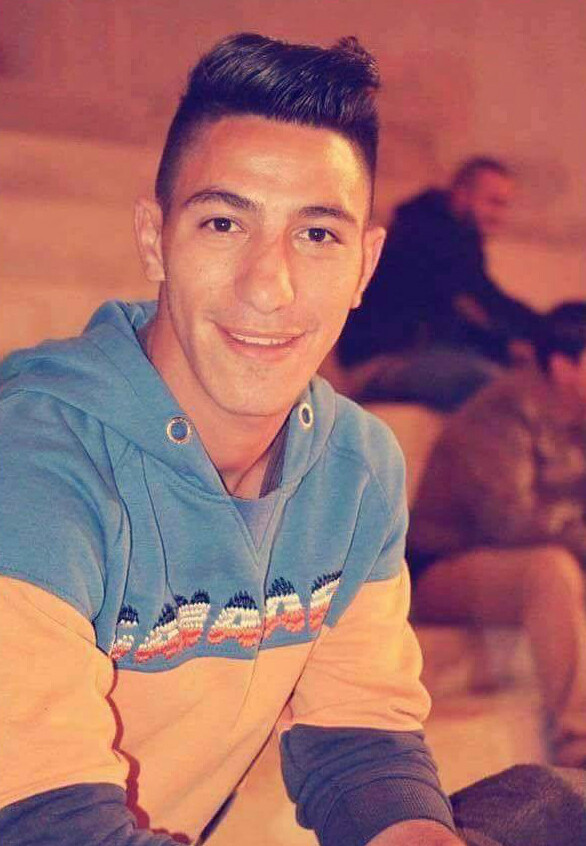 On Sunday, a Palestinian youth died of injuries he suffered last month when Israeli soldiers shot him seven times at point blank range after breaking into his home in a pre-dawn raid.
He is the latest victim of habitual Israeli raids on Dheisheh refugee camp near Bethlehem, in the occupied West Bank.
A resident told The Electronic Intifada that in recent months Israeli forces have raided the camp almost every night.
Raed al-Salhi, 22, was snatched by undercover soldiers from his bed on 9 August, assaulted, shot and dragged for half an hour through the alleyways of the camp, according to Israeli daily Haaretz.
The raid was carried out by undercover agents of the Duvdevan unit who frequently disguise themselves as Palestinian civilians – so-called mistaravim.
Soldiers took al-Salhi to Hadassah hospital in Jerusalem, where he was placed under arrest even as he slipped into a coma. He remained unconscious in the intensive care unit until he died on 3 September.
None of his family members were allowed to visit him and he remained under heavy guard despite his critical condition, the Palestinian Ma'an News Agency reported.
Israeli forces also shot another man, Aziz Arafeh, in the leg during the same raid, according to Ma'an.
Arafeh was reportedly shackled to his hospital bed for weeks after he was shot.
In a mockery of a judicial process, Arafeh was at one point brought before a military tribunal in a hospital bed.
A week after the raid, Israeli forces seized al-Salhi's brother, Bassam, during another invasion of the camp, Ma'an reported.
Al-Salhi's detention "was extended on several occasions by the Ofer military court under the pretext of 'completing interrogation' despite the fact that he was held in critical condition, unconscious and dependent on a ventilator," reported Palestinian prisoner advocacy network Samidoun.
Fifth youth killed in two years
As of Wednesday evening, Israel had still not released al-Salhi's body to his family.
According to Issa Qaraqe, the Palestinian Authority head of prisoner affairs, Israel transferred al-Salhi's body from Hadassah hospital to another hospital in central Israel after he was pronounced dead, Ma'an reported.
Al-Salhi is the fifth Dheisheh youth killed by Israeli forces since February 2015.
In July, 18-year-old Baraa Hamamda was shot in the upper chest and killed during an early morning detention raid by Israeli forces.
Hamamda was also reportedly shot by the Duvdevan special ops unit.
Sleeping with one eye open
"During July and August, the Israeli soldiers have attacked the camp almost every night," a source, who asked not to be named because of the risk of reprisals by Israel, told The Electronic Intifada on Monday.
"Night raids have become something usual for Dheisheh. We often wake up to the smell of tear gas and never sleep deeply – you must keep one eye open to protect your family as much as you can," the source added.
Youth in the camp have been subjected to frequent, arrests, harassment, threats, injuries and extrajudicial executions by Israeli forces in ramped-up raids over the last two years.
An officer of Israel's Shin Bet secret police assigned to the camp, known as "Captain Nidal," has overseen raids in which soldiers were instructed to shoot Palestinian youth in the legs with the intent to cause disability.
The Electronic Intifada's source in the camp said that it was unclear whether Captain Nidal's unit was directly involved in the shootings of Raed al-Salhi and Aziz Arafeh.
"Torture"
Al-Salhi was an active volunteer at the Laylac community center in Dheisheh.
He was leading a program to curate and install small public libraries around the camp in an effort "to encourage people to read more and learn about different topics," The Electronic Intifada's source explained.
Learning of al-Salhi's death "was [unbearable] news for all of us who had hope that we would see him alive again," the source said.
Residents of Dheisheh erected a mourning tent at the entrance to the camp so that al-Salhi's friends, family and neighbors could pay their respects.
Refusing to release al-Salhi's body, the source said, "is only meant to torture his family and the camp."
While al-Salhi's family awaits the arrival of his body, members of the community are comforting those reeling not just from his death but the daily terror of Israel's relentless attacks on the camp, the source said. "As organizations, as a community, as youth in the camp, as parents, we're all asking ourselves, what can we do?"
"It's a very big question that we don't have an answer for," the source added.
Raed al-Salhi is the 57th Palestinian to be killed by Israeli fire so far this year. Twelve Israelis, most of them soldiers, and a British national have been slain by Palestinians during the same period.
Tags