Approximately 30,000 persons inside more than twenty prisons in California are on their fourth day of a mass hunger strike today, demanding an end to long-term solitary confinement along with other abusive conditions and policies. And they say they won't end their strike until state officials sign a legally-binding agreement to end the draconian practices. 
As I wrote on Monday, Palestine activism groups are organizing in solidarity with the hunger striking prisoners in California. While Israel continues to arrest, detain, imprison and torture Palestinian men, women and children, many parallels are made between the systems of mass incarceration there and in the US. Samidoun, the Palestinian Prisoner Solidarity Network, wrote in a solidarity statement with the California prisoner hunger strike: 
Over 2 million people are imprisoned in the US and over 60 percent of those people are people of color, subject to a distinctly racialized system that routinely criminalizes youth of colour, in sharp contrast to the crime rate, which has fallen while imprisonment has risen. Mass incarceration is deeply racialized, as 1/3 of young Black men are in the criminal justice system. The US holds 25 percent of the world's prisoners with 5 percent of the world's population, and prisoner resistance and political action has been sharply repressed.

… Solitary confinement is a mechanism of torture, from Palestine to Pelican Bay to Guantanamo, and we stand in solidarity with the courageous prisoners who challenge isolation and oppression.
Michelle Alexander, author of the important book The New Jim Crow: Mass Incarceration in the Age of Colorblindness, wrote in The Nation in 2010: "There are more African-Americans under correctional control today — in prison or jail, on probation or parole — than were enslaved in 1850, a decade before the Civil War began." Alexander adds that as the prison population rises — there are more than 2 million persons incarcerated across the US — nonviolent offenses "alone account for about two-thirds of the increase in the federal inmate population, and more than half of the increase in the state prison population … In some states, African Americans comprise 80 percent to 90 percent of all drug offenders sent to prison." 
The Prison Hunger Strike Solidarity website adds:
The California prison system currently holds over 10,000 prisoners in solitary confinement units, with dozens having spent more than 20 years each in isolation. Conditions in Pelican Bay State Prison's [secure housing units (solitary confinement)] sparked massive waves of hunger strikes in 2011 that saw the participation of 12,000 prisoners in at least a third of California's 33 prisons.
To read updates on the mass hunger strike, which was organized by persons inside the Pelican Bay prison, visit the Prison Hunger Strike Solidarity website.
Khader Adnan's statement
On Tuesday, Addameer, the Palestinian prisoners' advocacy organization based in the occupied West Bank, published a statement of solidarity from Khader Adnan who famously went on a hunger strike in December 2011 for 66 days in protest of his administrative detention. Adnan's hunger strike elicited global solidarity and actions worldwide. He was released back to his home in the West Bank in April 2012.
Adnan states:
I announce my full solidarity with my 30,000 oppressed brothers in the American prisons and I ask that the American people and the government end the policy of isolation of the detainees and the prisoners, and comply by human rights law that forbids continuous isolation because of its destructive effects on the mental and physical health of detainees.
Khader Adnan's full statement is below: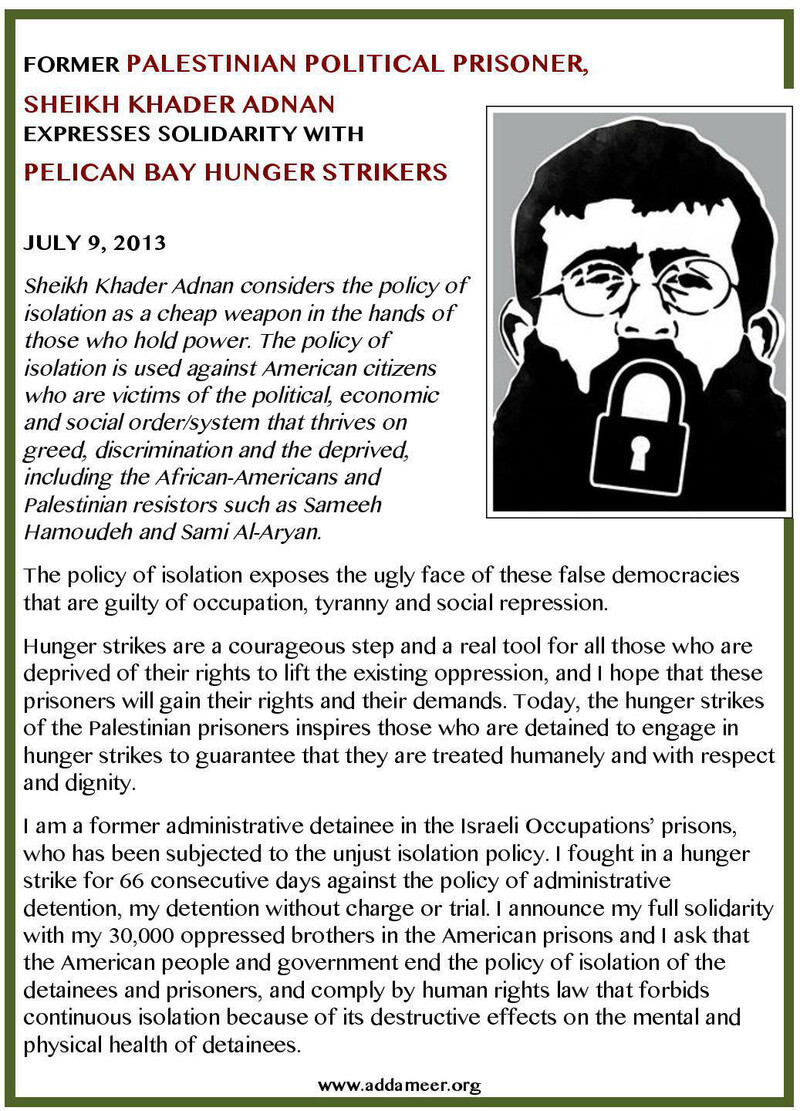 Also on Tuesday, Addameer reported that 12 individuals are currently on hunger strikes in Israeli prisons, and the organization provides their names, the length of their hunger strikes so far, and details of their detentions.
Mahmoud Sarsak speaks in the UK
Meanwhile, Palestinian national football star and former hunger striker Mahmoud Sarsak — who was on a three-month hunger strike beginning in March 2012 protesting his administrative detention orders imposed by Israel in 2009 — recently spoke to an audience in the UK. He talks about being imprisoned, his hunger strike, international solidarity and the status of current prisoners in Israeli jails who remain on hunger strike. The video above was produced by the Palestine Solidarity Campaign.
Tags