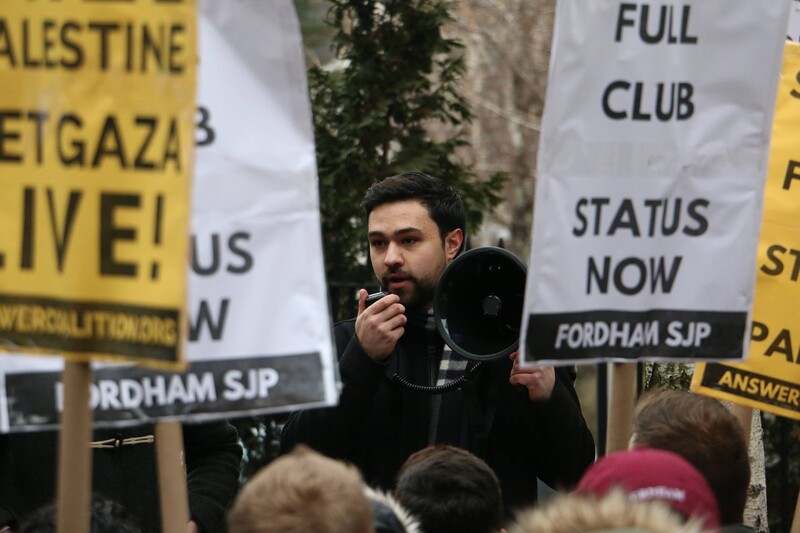 Students have sued Fordham University over the New York institution's refusal to allow them to establish a chapter of Students for Justice in Palestine (SJP).
The lawsuit, filed in state court on Wednesday, alleges that the private Jesuit university violates its own free expression policies and is engaged in viewpoint discrimination.
Students say they were subjected to a year-long investigation when trying to start the SJP chapter. They were questioned repeatedly about their personal political views, affiliations with outside human rights and Jewish organizations and their opinions about the Palestinian-led boycott, divestment and sanctions (BDS) movement.
In December, a university official informed students seeking to start an SJP chapter that he had unilaterally decided to deny their request.
Dean of students Keith Eldredge's ban overturned a November vote by the student government approving the formation of SJP.
Attorneys with Palestine Legal and the Center for Constitutional Rights are representing the students in their case against the university.
"If Fordham's guarantee of freedom of inquiry means anything, it's that students who want to advocate for Palestinian rights must be able to start an SJP club and host events, invite guest speakers, distribute flyers, and post materials just like any other group," Maria LaHood, deputy legal director of the Center for Constitutional Rights, stated on Wednesday.
The legal groups warn that Fordham's "treatment of SJP is part of a broader pattern of repression" against activists, particularly on US campuses.
"This is yet another example of the Palestine exception to free speech, where supporters of Palestinian freedom are singled out for differential treatment and censorship," Palestine Legal's Radhika Sainath told The Electronic Intifada.
Her group says that between 2014 and 2016, it has responded to 650 such incidents of suppression targeting Palestine advocacy, mostly on college campuses.
Punishment
In January, students at Fordham held a rally demanding that the dean reverse his decision and lift the ban on SJP.
Instead, Eldredge charged senior student Sapphira Lurie, who co-organized the rally, with violating the university's demonstration policy and summoned her to a closed-door meeting to determine her guilt and punishment.
Eldredge later sanctioned Lurie after she refused to attend the meeting because he would not allow her attorney or faculty advisor to accompany her. Attorneys with Palestine Legal are appealing the punishment.
Lurie is one of the four students suing Fordham.
Hearsay
Fordham claims in response to the lawsuit that the "behavior" of other SJP chapters and of National Students for Justice in Palestine, an umbrella organization, were a determining factor in banning the group.
Based on media reports, Fordham alleges that SJP's actions, "if true, are not in keeping with Fordham's values," according to a statement sent to The Electronic Intifada.
The university acknowledges that "Fordham officials aren't in a position to know the truth of these reports," an admission, in effect that it is restricting the rights of its own students based on hearsay about students on other campuses.
Given that Israel lobby groups devote enormous resources to smearing SJP chapters around the country, this is tantamount to handing Israel advocates a heckler's veto on speech at Fordham.
The university says that it "believed that a student club bearing that name is not in the bests [sic] interests of our students on either side of the debate, or would serve to foster reasoned discussion on these very difficult issues."
Fordham says it would "grant the club status under a slightly revised version of [the] constitution they had proposed," including requiring students to change the name of the club and to overtly state its independence, financial and otherwise, from National Students for Justice in Palestine.
In January, the administration claimed that SJP exhibits "a singular focus" on the "political agenda of one nation, against another nation" and that the group "encourage[s] disruptive conduct" – citing the interruption of public speaking events – which would contradict the college's values of "civility."
"We have your back"
FIRE, a free speech watchdog, designated Fordham as one of the top 10 worst universities in the US for free speech based on its SJP ban.
More than 100 Fordham professors, along with dozens of Palestine solidarity groups, civil rights organizations and Catholic clergy and scholars have admonished the university's behavior towards the students.
The outcome of the Fordham lawsuit could have a significant impact on student activism, especially as Israel advocacy groups and state and federal lawmakers broaden their efforts to repress Palestine solidarity campaigning.
"This lawsuit is for all the students around the country who face ongoing suppression," Palestine Legal's Radhika Sainath said.
"We will not tolerate attempts to censor support for Palestinian rights. For students who want to start SJP chapters or expand your organizing – we have your back, you have legal recourse."
Tags