Over the weekend, the American Israel Public Affairs Committee (AIPAC), the largest Israel lobby group in the US, began its annual policy conference in Washington, DC. AIPAC is a longtime target of Palestine solidarity activists, who have protested and disrupted various fundraising and policy conferences.
Activists and artists with several Palestine solidarity and human rights organizations launched advertising campaigns this weekend to coincide with the AIPAC conference, placing placards at metro stations which call for an end to the US' multi-billion dollar aid package to Israel.
A series of placards have been produced by a joint project of the US Campaign to End the Israeli Occupation and the graphic design activism initiative Visualizing Palestine.
In a joint press release, the US Campaign to End the Israeli Occupation and Visualizing Palestine stated:
A three-day mobile truck ad highlighting the devastating impact US weapons have on Palestinians will follow AIPAC attendees during their conference and as they lobby Members of Congress for more weapons for Israel.

In addition, ads at three Washington, DD Metro train platforms — Pentagon, Mt. Vernon Square/Convention Center, and Foggy Bottom — highlight the budgetary trade-offs of providing weapons to Israel at the expense of failing to fund local community needs.
In the press release, the US Campaign's National Advocacy Director, Josh Ruebner, stated:
At a time when the sequester is cutting billions of dollars from programs to help those in need, it is grotesque that AIPAC is lobbying Congress this week for ever-increasing amounts of military aid to Israel, especially as these U.S. weapons are used by Israel — in violation of US laws — to violate Palestinian human rights.
And Ahmad Barclay, Lead Information Architect with Visualizing Palestine, added:
We see visual media as an essential tool in communicating marginalized social justice issues to a mainstream audience. We hope that this ad campaign will spur US taxpayers to question more actively where their money is being spent at such a critical time.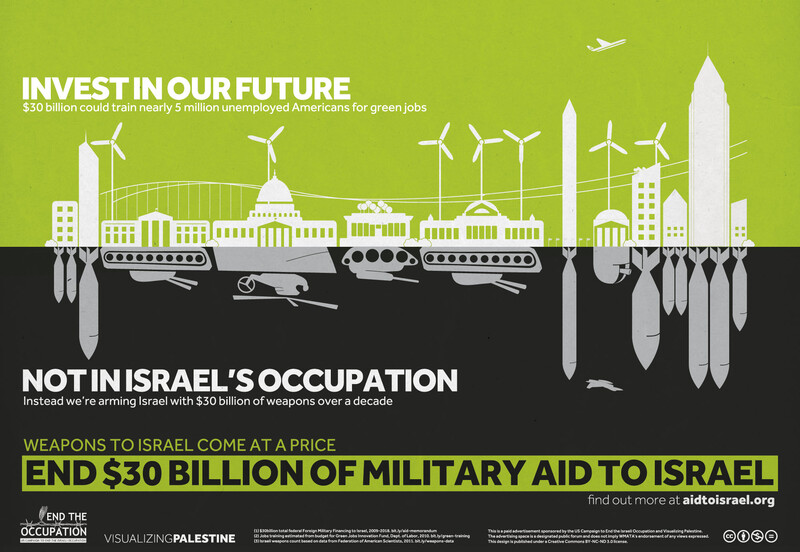 In addition, activists with Jewish Voice for Peace have also launched an activism campaign with advertisements in the DC metro area.
JVP stated in a press release that 100 billboards are carrying the ads which highlight "the gap between AIPAC's peace­killing policy positions and most Jewish Americans."
The ads display the faces of Jewish Americans who declare that "AIPAC does not speak for me."
In a press release, JVP's Executive Director Rebecca Vilkomerson states:
AIPAC is the NRA of foreign policy lobbies, pushing a right­wing agenda that does not representthe majority of Jewish Americans: Its support for military build­up and endless settlement expansion makes peace impossible. It cannot claim to speak for all American Jews.
JVP's press release adds:
Hundreds of lawmakers and Vice President Joe Biden are expected to attend AIPAC's annual gala this week. Considered one of the most powerful lobbying forces in Washington, a number of AIPAC's hawkish positions put it at odds with the majority of American Jews.

… The 100 ads can be seen throughout the Washington, DC Metro system as of March 3, at Union Station, Gallery Place, Judiciary Square, Archives, L'Enfant Plaza, Federal Center, Farragut North, Eastern Market, and other stations. The ads will be on display for two weeks, including at the two Metro stops closest to the Washington Convention Center, venue of AIPAC's conference: Gallery Place and Convention Center.
In addition, the activism group CODEPINK held a day of protest actions on Sunday in front of the Historical Society Building and Washington Convention Center hosting the AIPAC conference.
On Monday, Code Pink has planned an action outside the conference again, saying that activists "will talk to the hundreds of Congresspeople going into the gala to show their support for AIPAC. CODEPINK and allies will say no to AIPAC, yes to equality and freedom for Palestinians, yes to peace with Iran. It is time for a new US foreign policy in the Middle East."
For more information on the protest action, visit the Code Pink website.
Tags