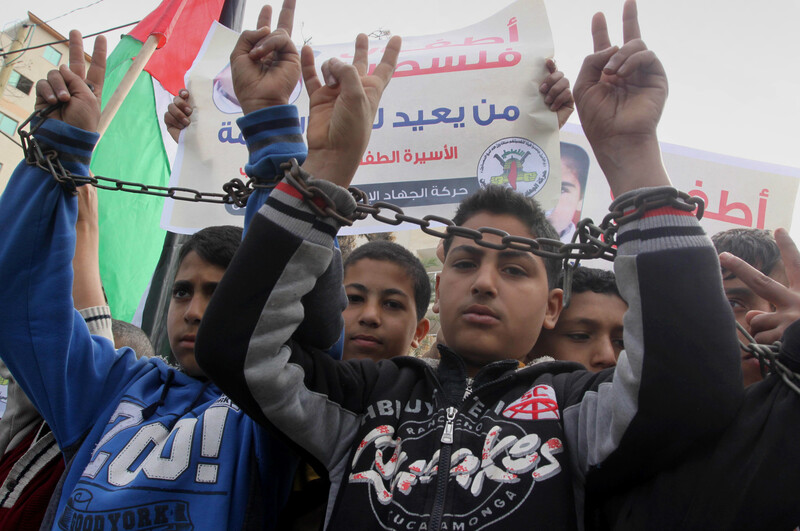 A member of Congress said she had "a clear message" for Israeli Prime Minister Benjamin Netanyahu, who was in Washington on Wednesday: he must respect the rights of Palestinian children.
As US President Donald Trump and the Israeli leader held a joint press conference at the White House, Representative Betty McCollum of Minnesota challenged Israel's systematic abuses of Palestinian children in a post on Facebook.
"Israel's military detention system arrests, interrogates and prosecutes as many as 700 Palestinian children – as young as 11 years old – every year," McCollum says. "Abuse is rampant and children often have no lawyer or parent present during detention and interrogation."
"Israel must end the abusive military detention of Palestinian children," she adds. "Israeli children, Palestinian children – all children – should be able to live free of systematic, state-sponsored human rights abuses! Respecting the human rights of children is the only path to peace and security in the Middle East."
McCollum also took to Twitter to demand accountability from Netanyahu:
Breaking silence
McCollum continues to break with the vast majority of US lawmakers who refuse to challenge Israeli policy.
In June 2015, the Democrat authored a letter, co-signed by 18 other members of Congress, demanding that the Obama adminstration push Israel to end its abuses of Palestinian children.
Two months later, the lawmaker called for sanctions on the Israeli Border Police unit responsible for killing Palestinian teenagers Nadim Nuwara and Muhammad Abu al-Thahir on 15 May 2014.
The boys were shot in cold blood at a Nakba Day protest – their killings caught on video – near the Ofer military prison in the occupied West Bank village of Beitunia.
McCollum initiated another push in June 2016 urging Obama to appoint a special envoy to protect the rights of Palestinian children under Israeli occupation. Lawmakers who signed McCollum's letter condemned Israel's rampant use of administrative detention – incarceration without charge or trial – against Palestinian children in Israeli military jails.
Grassroots activists with the No Way to Treat a Child campaign – a joint initiative of Defense for Children International - Palestine and the American Friends Service Committee (AFSC) – have been working closely with lawmakers on the issue of Palestinian children in detention.
"Congresswoman McCollum's leadership and integrity inspires us," AFSC's Jennifer Bing told The Electronic Intifada.
"Her voice is among a growing number of Congress members who are speaking up for the human rights of Palestinian children – children who face systematic oppression and denial of rights by the Israeli army," Bing added.
Inspired by the No Way to Treat a Child campaign in the US, activists in Australia gathered the support of 49 members of Parliament last November on a letter calling for Israel to end its abuses of Palestinian children.
Tags