In this roundup of news from the global boycott, divestment and sanctions movement: Campaigners strengthen calls for divestment against Caterpillar following the Corrie verdict; Indian activists, scholars and artists denounce India-Israel free trade agreement; South Africa approves measure to correctly label products from Israeli settlements; and Queers Against Israeli Apartheid (Vancouver) denounces pinkwashing, calls for adoption of BDS guidelines at Vancouver Queer Film Festival.
After Israel finds itself not guilty in the killing of Rachel Corrie, boycott campaigners intensify calls for divestment
On Tuesday, Israel found itself not responsible for the death of Rachel Corrie, an American soldiarity activist who was killed while defending a home in Rafah, Gaza, from imminent demolition in 2003. Judge Oded Gershon — a former military judge presiding over the 7-year-long civil court case — blamed Corrie for her own death, adding that it "was not due to negligence of the state or any of its actors. The state did not violate the right of the deceased [Rachel Corrie] to life."
Human rights activists, including Rachel Corrie's parents and the Rachel Corrie Foundation, say that in the wake of the verdict, it is time to intensify boycott, divestment and sanctions campaigns against companies that profit from Israel's policies of apartheid, occupation and impunity.
The national project of Jewish Voice for Peace, the We Divest Campaign — a coalition at the forefront of divestment activism targeting pension fund giant TIAA-CREF (which holds shares in Caterpillar Inc.) — stated in a press release on Tuesday that it is heightening its calls for action against Caterpillar. Caterpillar provides bulldozers to the Israeli military that have been used to demolish Palestinian homes and raze Palestinian land. An Israeli-modified Caterpillar D9 bulldozer crushed Rachel Corrie to death in March 2003.
In addition to We Divest's call to strengthen the Caterpillar divestment initiative, a week of action was jointly called by We Divest and the Rachel Corrie Foundation leading up to Tuesday's verdict at the Haifa district court. Protests against TIAA-CREF and Caterpillar took place in eleven areas across the US, in two cities in the occupied West Bank, and in Rome.
We Divest's press release on intensifying divestment campaigns adds:
In a series of actions timed to coincide with the issuing of the verdict, human rights advocates in cities across the US will protest in front of local TIAA-CREF offices this week and deliver a letter urging trustees to divest fully from Caterpillar and other companies that profit from Israeli human rights abuses in the occupied Palestinian territories. The We Divest Campaign is supported by the Corrie family and the Rachel Corrie Foundation.

"At the time of her death, Rachel was trying to prevent the destruction of Palestinian homes by Caterpillar bulldozers," said Riham Barghouti, a member of the We Divest National Coordinating Committee. "Israel's illegal policy of destroying Palestinian homes in the occupied territories, sometimes extending to entire villages, remains as urgent an issue today as it was when Rachel was killed. In Jerusalem, the Jordan Valley and Hebron Hills, Palestinians continue to live with the daily threat of their homes and property being confiscated or demolished by Israeli authorities. If TIAA-CREF trustees want to live up to their motto of investing 'for the greater good,' they must stop profiting from companies such as Caterpillar that are enabling Israel to carry out such gross human rights violations."

While TIAA-CREF recently dropped $72 million worth of Caterpillar shares from its social choice funds, following the lead of ethical investment ratings agency MSCI, which downgraded Caterpillar in February in part over concerns about the use of the company's products by the Israeli military, it continues to invest over $1 billion in Caterpillar through its general fund.
Indian activists, scholars and artists denounce India-Israel free trade agreement
A recent statement signed by more than 100 prominent Indian activists, writers, academics, scholars, artists and scientists affilated with InCACBI (the Indian campaign for the academic and cultural boycott of Israel) denounced the current negotiations with Israel involving a massive free trade agreement. The agreement, they say, "inadvertently lend[s] a stamp of approval to Israeli policies of colonialism, apartheid and occupation in Palestine."
The statement, which was released on 24 August, reads in full:
We, a group of academics, activists and artists in India, came together in 2010 to campaign against yet another apartheid regime by extending support to the international campaign for the academic and cultural boycott of Israel.

In yet another instance of India turning a blind eye to Israel's occupation of Palestine, India is currently negotiating a Free Trade Agreement (FTA) with Israel. The 5th round of negotiations took place in New Delhi on August 14th-16th 2012, and an agreement is likely to be signed by the end of this year, or in the second quarter of next year.[1] With this new high in its relations with Israel, India will reach a new moral low in its foreign policy. By signing the free trade agreement with Israel, we, as a nation, will inadvertently lend a stamp of approval to Israeli policies of colonialism, apartheid and occupation in Palestine.

Why should we do business with Israel when it systematically isolates Palestine from the global economy? In effect, Israel also restricts the possibility of trade ties between India and Palestine.

Consider these facts:

· West Bank trade remains largely isolated from global markets because of restrictions imposed on the movement of goods by Israel, according to a July 2011 study by the UN Conference on Trade and Development (UNCTAD).

· Excessive scrutiny measures such as the back-to-back system of truck loading, checkpoints, and the prolonged clearance process at Israeli ports that require Palestinian goods to be searched several times, severely restrict trade to the West Bank and Gaza. This process of scrutiny also applies to the border crossing to Jordan, the only international crossing point in the West Bank.

· Palestinians are forced to import fuel via Israel. If Palestinians had the choice to import directly from Jordan or Saudi Arabia, the price paid could be halved.

· Though Palestine's per capita GDP is US $1,500 against Israel's per capita GDP of US $26,000, Gaza and the West Bank are treated as part of the Israeli customs union.

Such discriminatory practices in trade have to be viewed in the context of a powerful ongoing Israeli campaign to undermine Palestinian economic, political and cultural freedom. Through this campaign, Israel will continue to confiscate Palestinian lands; destroy homes; expand and build colonies; and restrict the Palestinians' freedom of movement. In short, Israel continues to block all avenues to justice, peace, and freedom for the Palestinians.

This is why we appeal to fellow Indian citizens of conscience to stand firmly opposed to any of India's trade, strategic, scientific, military, economic, academic or cultural ties with Israel.
For the full list of signatories, see the InCACBI statement.
South Africa approves measure to correctly label products from Israeli settlements
Following an announcement in May by the South African government that it was preparing to require import traders in the country to correctly label products originating from illegal Israeli settlement colonies in the West Bank, this week the South African cabinet formally approved the measure.
Many see this as a first step towards banning the products outright. In recent weeks, as The Electronic Intifada has reported, a visit to Israel by South African mayors was canceled, and a senior official of the South African government "strongly discouraged" citizens from traveling to Israel "because of the treatment and policies of Israel towards the Palestinian people."
Al Jazeera English reported on 22 August that government spokesman Jimmy Mayani said the labeling requirement of settlement products "is in line with South Africa's stance that recognises the 1948 borders delineated by the United Nations and does not recognise occupied territories beyond these borders as being part of the state of Israel."
Al Jazeera added:
The trade minister was given the nod to issue a notice requiring that products are marked so that buyers knew their origin is not Israel, but beyond the Green Line, Manyi said.

The plan has already met protests in South Africa and been criticised by Israel's foreign ministry. Local Jewish leaders said on Wednesday that the community was outraged over what they called "discriminatory, divisive" measures.

… South Africa says its backing of Palestine stems from its own history of apartheid, oppression and rights abuses.
Meanwhile, the Irish Times reported that an official with the Ramallah-based Palestinian Authority is urging the European Union to adopt similar requirements.
The Times' report adds:
The Palestinian Authority has urged European Union states to follow South Africa's example and separately label all products manufactured on West Bank settlements.

… Abdul Hafiz Nofal, the Palestinian Authority's deputy economy minister, thanked South Africa for the decision and said it would make the products not only easier to tax, but would also indicate to consumers which products to boycott should they choose to exclude settlement goods. "Giving those products a mark to distinguish them will prevent Israel from disguising them as Israeli products rather than settlement products," Mr Nofal explained.

Israel, fearing Pretoria's move could set a precedent for other states, reacted angrily, terming the move "unprecedented and blatant discrimination." Since 2003 the EU has required Israeli companies to specify on their export invoices where their products are made, so that products manufactured in settlements would not enjoy the same tax breaks as goods manufactured inside Israel.
In May, Tánaiste [deputy head of state] Eamon Gilmore stated that he would push for an EU-wide ban of Israeli settlement products "if Israel did not quickly change its settlements policy [in the occupied West Bank]."
Queers Against Israeli Apartheid (Vancouver) calls for adoption of BDS guidelines at Vancouver Queer Film Festival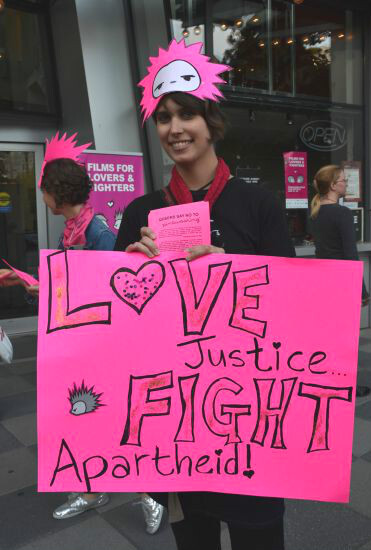 This past week, activists with Queers Against Israeli Apartheid-Vancouver (QuAIA) urged the upcoming Vancouver Queer Film Festival to apply BDS guidelines to its screenings. In a press release dated 22 August, QuAIA-V say they held a demonstration outside the festival's screening of film whose Israeli director, after a showing of his film at San Francisco's LGBT International Film Festival, recently characterized the West Bank and Gaza as "primitive" during a Q&A session.
 

The activists denounced the pinkwashing scheme at the Vancouver Queer Film Festival. Pinkwashing is a term to describe Israel's hasbara (propaganda) efforts to brand Israel as a "haven" for LGBT people while ignoring the human rights of Palestinians living under an apartheid system.

QuAIA's press release states, in part:
The group came together under the banner "Queers Against Israeli Apartheid" in response to the VQFF's screening of two films — The Invisible Men and Joe + Belle — that have received funding from the Israeli government and support from Israeli cultural institutions. In response to the screening of these films, QuAIA has called on the VQFF to stand in solidarity with Palestinian queers and come out against the Israeli apartheid regime.

"The Israeli government tries to cover up its ongoing and brutal occupation of Palestine through public relations campaigns that tell us Israel is a friend to queers everywhere," stated Isabel Krupp.

According to Arielle Friedman, "Israel's attempt to pinkwash apartheid includes its funding and support for movies like The Invisible Men, which fail to portray the realities of Israel as a settler colonial state." Friedman stressed that "when movies like this — produced by Israeli film makers and supported by the Israeli state — are screened at queer film festivals, it perpetuates the silencing of Palestinian queers who resist colonization as queer minorities on a daily basis."

The QuAIA action is not the first to call out The Invisible Men for collusion with the Israeli state and pinkwashing. At the 2012 San Francisco International LGBT Film Festival, queer activists called out the Executive Director of the Festival during the introduction to the film, criticizing the festival for engaging in pinkwashing through its partnership with the Israeli Consulate. When confronted by activists at the Festival, The Invisible Men director, Yariv Mozer, labeled the West Bank and Gaza as "primitive" and stated that he was "helping Palestinian queers," despite the stated positions of all Palestinian queer organizations — including PQBDS, Al-Qaws, and Aswat — in support of the call for boycott, divestment, and sanctions (BDS) against Israel, including cultural boycott.

QuAIA also delivered an open letter to VQFF staff and Board of Directors, calling on the Festival to support the global movement for BDS against the state of Israel by endorsing the cultural boycott of Israel for future festivals, via the guidelines proposed by the Palestinian Campaign for the Academic and Cultural Boycott of Israel (PACBI).

The open letter has been endorsed by a number of local anti-racist and Palestinian solidarity organizations, including Trikone (Vancouver), No One Is Illegal (Vancouver, Coast Salish Territories), Salaam (Vancouver), Boycott Israeli Apartheid Campaign (Vancouver), and Solidarity for Palestinian Human Rights (UBC). International organizations, including Palestinian Queers for BDS, Pink Watching Israel, NYC Queers Against Israeli Apartheid, and Queers Undermining Israeli Terrorism, have also endorsed the letter.
More photos of the event can be viewed here.
Tags