More than ten thousand protesters marched in downtown Chicago on Sunday, following one of the deadliest days in Israel's ongoing assault on Gaza. This protest was one of many held worldwide demanding an end to Israel's aggressions against Palestinians.
Protesters marched from the Tribune Tower in downtown Chicago to the Israeli consulate on 20 July.
The Chicago coalition of Students for Justice in Palestine opened the demonstration with a die-in in front of the Tribune Tower, followed by a moment of silence for the victims in Gaza and speeches by activists before the march began.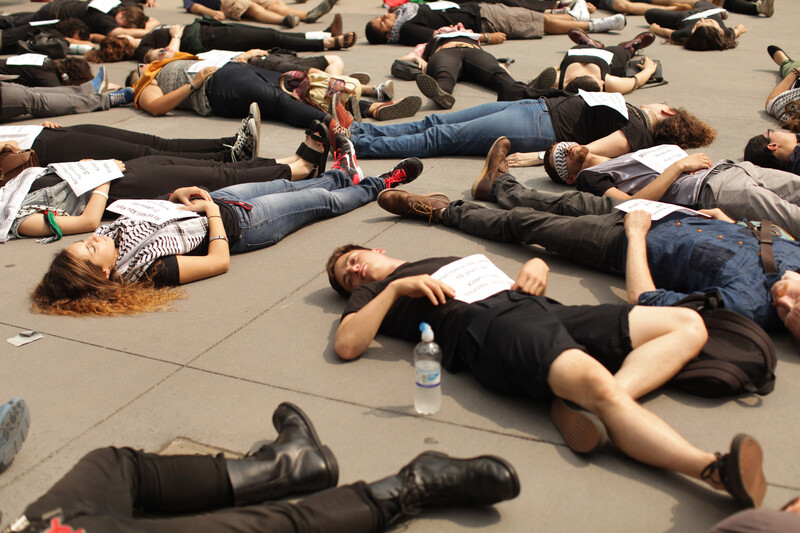 Protest organizers and speakers were impressed with what they called the largest Palestine solidarity demonstration in the United States during the current crisis in Gaza, but activists like Ramah Kudaimi of the US Campaign to End the Israeli Occupation reminded the large crowd that there was still much more work to be done to support the Palestinian cause.
"It's great that we're going to be out here protesting again and again until Israel ends this most current massacre in Gaza but we have long term work to be doing," she told the crowd.
Kudaimi urged the thousands standing in front of the Israeli consulate to learn about the boycott, divestment and sanctions movement, and the companies that are complicit in Israel's international crimes such as Boeing, a company that supplies Israel with F-16 fighter jets.
Days before Sunday's massive turnout, five Palestine solidarity activists were arrested at Boeing's headquarters in downtown Chicago on 16 July during an act of civil disobedience.
At Sunday's protest in Chicago, speakers encouraged the thousands of people in attendance to speak up for the Palestinians who live under occupation and to not accept the excuses made on behalf of Israel's war crimes.
"Palestinians are sick and tired of being asked to give Israel some kind of benefit of the doubt. Israel does not want peace," Hatem Abudayyeh of the Arab American Action Network told the rally.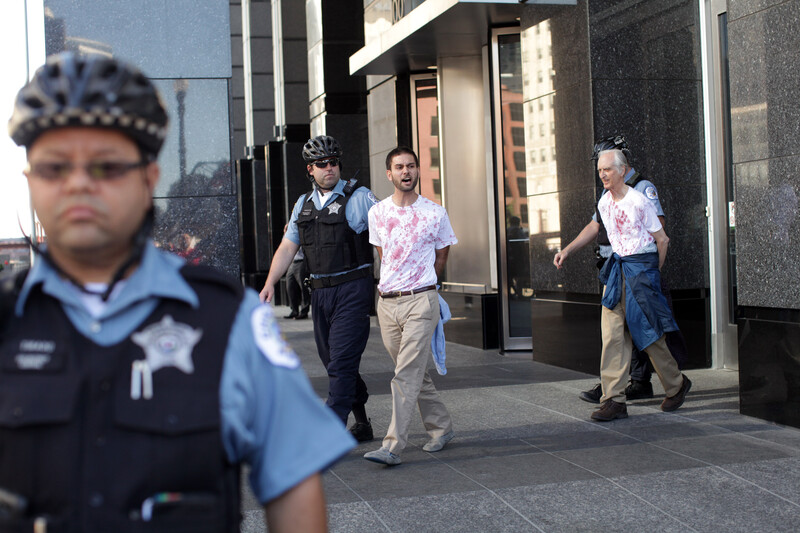 Protests demanding that Israel be accountable for its crimes continue to be held worldwide.
An estimated 40,000 people protested the massacre of Gaza in Cape Town, South Africa on 16 July. On 19 July, approximately 15,000 people in London marched to the Israeli embassy.
France became the only country to ban Palestine solidarity demonstrations after confrontations during a protest on 13 July. However, pro-Palestinian protesters still took to the streets for an unauthorized protest during which 38 demonstrators were arrested and 14 police officers were injured, according to police sources, on 19 July.
Other protests have been held in Turkey, Spain, Indonesia and Germany.
Activist Jennifer Bing compared the worldwide events to Chicago's protest, reassuring the attendees that there are many more like them across the globe.
"You are not alone in your grief as you see the photos of dead children, women and men hidden under collapsed buildings, on stretchers fleeing from the bombing in hospitals wrapped in white plastic with blood flowing. You are not alone," she stated during the rally.
After approximately three hours of chanting and marching, the diverse group of protesters quickly dispersed. Many returned to school buses that they arrived in that were supplied by area mosques.
Palestine supporters in Chicago came out in strong numbers again on Tuesday to counter a demonstration held downtown by StandWithUs, a rightwing Zionist group that works closely with the Israeli government to suppress Palestine solidarity efforts in the United States.
Another Palestine solidarity demonstration is scheduled in Chicago on Jerusalem Day, 25 July.
Tags