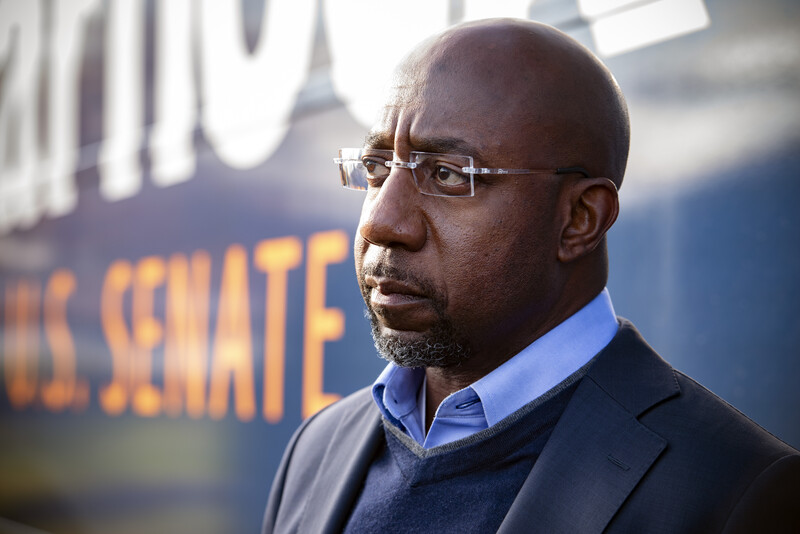 The political action committee of Democratic Majority for Israel has endorsed US Senate candidate Reverend Raphael Warnock.

Prior to this year's Senate campaign against Republican incumbent Kelly Loeffler, Warnock was a staunch supporter of Palestinian rights.

The Georgia Democrat has, however, rapidly ditched those positions in the past few weeks as Loeffler and Israel lobby groups police Black anti-imperialist speech.

Warnock's abandonment of his positions on Palestine presumably earned him the endorsement of DMFI PAC.


Loeffler, who opposes statehood for the near-majority Black District of Columbia – and thus favors the disenfranchisement of residents of the nation's capital – faces Warnock in a 5 January runoff.

On the same day, Democrat Jon Ossoff will run against Republican Senator David Perdue.

Democrats need to win both seats to retake the US Senate.

It's rare to see a credible Democratic candidate separate himself from previously held positions as quickly as Warnock has.

A 9 December video of Warnock denouncing the boycott, divestment and sanctions movement for Palestinian freedom and equal rights as well as voicing support for $38 billion in military aid to Israel was described by Philip Weiss at Mondoweiss as looking "a bit like a hostage video."

It's painful viewing. Warnock does not look at all enthusiastic. In fact, he looks very much like a man taking positions he knows fly in the face of important prior beliefs.

Nonetheless, willingness to abandon principles on Palestine in pursuit of political advancement is usually a reliable indicator that a politician will be quick to cave on other issues.
Netanyahu as segregationist
On the same day as the video and DMFI PAC endorsement, Warnock attempted to distance himself from a 2016 sermon in which he reportedly said that Israeli Prime Minister Benjamin Netanyahu's opposition to a two-state solution is "tantamount to saying occupation today, occupation tomorrow, occupation forever."

Warnock received criticism for the line from the Republican Jewish Coalition, an extreme anti-Palestinian lobby group, for "hatemongering" for rightly comparing Netanyahu to segregationist George Wallace.

Wallace is notorious for vowing to uphold "segregation now, segregation tomorrow, segregation forever," during his 1963 inauguration as governor of Alabama.

I have no problem with the comparison of the anti-Palestinian Netanyahu to segregationist Wallace as I made precisely the same comparison in a 2008 letter to The New York Times.

The comparison is standard fare among those of Warnock's generation who grew up in the remnants of the Jim Crow South and also personally witnessed Israeli apartheid practices, as Warnock did when he traveled to the region with faith leaders last year.

And, to my mind, Warnock's 2019 testimony of the on-the-ground reality overrides how he shared his pulpit in 2015 with Israel's hard-right ambassador to the US Ron Dermer – an event Democratic Majority for Israel is highlighting in order to retroactively paint Warnock as a longtime supporter of Israel.

What isn't standard fare is to walk back an eyewitness awareness of Israeli apartheid.

Most people can't unsee apartheid. But Warnock has found a way to set aside his prior willingness to speak in support of the dispossessed and subjugated – at least when it comes to Palestinians – in his shameless pursuit of a US Senate seat.

Meanwhile, DMFI has denied that Warnock ever compared Netanyahu to Wallace.

The group did not, however, explicitly deny the "occupation today, occupation tomorrow, occupation forever" comment which for most of Warnock's listeners would have been a clear reminder of Wallace.
DMFI downplays ethnic cleansing
In reversing himself, Warnock is joining hands with an organization that recently sent a memo to members of Congress defending Israel's mass demolition of the occupied West Bank community of Khirbet Humsa.

DMFI suggested Democrats were wrong to sign Congressman Mark Pocan's letter to Secretary of State Mike Pompeo decrying the demolition.

The Israel lobby group argued that the Palestinians in the village, who included 41 children, "knowingly put themselves in danger."

Democratic Majority for Israel's position is disturbing and profoundly racist. An organization that too many Democrats listen to, including Warnock, is arguing that Palestinians living in their own territory brought destruction by an occupying army upon themselves.

Strikingly, DMFI includes a map in the memo from far-right settler organization Regavim, a group which claims most – if not all – of the occupied West Bank for Israel.

At least one of Regavim's own videos shows an Israel encompassing the West Bank and occupied Golan Heights and only showing the Gaza Strip as a separate Palestinian territory. Warnock has made a choice to join forces with Democratic Majority for Israel as it makes excuses for Israel's ethnic cleansing of Palestinians and cites a settler group as a credible source.

Regavim's co-founder and one-time director of operations Bezalel Smotrich is now a member of the Knesset, Israel's parliament.

Smotrich has proposed forcing Palestinians out of the occupied West Bank, a plan a leading Israeli Holocaust scholar has called potentially genocidal and resembling the values of the German SS.

One wonders what shame Warnock feels when he looks himself in the mirror.

He has spent much of his life advocating for oppressed people, yet in his biggest moment to date on the national stage has decided to abandon Palestinians on the side of the road.

His opponent Loeffler, of course, is a racist and anti-Palestinian demagogue. But Warnock is now traversing his own dangerous road.

Is it worth running for office if you're going to lose yourself and your guiding principles in the process?

Many Democrats over the years have answered that question in the affirmative.

Warnock could do considerable good in a Democratic Senate raising up the voices and rights of those rarely heard.

But if he's willing to dispense with Palestinians and embrace racists, segregationists and ethnic cleansers on his way to Washington, it raises the question of what other groups he'll find politically expedient to discard if he gets there.
Tags