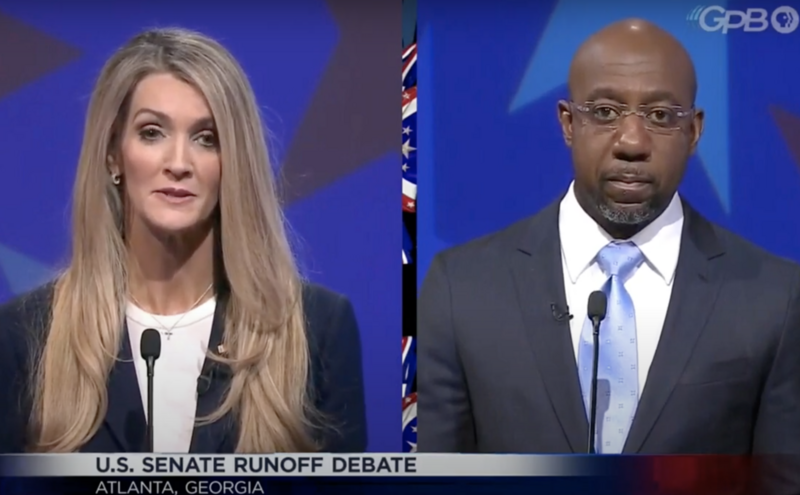 The Georgia runoff election between Democrat Raphael Warnock and Republican Senator Kelly Loeffler, along with the one between Democrat Jon Ossoff and Republican Senator David Perdue, will determine whether Democrats control not just the executive of the US government but the legislative branch as well.

Republicans will retain control of the Senate if either Loeffler or Perdue is victorious in Georgia on 5 January.

Former House Speaker Newt Gingrich, the man who once called Palestinians an "invented people," is now saying "Republicans simply have to turn out more votes than Stacey Abrams can steal."

This is a grotesque and upside-down charge to level against Abrams. She was the victim of then Georgia Secretary of State Brian Kemp's efforts to suppress Democratic and Black turnout in Abrams' unsuccessful bid to become governor in 2018. Kemp, despite his clear conflict of interest as secretary of state, sought to limit parts of the Georgia vote during their tight race to secure the position of governor.

Sunday's debate between Warnock and Loeffler saw Loeffler go on the offensive regarding Israel while Warnock failed to say a word in defense of Palestinian freedom and equal rights.

Loeffler initiated her pro-Israel offensive when she declared, "You've just heard more lies from radical liberal Raphael Warnock, who wants to distract from his own words, calling police officers gangsters, thugs, bullies, and a threat to our children, saying that you can't serve God in the military, for his attacks on Israel."

Warnock stayed silent regarding Israel and its anti-Palestinian actions.

Shortly thereafter, Loeffler employed still stronger rhetoric when she stated, "He's called on Americans to repent for their worship of whiteness. He's called Israel an apartheid state and said that we should end military assistance. He's compared Israelis defending themselves against Palestinians, he's compared them to birds of prey."

Warnock kept silent yet again.

The candidate and his advisers presumably regard silence as smart strategy. It is not. And, worse, it allows oppressive Israeli policies to be normalized with no pushback.

If the aspiring senator believes in freedom and equal rights for Palestinians then he can't stand by silently under an anti-Palestinian barrage from Loeffler. Sadly, as I've previously made clear, Warnock has dropped his support for Palestinian rights in the belief that doing so may advance his Senate bid.

Instead, it simply raises serious questions about what he really believes and which groups he might drop next.

Meanwhile, Perdue didn't even bother to show up for his debate against his Democratic challenger after getting eviscerated on corruption and healthcare issues by Ossoff in a prior debate.

The 33-year-old Democrat also took the incumbent Republican senator to task in that debate for an anti-Semitic ad run by Perdue's campaign that lengthened Ossoff's nose to, as Ossoff said, "remind everybody that I'm Jewish."

The Georgia Senate races remain painful to watch. Loeffler and Perdue are far-right Republicans who will do their utmost to assist Israeli dominance and set back Palestinian rights. Warnock and Ossoff are apt to reject the worst of Israeli policies – while going along with far too much – but have shown so far that they are unwilling to make a powerful case for Palestinian freedom.

Grassroots Democrats want candidates they can believe in, not machine politicians willing to drop strongly held beliefs – as Warnock has done – because an adviser tells them it will help their campaigns.

Warnock is a reverend. For him to abandon oppressed and subjugated Palestinians before Loeffler's verbal onslaught is to effectively leave the ministry for a new profession: politician without principle.
Tags