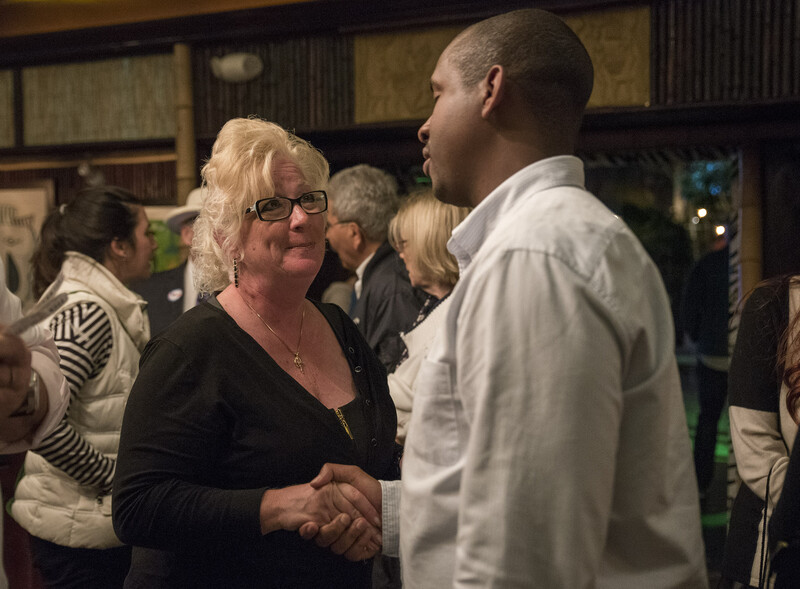 The PAC for Democratic Majority for Israel is running an attack ad placing Democratic congressional candidate Omari Hardy, who isn't expected to win, in its sights. He is bidding for a seat in a Florida district's primary election today.

Hardy is the latest progressive Black candidate who supports Palestinian rights to have been targeted by the lobby group and its PAC. Democratic Majority for Israel is closely tied to the anti-Palestinian genocidal language of retained board member Archie Gottesman.

The conservative Democratic outfit is attempting to shift progressives to the right in order to ensure the election of politicians who will be more friendly to Israel's subjugation of Palestinians.

Hardy is running behind several candidates in a special election to replace Congressman Alcee Hastings, who died earlier this year, but polling has been limited and many potential voters are undecided.

Hastings was a strong supporter of Israel and, like many members of Congress, routinely voted to support military aid to Israel used for war crimes against Palestinians.

Earlier this year, DMFIPAC played a significant role in pushing Shontel Brown to a congressional victory in Ohio over the initially favored Nina Turner.

Hardy has noted DMFIPAC's efforts against not only Turner, but representatives Rashida Tlaib, Cori Bush and Jamaal Bowman and is pleased to be in their company.

He humorously lambasted the group for a robocall to his home over the weekend, saying it was a waste of money and an indication of a poorly organized effort.
BDS
A state representative, Hardy came to wider public attention last month when he reversed his position on the boycott, divestment and sanctions movement and decided it would be hypocritical not to lend his support. He credited a conversation with Palestinian American attorney George Bisharat with changing his mind.

The switch led to a remarkable outburst from Rabbi Alan Sherman that has received insufficient mainstream media attention.

In the initial version of his op-ed in the South Florida Sun Sentinel, Sherman called Hardy "the Hitler of South Florida."

An editor eventually removed that over-the-top language, but let stand a comparison to Hitler. Sherman claimed, "Hitler's attack on the Jews was also solely based on hate and Omari Hardy is no different."

This is obviously false. But apparently in the anti-Palestinian politics of southern Florida it hardly registers. Hardy simply believes in equal rights for Palestinians and Jews as promoted by the BDS movement.

To give a sense of the type of person Sherman is, it is imperative to note that he also called for the ethnic cleansing of Palestinians, euphemistically referring to it as "transfer." Sherman argued, "The only resolution to this conflict is to defeat Hamas and transfer the Palestinians to neighboring countries."

He then put Hardy among the "Amalekites," urging "every Jew living in the 20th Congressional district … come out and vote to ensure his defeat." Sherman says that by supporting BDS, Hardy is supporting "terrorism" and in this the congressional candidate "reflects the Amalekites who attacked the Israelites from the rear killing our most weak and vulnerable people."

This is a grotesque and religiously inflammatory attack on Hardy.

I reached out last month to Hardy about his new support for BDS and his attack two years ago on Jeremy Corbyn. In a tweet in October 2019, he maintained that Labour is "led by a man unfit to lead. The anti-Semitism, the support for dictators, the inability to speak with moral clarity on issues having nothing to do with class have rightfully diminished Corbyn's stature."

He did not respond to my email seeking to learn more about whether his "views on Jeremy Corbyn and Labour have changed in recent weeks after [he himself was] subjected to such attacks."

Hardy may be particularly well placed to address the injustice Palestinians face in the occupied West Bank because of his experience as a Lake Worth Beach commissioner. According to The Palm Beach Post, in his capacity as a commissioner, Hardy has noted that the city established a "negro district" and built a "separation wall" in 1954, reinforcing the Jim Crow reality keeping whites and Blacks apart. That, of course, echoes the apartheid reality of the wall Israel has built largely inside the West Bank.

The newspaper reported, however, that Hardy supports keeping the Florida wall as a reminder of the historical racial injustice, though as a commissioner he sought unsuccessfully to change the name of Dixie Highway, a reminder of the racism of the Confederacy.

Hardy was just the second Black commissioner in the city's history before he successfully ran for the position of state representative in 2020.
Barbara Sharief
Barbara Sharief is one of Hardy's principal opponents in the crowded race. She has touted her participation in a junket for African American leaders with AIPAC – presumably meaning its charitable affiliate the American Israel Education Foundation.
Her campaign website highlights her "support for Israel," specifically continued assistance for Israel, backing for a comprehensive two-state solution and opposition to the BDS movement.
She does not state whether she also opposes the goals of the movement – an end to the oppressive Israeli occupation, the right of Palestinian refugees to return home and equal rights for Palestinian citizens of Israel.
Many Americans have been told time and again that the BDS movement is anti-Semitic, but haven't been told about its support for equal rights between Jews and Palestinians.
Sharief also voices her opposition to Iran's developing nuclear technology not as a US security concern but under the heading of her support for Israel.
Tags