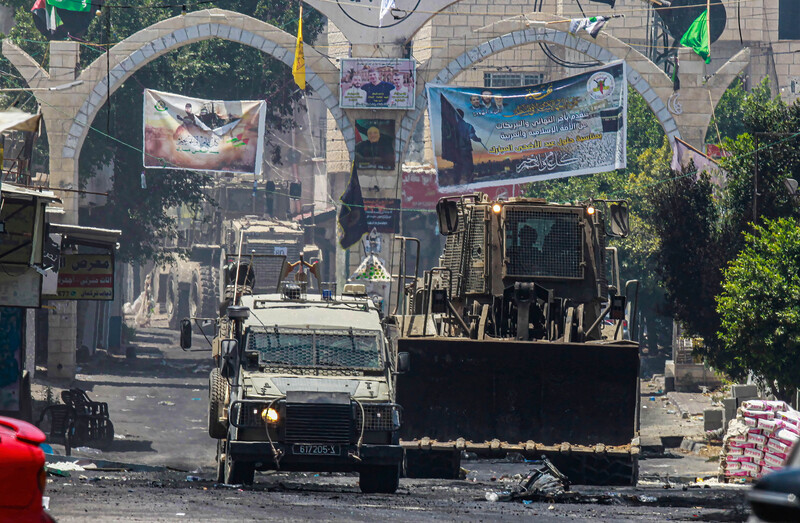 Breathless CNN coverage – the pared-back US domestic version anyway – of Israel's latest assault on the occupied West Bank is back.

"Operation Home and Garden," as the pruners of Palestinians from "Judea and Samaria" dub the attack on the Jenin refugee camp, is being hyped by CNN as the most significant Israeli military operation in the West Bank since the second intifada.

There's been no explanation for why those refugees are there or that their family lands are just a few miles away in historic Palestine from which some 800,000 Palestinians were expelled in 1948.

CNN largely relied on correspondent Hadas Gold, former US ambassador to Israel Martin Indyk and serial peace processor Aaron David Miller to explain what's happening to American audiences. They failed, as could be anticipated.

Prior to her arrival at CNN, Gold appeared to celebrate in 2016 the entry of a younger cousin into Israel's apartheid army of occupation. The accompanying tears emoji seems likely to be merely a commentary on the passage of years as the cake points to a party-like atmosphere. This raises concerns about pro-Israel bias from Gold.

Gold did not respond to an email from The Electronic Intifada shortly before publication about what she was trying to convey with the tweet.

The Electronic Intifada also contacted Gold for comment Monday morning after she referred to "an increasing wave of Palestinian terror attacks against Israelis over the past year and a half."

That email asked about her failure to reference "Israeli terror attacks by settlers against the occupied Palestinian population resisting Israeli oppression" as well as the lack of any reference to "increasing war crimes by the Israeli government with settlement activities." The Electronic Intifada noted "CNN reported last month that the settlers' attacks had government backing."

That report from CNN can be read here. Gold herself contributed to the report, though she wasn't a principal author.

Additionally, The Electronic Intifada asked Gold why "is the term apartheid not applied by CNN to Israel's actions?"

In the reports later that day from Gold, I heard no return to her personally citing Palestinian "terror." Instead, rather than employ such language directly herself, she put forward Israeli Prime Minister Benjamin Netanyahu to argue that Israeli troops are "battling the terrorists."

The prime minister added that those occupation forces are "doing everything, everything to avoid civilian casualties" in the refugee camp.

During the CNN clip, Netanyahu also asserted that "in recent months, Jenin has become a safe haven for terrorists. From that safe haven, terrorists perpetrated savage attacks, murdering Israeli civilians – men, women and children – as many children as they could find."

Gold did not bother to note for viewers that far more Palestinian children have been killed this year – and for years and years – than Israeli children.

Defense for Children International-Palestine (DCIP) reports that with four more Palestinian children killed in Jenin that 35 Palestinian children have been killed this year in the West Bank and Gaza Strip. One of the Palestinian children died of wounds sustained the previous year in Israel's August assault on Gaza.

Israeli opposition leader Yair Lapid, Netanyahu's predecessor as prime minister, declared in English on Monday: "Before denouncing what we are doing in Jenin these days, let us remember the 28 Israelis who were killed in the last few months in terror attacks, including three sets of brothers and sisters."

He added, "Our children are being slaughtered, and Israel has every right on earth to defend itself, and we from the opposition support the Israeli defense forces and the Israeli government on this matter."

If Lapid feels this is the case for Israelis, how much more must Palestinians feel this sentiment? Yet Palestinians have no military to defend themselves. The imbalance in positions is compounded by the fact that Palestinians are subjected to military occupation, dispossession and apartheid and face $3.8 billion in US annual military aid to Israel.

Unsurprisingly, Democratic Congressman Ritchie Torres agrees with Lapid's take, as do Democratic representatives Josh Gottheimer, Brad Schneider, Jared Moskowitz, Debbie Wasserman Schultz and Dean Phillips. Congresswoman Rashida Tlaib stood against them.
Former diplomats
Later on Monday, CNN interviewed both Martin Indyk – a former US ambassador to Israel reportedly in "awe" of war criminal Henry Kissinger – and longtime US diplomat Aaron David Miller. Both Indyk and Miller represented the US in negotiations between the Israelis and Palestinians, frequently siding with Israel. The former previously worked for the American Israel Public Affairs Committee (AIPAC).

Indyk promptly, albeit circuitously, cited Palestinian "terrorism" as producing Israeli raids. The so-called cycle of violence, in his view, starts with that "terrorism" and not with the violence of Israeli dispossession of Palestinians, expanded settlement activity and apartheid. He inverts the reality for CNN's viewers.

The former ambassador noted that the region is on the "slippery slope" to an "eventual reoccupation" of Palestinian cities in the northern West Bank which, he says, would only make matters worse and possibly precipitate a third intifada.

This blithely disregards that Palestinians in the northern West Bank already live under occupation. Short of intensified Israeli military aggression, however, Palestinians in cities such as Jenin generally don't encounter Israeli soldiers until they step beyond the confines of their bantustans.

With a far-right government in power in Israel, Indyk says there's no "political horizon" to pursue.

But he's cautious. He knows full well the harm caused by Israeli settlement activity yet refrains from hitting on the point forcefully to the CNN audience as he does elsewhere.

In his view, the only thing that might work to head off a third intifada is a "concerted effort" to "bolster the Palestinian Authority" and get the security services working, "forestalling the need for the Israeli army to engage in the way it is doing today."

In other words, to secure a veneer of stability and defeat an uprising for Palestinian freedom, Indyk says more PA collaboration with the Israeli occupation is required, much as Netanyahu acknowledges.

That will only make the collaborating PA be viewed even more negatively among Palestinians.

What's perhaps most notable is what Indyk doesn't say. He doesn't mention boycott, divestment and sanctions for Palestinian freedom and equal rights. He doesn't mention cutting off US military aid. He doesn't mention how significant it would be if Arab states were to pull back from the Abraham Accords and burgeoning relations with the apartheid state.

In fact, Indyk doesn't even bother to cite the minimal step – against its general acceptance of Israeli military actions – by the Biden administration to cut off scientific cooperation with Israeli institutions in the occupied West Bank.

Later in the day, Indyk fell back on old racist rhetoric he borrowed from Israeli officials. "They can mow the grass, as they call it, or in this case, uproot the grass, but it will grow back."

This is the best analysis CNN can find? Mowing the grass as a euphemism for killing young Palestinian refugees in refugee camps?

Asked about the impact on civilians, Indyk briefly slipped, saying that the images bring back memories of previous floods of refugees leaving "Israel proper." Then, not wanting to recall this Palestinian history of dispossession, he added that's not what is going on here. He expressed his hope that they'll be able to go back, but conveyed uncertainty about what would be left.

Next up was Aaron David Miller. He didn't have much to add.

He provided milquetoast analysis: another intifada is a concern, no telling where this could go, a 56-year-old occupation with no sign of abating, no PA control, an extremist Israeli government, an absence of political will, James Baker and Henry Kissinger couldn't succeed here, the Biden administration really isn't interested in an initiative "doomed to fail."

CNN is unwilling to try anything new or to interview Palestinian guests in a timely fashion. Husam Zomlot, the Palestinian Authority representative in the United Kingdom, was interviewed Tuesday night to provide some basics on Israeli apartheid and self-defense double standards.

Not discussed, however, is that his PA's primary purpose is to suppress Palestinian resistance and help Israel maintain its occupation in the West Bank.

In any event, by then the Israeli "counter-terrorism" narrative had been amply conveyed in Gold's reports and many Americans had headed to Fourth of July cookouts. Wednesday morning viewers did hear from CNN correspondent Salma Abdelaziz providing a perspective from Jenin rather than relying on Israeli military footage as CNN frequently did earlier in the week.

The underlying story for decades has gone untold as surface reporting provides the body counts and misleading terminology generally omits reference to Israeli apartheid. Coverage from the region too often leaves audiences more poorly informed than when they tuned in.

Hadas Gold has yet to reply to The Electronic Intifada about her coverage and the terms she chooses to employ and exclude.

Those inclusions and exclusions speak volumes about what information CNN is willing to share with its viewers.
Tags